Jamestown Releases a New Occasional Paper
By: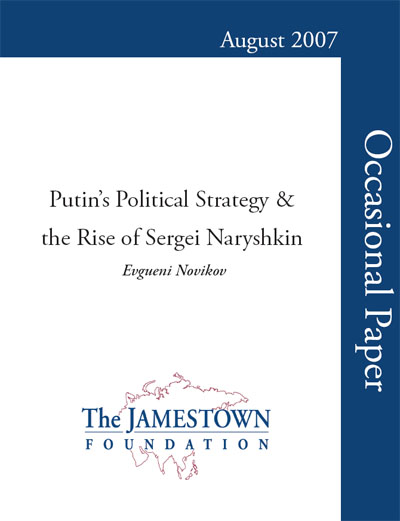 Paper Titled "Putin's Political Party & the Rise of Sergei Naryshkin"
FOR IMMEDIATE RELEASE — August 2, 2007
WASHINGTON, DC (8/2/07)–The Jamestown Foundation has released a new Occasional Paper titled "Putin's Political Party & the Rise of Sergei Naryshkin." The paper is authored by Evgueni Novikov, a former official of the Central Committee of the CPSU, a Visiting Fellow at the American Foreign Policy Council and a Senior Fellow at The Jamestown Foundation. This paper focuses on the upcoming 2008 Russian presidential elections, his predictions for who will gain the presidency and incumbent President Vladimir Putin's political strategy.
With a high level of diligence, Novikov uses his valuable insight as a former Kremlin insider to provide analysis to both the changes that have occurred within the Russian political system, as well as what those changes mean for President Putin, for the election itself and for Western politicians looking to effectively work with a changing Russia. Novikov argues that although he projects that the next president of Russia will be Sergei Naryshkin, Vladimir Putin will retain the majority of the power he has accumulated during his time in office. Novikov backs his argument with a careful analysis of the historical precedent set in Russia by perestroika, and how that set the stage for Naryshkin's rise to power and a change in the contemporary political structure.
Founded in 1984, The Jamestown Foundation is an independent, non-partisan research institution dedicated to providing timely information concerning critical political and strategic developments in China, Russia, and Eurasia. Jamestown's research and analysis is available to the public free-of-charge via Jamestown's website, www.jamestown.org.