Jamestown Releases a New Occasional Paper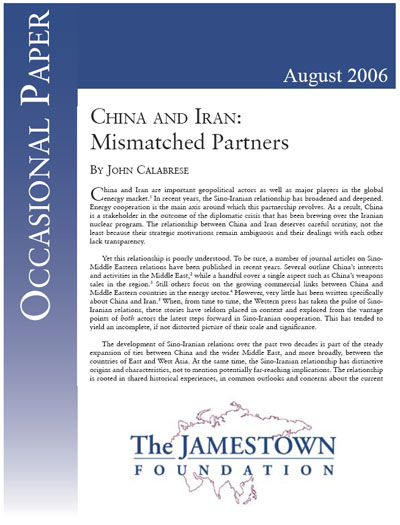 "China and Iran: Mismatched Partners"
FOR IMMEDIATE RELEASE — August 17, 2006
Contact: Joseph Lin, +1 202.483.1421
WASHINGTON, DC (8/17/06)–The Jamestown Foundation has released a new Occasional Paper titled "China and Iran: Mismatched Partners." The paper was authored by Dr. John Calabrese of American University, Washington DC, who also serves as a Scholar-in-Residence at the Middle East Institute. He is the Book Review Editor of The Middle East Journal.
The new paper discusses the oft-misunderstood relationship between China and Iran. Bilateral relations between the two states have improved in recent years, particularly around the issue of energy security. Nevertheless, in the context of a rapidly changing security environment in the Middle East, several obstacles to the further broadening of their relationship remain.
Founded in 1984, The Jamestown Foundation is an independent, non-partisan research institution dedicated to providing timely information concerning critical political and strategic developments in China, Russia, and Eurasia. Jamestown's research and analysis is available to the public free-of-charge via Jamestown's website, www.jamestown.org.