Press Release – IN MEMORIAM: Brent Scowcroft, 1925–2020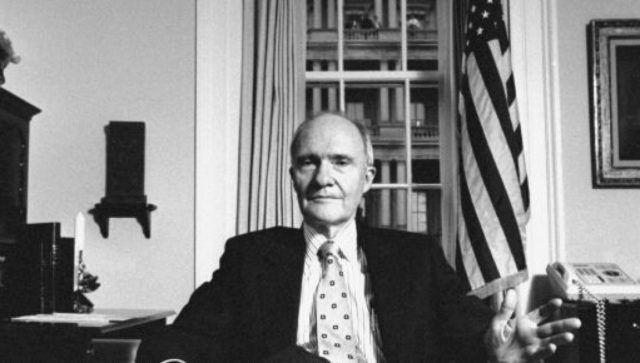 With deep sadness, The Jamestown Foundation marks the passing of Brent Scowcroft, a world-renowned expert of international affairs and the former National Security Advisor to Presidents Gerald Ford and George H.W. Bush. General Scowcroft was a member of The Jamestown Foundation's Board of Directors from 1988 to 1989.
"General Scowcroft leaves behind a tremendous legacy and a deep impression upon American foreign policy and strategy," said Jamestown President Glen Howard. "We will always be grateful for his contributions to this country, and for his guidance to The Jamestown Foundation in its early years. Then-President Bill Geimer always appreciated Scowcroft's advice on the foundation's early mission of assisting Soviet defectors to the U.S., whose revelations, in turn, informed the general's thoughts and policies at the end of the Cold War."
General Scowcroft was a major influence on U.S. foreign policy for over 60 years. A graduate of the U.S. Military Academy Class of 1947, he was transferred to the U.S. Air Force upon that branch's creation in 1948. He earned an MA and PhD in international relations in 1953 and 1967, respectively, from Columbia University. In an impressive 29-year military career, where he served in administrative and strategic positions within the USAF, General Scowcroft eventually rose to the position of Deputy National Security Advisor under Henry Kissinger in 1973. He became National Security Advisor in 1975. As a private citizen, he was vice chairman of Kissinger Associates from 1982 to 1989, where he provided strategic advice to multiple U.S. and foreign corporate leaders. General Scowcroft returned to the position of National Security Advisor in 1989, the first and only person to twice serve in that role. While not serving as the National Security Advisor, General Scowcroft contributed as a member of various task forces and committees advising the administrations of Presidents Jimmy Carter, Ronald Reagan, George W. Bush, and Barack Obama. He would also found and lead the Scowcroft Group, an international consulting firm.
Among his many accomplishments in and out of government, General Scowcroft played a critical role in handling the American response to the collapse of the Soviet Union and the end of the Cold War, helping shape the country's policies toward the new Russian Federation. He played a crucial diplomatic role in readjusting the U.S. relationship with China following the massacre at Tiananmen Square. He oversaw strategy related to the Gulf War following Saddam Hussein's invasion of Kuwait, and would go on to criticize the George W. Bush administration's later invasion of Iraq.
General Scowcroft was the recipient of multiple awards throughout his life. He received the Presidential Medal of Freedom in 1991, and an honorary knighthood of Knight Commander of the Order of the British Empire (KBE) by Queen Elizabeth II in 1993. He is survived by his daughter, Karen, and a granddaughter, Meghan.
*     *     *
Founded in 1984, The Jamestown Foundation is an independent, non-partisan research institution dedicated to providing timely information concerning critical political and strategic developments in China, Russia, Eurasia and the world of terrorism. Jamestown produces three periodic publications: 
Eurasia Daily Monitor
, 
Terrorism Monitor
 and 
China Brief
. Jamestown research and analysis is available to the public free-of-charge via Jamestown's website, 
www.jamestown.org
.