Press Release – Russian Government Declares Jamestown Foundation 'Undesirable' Organization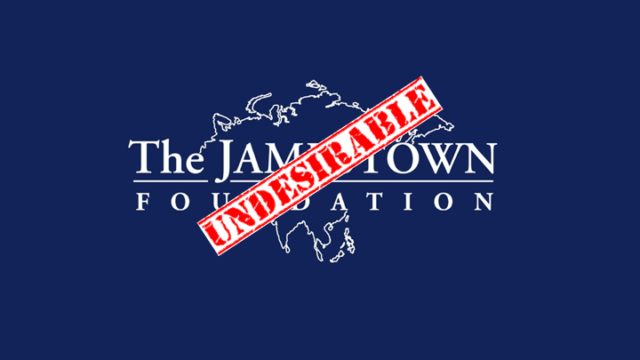 Yesterday, April 8, the Prosecutor General's Office of the Russian Federation declared The Jamestown Foundation an "undesirable" organization, ostensibly in response to a series of articles published by Jamestown regarding nationalities trends in the Northwest Caucasus. The Russian authorities claim that Jamestown's reporting and analysis "pose a threat to the foundations of the constitutional system and security of the Russian Federation" by allegedly "inciting ethnic separatism in the national republics of the Russian Federation and promoting the separation of certain territories of our country."  The Prosecutor General's Office statement particularly singles out Jamestown's coverage of the Circassians.
The Jamestown Foundation is proud of our important and unmatched analysis of the Circassian nationality in the Northwest Caucasus; our experts and writers have for years tracked the internal drivers fueling the growth of the Circassian national movement, the Russian government's repressive policies designed to divide and undermine this ethnic group's regional position, as well as Moscow's efforts to block Circassian diaspora members from being able to return to their homeland after having been forcibly expelled by the Russian Empire in the 19th century. Recent pieces in Jamestown's flagship publication Eurasia Daily Monitor that highlight some of these important trends include:
Jamestown Foundation President Glen Howard has pointed out "that this marks the third time the Jamestown Foundation has been baselessly condemned by the Russian government" (see for instance, "Jamestown Denounces Moscow's Distorted Accounts of North Caucasus Conference," "Moscow criticises US think-tank over debate," "Jamestown Foundation Responds to False Izvestia Article About Tsarnaev Link"). In 2007, in response to a Russian foreign ministry demarche condemning Jamestown's work on the North Caucasus, Mr. Howard argued that the authorities in Moscow feel "intimidated by the power of the free word, [which] goes against the state manipulation of the media in Russia."
As the Jamestown President notes, the "Foundation has no office or staff who work in Russia, therefore the issue of being declared 'undesirable' is moot to begin with and will have no impact on our operations or further reporting about the region." Mr. Howard predicts the Russian decision, as in the other instances, will likely have the reverse impact on our operations and further boost our visibility and global readership. Expressions of support for Jamestown's crucial research and analysis continue to flow in, and "we deeply appreciate both our thousands of readers and private donors who make our work possible," the Jamestown President declared. Moscow's moves to squelch independent sources of information and expertise have always tended to have the reverse effect, and this instance will prove no different.
*     *     *
Your Support Is Vital To The Jamestown Foundation
The Jamestown Foundation is an independent, nonpartisan organization supported by tax-deductible contributions from corporations, foundations and individuals.
We provide our supporters with a unique array of specialized publications and research, regarded throughout the world as indispensable sources of information and insight by government officials, the academic community, journalists and businessmen.
If you find our information and analysis useful, please do your part and make a contribution now. Both general support and program contributions are welcome. Donations from individuals like you are essential to our continued operations. You can make a tax-deductible donation by using your Visa, Mastercard, Discover, or American Express.
Donate by Credit Card
Check or Money Order
To send a check or money order contribution please mail the Donation Form with an attached check or money order to The Jamestown Foundation at:
1310 L St. NW,
Suite 810
Washington, DC, 20005
If you experience any problems with this transaction, please send us an email or contact the Jamestown Foundation at 202-483-8888.
The Jamestown Foundation is qualified as a public charity under sections 501(c)(3) and 509(a)(1)(2) of the Internal Revenue Code, which provides that donations for which no direct benefits are received are fully tax deductible. Rarely does an opportunity come along for individual donors to make a contribution that could directly influence the course of human events. We believe the Jamestown Foundation offers such an opportunity.
More information about donations available here:
Jamestown Support Legal Document
*     *     *
Founded in 1984, The Jamestown Foundation is an independent, non-partisan research institution dedicated to providing timely information concerning critical political and strategic developments in China, Russia, Eurasia and the world of terrorism. Jamestown produces three periodic publications: Eurasia Daily Monitor, Terrorism Monitor and China Brief. Jamestown research and analysis is available to the public free-of-charge via Jamestown's website, www.jamestown.org.