PRESS RELEASE—Russian State Media Attacks Jamestown Senior Fellow Janusz Bugajski's Newest Book as a 'Plan to Destroy Russia'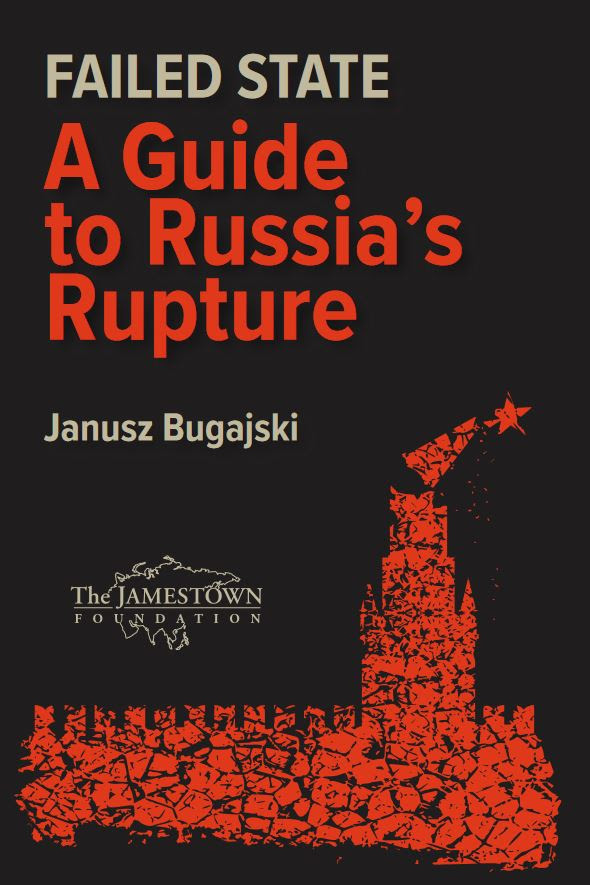 Washington, DC—In recent months, Russian state media has launched a series of attacks against The Jamestown Foundation and Senior Fellow Janusz Bugajski for his most recent book, Failed State: A Guide to Russia's Rupture. Having been previously attacked by the Russian Defense Ministry's Zvezda television program, the state-owned media outlets RIA Novosti and RT have now lashed out against Bugajski's latest work. The most heated denunciation of Bugajski and Failed State comes courtesy of RIA Novosti's Victoria Nikiforova in her article "The US Unveils Plan to Destroy Russia." Decrying Bugajski's Polish heritage and referring to him as "the next [Zbigniew] Brzezinski," Nikiforova claims Bugajski's analysis in Failed State is Washington's blueprint for the dismemberment and decolonization of Russia. Similarly, writing for the Kremlin-affiliated think tank the Strategic Culture Foundation, Alina Insanova writes that Failed State represents an American plot to encourage ethnic separatism and secession within the Russian Federation.
Not content with merely denouncing Bugajski's expertise in Russian-language state-owned media, RT published an opinion piece, in English, by RIA Novosti's Vladimir Kornilov titled "Time to Drop Our Illusions, the West is Waging a War to Destroy Russia." Expanding on the hysterics of Nikiforova's article, Kornilov describes Failed State as "a direct call to action by an outspoken Russophobe," claiming that Bugajski's book offers proof that the United States has been plotting the dismemberment of the Russian state since before the beginning of Russia's war against Ukraine
The Jamestown Foundation is grateful to Moscow's state-owned media apparatus for its extensive free advertising for Failed State, attracting even more attention to the book, as well as its high praise for Bugajski in comparing him to US foreign policy giant and good friend of Jamestown Zbigniew Brzezinski, In light of these attacks, The Jamestown Foundation would like to emphasize its unwavering support for Bugajski and Jamestown's network of analysts who provide objective, actionable analysis of regions and subjects across wider Eurasia.
As Moscow's attacks on our experts escalate, it is clear that Jamestown's work is having a major impact in government and the wider policymaking community. We greatly appreciate your continued support of Jamestown's mission and programming.
***
Hard copies of 
Failed State
 are available through our distributor, 
Lynne Rienner Publishers
. A free PDF version is also available on the Jamestown website 
here
.
***
Your Support Is Vital To The Jamestown Foundation
The Jamestown Foundation is an independent, nonpartisan organization supported by tax-deductible contributions from corporations, foundations and individuals.
We provide our supporters with a unique array of specialized publications and research, regarded throughout the world as indispensable sources of information and insight by government officials, the academic community, journalists and businessmen.
If you find our information and analysis useful, please do your part and make a contribution now. Both general support and program contributions are welcome. Donations from individuals like you are essential to our continued operations. You can make a tax-deductible donation by using your Visa, Mastercard, Discover, or American Express.
---
---
Founded in 1984, The Jamestown Foundation is an independent, non-partisan research institution dedicated to providing timely information concerning critical political and strategic developments in China, Russia, Eurasia and the world of terrorism. Jamestown produces three periodic publications: Eurasia Daily Monitor, Terrorism Monitor and China Brief. Jamestown research and analysis is available to the public free-of-charge via Jamestown's website, www.jamestown.org.