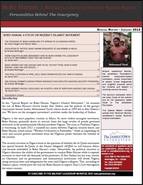 Boko Haram: A Militant Leadership Monitor Special Report
In this "Special Report on Boko Haram: Nigeria's Islamist Movement" we examine the rise of Boko Haram's elusive leader Abu Shekau, and the policies of the group's charismatic leader – Mohammed Yusuf – the former leader whose death in 2009 led to Abu Shekau's rise as well as increased international focus on the group's activities in recent years.
This 2012 Quarterly Special Report is a compilation of articles which provide unique information and objective analysis on recent developments in the Boko Haram movement of Nigeria. This analysis is particular relevant as the security situation in Nigeria worsens and experts wonder if the al-Qaeda movement has spread beyond Al-Qaeda in the Islamic Maghreb to sub-Saharan Africa.
From the repercussions of it's first attacks on police stations in December 2003 through the Kano bombings of January 2012 we take you through the history and reasoning behind the attacks of this movement which characterizes Western Civilization as forbidden.
Content:
Timeline of Key Events
The Founding of Boko Haram and Its Spread to 32 Nigerian States by Frank Gorgon and Sharon Bean
Escalation of Tactics: Boko Haram Graduates to Car Bombs In Abuja by Andrew McGregor
From Yusufiya Islamic Movement (YIM) To Boko Haram: The Leadership Styles of Mohammed Yusuf and Abu Shekauby Jacob Zenn
Boko Haram Chief Abu Shekau Says to US: "Do not think jihad is over.  Rather, jihad has just begun…" by Andrew McGregor
Political Elections in April 2011: Boko Haram Incites Civil War in Nigeria by Jacob Zenn
Abu Shekau Commits Daring Prison Breakout and Executes Nigerian Security Personnel by Andrew McGregor
Boko Haram's Radical Ideologue: An In-Depth Look At Northern Nigeria's Abu Shekau by Jacob Zenn 
Postscript Update