16 + 1: China's Push Into Central and Eastern Europe Loses Momentum
Publication: China Brief Volume: 22 Issue: 12
By: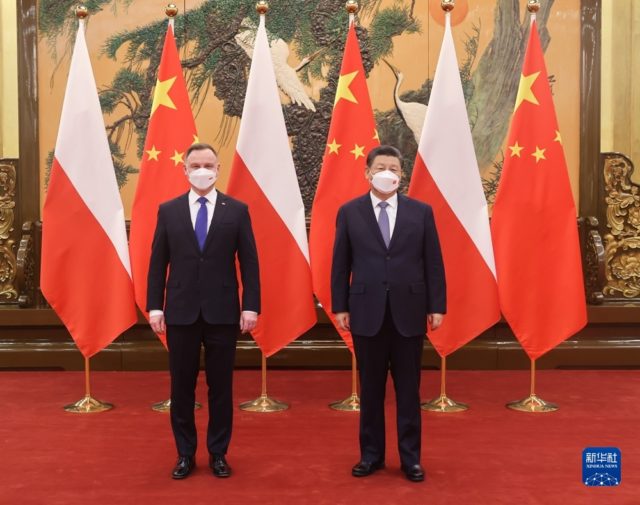 Introduction
Since its inception in 2012, the Cooperation between China and Central and Eastern European Countries (China-CEEC; 中国—中东欧国家合作, Zhongguo—Zhong Dong Ou Guojia Hezuo), better known as the 16+1 or 17+1 initiative, has often been described as a security risk with the potential to divide European structures and make them serve the interests of the People's Republic of China's (PRC). The 16+1 is a Sinocentric economic cooperation initiative comprising China and 16 Central and Eastern European (CEE) countries, which share only a  mutual Communist past as a common denominator (in 2019, Greece, which is heavily indebted to China, joined, and the platform was briefly renamed to 17+1). Apart from several different formats such as inter-party dialogues and think tank conferences, the 16+1 holds annual summits attended by state heads, with Premier Wen Jiabao (温家宝) and then Li Keqiang (李克强) the official highest-ranking PRC representatives in attendance. In comparison, two other, similar, Sinocentric regional platforms — China-CELAC Forum (中国-拉共体论坛, Zhongguo- Lagongti Luntan); and the Forum on China-Africa Cooperation (FOCAC: 中非合作论坛, Zhongfei Hezuo Luntan) — are regularly attended by President and General Secretary  Xi Jinping (习近平) (China-CELAC Forum, March 1, 2018). Thus far,  FOCAC has generated the greatest level of interest from participating regional countries (China Brief, December 3, 2021). By contrast, several CEE countries have distanced themselves from the 16+1 platform: in 2021, Lithuania quit the group and this May, a Czech parliamentary committee urged the government to consider making the same move.
European countries are showing frustration with the 16+1 initiative due to a lack of access to the PRC market and China's failure to deliver on promised investment. However, an examination of the PRC's approach to the initiative and the agencies and cadres involved in its interactions indicate that its present functions are to coopt CEE elites and legitimize the PRC regime, all under the guise of economic cooperation.
Despite the current low point, the 16+1 is not yet a spent force. Poland, the largest economy on the European side, has renewed its outreach to China. Additionally, Beijing dispatched two fact-finding missions to the region this spring to measure CEE attitudes toward the platform and explain China's position on the Russia-Ukraine war. Given that the post-war reconstruction of Ukraine could be China's prize in the region, 16+1 and especially Poland, Ukraine's closest ally, might play a key role in that undertaking.
Selling the CCP Narrative
The 16+1 initiative was initially accepted enthusiastically by the European countries. However, by 2019, regional patience with China's "economic diplomacy of empty promises" was already wearing thin (Sinopsis, March 11, 2019). At that time, the Czech Republic, once a staunch supporter of the initiative, began to voice concern over the lack of substantial investments (Aktuálně, April 12, 2019; Česká televize, January 12, 2020). The PRC views the 16+1 chiefly as a platform for investment in Eastern European politicians. The Chinese Communist Party (CCP) has tapped into old networks of former Communist cadres and their immediate successors in the region in an effort to recreate the Eastern Bloc, which are then leveraged to support its policy goals in Europe (China Brief, May 9, 2019).
The initiative also serves as a channel for CCP propaganda to legitimize the PRC both domestically and abroad. This is evidenced by the involvement of high-level propaganda cadres, including the former propaganda system chief, in 16+1 events (China-CEEC Think Tanks Network, August 7, 2017; People's Daily, July 20, 2017). In 2019, according to rumors, Wang Huning (王沪宁), the current head of PRC propaganda and ideology, was to attend the canceled China Investment Forum (CIF), a 16+1 sub-event in Prague targeting Czech and neighboring political and business elites (Sinopsis, October 24, 2019).
Links to PRC Intelligence and Influence Operations
Often semi-covertly, PRC influence and intelligence organs have played key roles in 16+1-affiliated activities, particularly in their less glamorous aspects. The Ministry of State Security (MSS, 国家安全部, Guojia Anquan Bu) is involved in the platform's structure and events. The 16+1 initiative is coordinated by a PRC-staffed Secretariat in Beijing (China-CEEC). Among its member units such as the Ministry of Foreign Affairs (MFA), the Communist Youth League (共青团, Gong Qing Tuan), and the influence organ China Council for the Promotion of International Trade (贸促会, Cu Mao Hui); one agency stands out — the International Liaison Department (ILD, 中联部, Zhong Lian Bu) (Sinopsis, November 20, 2021). The ILD, which is the Central Committee's influence organ, was involved in supporting pro-CCP Marxist-Leninist revolutionary movements during the Cold War (Open Source Center, May, 2007). The ILD Is not only listed second on the secretariat member unit list (no such lists are arranged randomly), but is also cited as  the sole or main organizer of 16+1 "dialogues" and other events that aim to coopt both senior and junior politicians (SCIO, July 15, 2017; China-CEEC, October 23, 2013).
The true nature of 16+1 engagement and the ILD's involvement is exemplified by CEE countries' experience with the CIF (2013-2018). Beginning, no later than 2015, The China Economic Cooperation Center (中国经济联络中心, Zhongguo Jingji Lianluo Zhongxin), an ILD unit, co-organized the high-profile CIF event and according to a Czech media investigation its role was not to foment economic cooperation, but to profile and approve guests (Seznam zprávy, February 26, 2020; Development Research Center of Shenzhen Municipal People's Government, May 11, 2017; Zhongjie Industrial Zone Management Committee, November 14, 2015). The Czech elites who participated were unaware ILD's role in the 16+1 events, and believed that they had interacted with MFA diplomats (Seznam zprávy, February 26, 2020).
PRC intelligence services have also shown increasing interest in CEE academia, something local counter-intelligence agencies have begun to warn against in recent years  (SIS, June, 2022; Radio Prague International, November 26, 2019; BIS, October 11, 2020; Kaitsepolitseaimet). Last year, the region experienced the first proven case of a scientist spying for China in Estonia (ERR, March 19, 2021). The 16+1 "think tank network" (China-CEEC Think Tanks Network, 中国—中东欧国家智库交流与合作网络, Zhongguo-Zhong Dong Ou Guojia Zhiku Jiaoliu yu Hezuo Wangluo) engages Eastern European think tankers, including government-sponsored institutions (Twitter, Jun 29, 2018). The network is now chaired by Feng Zhongping (冯仲平), a former vice-president of the China Institutes of Contemporary International Relations (CICIR, 中国现代国际关系研究院, Zhongguo Xiandai Guoji Guanxi Yanjiu Yuan), the MSS's 11th Bureau, an outward-facing unit targeting foreign academic and think-tank circles (China-CEEC Think Tanks Network, September 18, 2021; CICIR.; DNI Open Source Center, August 25, 2011). Feng, while still at the MSS, held a position on the network's council (China-CEEC Think Tanks Network, November 16, 2017). Feng also currently heads the Budapest-based China-CEE Institute (中国-中东欧研究院, Zhongguo-Zhong Dong Ou Yanjiu Yuan), which has already been examined in this journal (China Brief, December 3, 2021). This entity exploits Eastern European scholars for open-source research and elite access, including the utilization of a PRC propaganda node based in the Czech Republic involving former Communist secret police agents.
The Polish-Lithuanian Dilemma and the Ukrainian Prize
European countries had already begun inching away from the 16+1 platform in 2019, but the initiative reached its lowest point in 2021. Although Xi Jinping attended a 16+1 event for the first time last February, the heads of state of six CEE countries opted not to attend the virtual forum (China-CEEC, February 9, 2021). In particular, Beijing warned Romania to send its president to the meeting, or else risk damage to bilateral relations (Politico, March 3, 2021). Additionally, several attending European representatives complained of China's failure to open its markets, especially for agriculture products (Politico, February 9, 2021).
In May 2021, Lithuania officially left the 17+1, reducing it back to 16+1 (LRT, May 24, 2021). The decision came after Lithuania elected a new center-right government in 2020, which upgraded the country's relationship with Taiwan, including renaming the Taipei Economic and Cultural Office (as is the standard in states that do not diplomatically recognize the Republic of China) to the Taiwanese Representative Office, which angered Beijing and led it to eventually impose an unofficial trade embargo on Lithuania (LRT, January 11; Taiwanese Representative Office in Lithuania).
The Czech Republic, which is also governed by a new center-right coalition that favors Taiwan over China, is now considering following Lithuania's example after a parliamentary foreign affairs committee unanimously adopted a resolution critical of the PRC's recent behavior, in which the MPs asked the government to "review" participation in the platform (see the full English version here: Asia Explained, May 24).
Even the PRC appears uncertain about the platform's sustainability, but it nevertheless remains invested. This year, the MFA sent two lower-level representatives to the Balkans and several EU member states that participate in 16+1, respectively, to assess whether interest remains in the platform (China-CEEC, April 21). The EU-bound mission, which was led by Huo Yuzhen (霍玉珍), former PRC ambassador to the Czech Republic and Romania, also had the goal of explaining China's position on the Russian war in Ukraine (China-CEEC.org, May 18). The overall tone of Huo's embassy heralds China's likely future goals for the platform or at least the participating countries—which includes enlisting their help to secure involvement in the post-war reconstruction of Ukraine. This would significantly improve China's standing across Europe, where its image has been tarnished due its handling of the pandemic, its heavy-handed diplomacy and its close relationship with Russia.
In contrast, countries that use  the16+1 and their ties with the PRC as a means to counterbalance the West and the EU in particular, such as Hungary, Serbia and Poland, are likely to remain active proponents of the initiative. Poland, which may strike  some as perhaps an unexpected friend of China, was the only EU country to send its president to the Beijing Olympics, despite the European political boycott (TVP, February 6). In 2021, Warsaw even took a fiscally-unsound loan from Beijing amid a spat with EU institutions over a Polish judicial reform (Sinopsis, November 18, 2021). The decision to re-orientate itself toward the PRC comes as U.S.-Poland relations, which were amiable during President Trump's term, have suffered from tensions between the ruling coalition government in Warsaw and the Biden administration (Sinopsis, November 18, 2021). Although Poland complained about the limited access to China's market at the last 17+1 summit, it is seeking to achieve its economic goals through intensified bilateral interaction (Gov.pl, June 10).
Conclusion
Much of Eastern Europe is now wary towards the PRC to some degree, but this could easily change. China's recent actions, as well as the renewal of American interest in Eastern Europe, might push the 16+1 countries to gravitate even more toward the West. However, pragmatism (or miscalculation) could send them back into China's embrace in a way that is similar to Poland's recent foreign policy shift. Beijing's attempt to play the role of mediator and peace advocate in Ukraine is received well by some European elites including in Ukraine. Thus, with the help of the remnants of 16+1, and Western European countries like Germany and France, China could greatly expand its economic and political clout in the largest EU candidate country.
Filip Jirouš is an independent analyst focusing on PRC United Front and European academic cooperation with the PRC military-industrial complex.
The author is grateful to Jichang Lulu for comments on an early version of this article.