7th Summit of the Astana Peace Process in Tehran: Implications for the Syrian Crisis
Publication: Eurasia Daily Monitor Volume: 19 Issue: 114
By: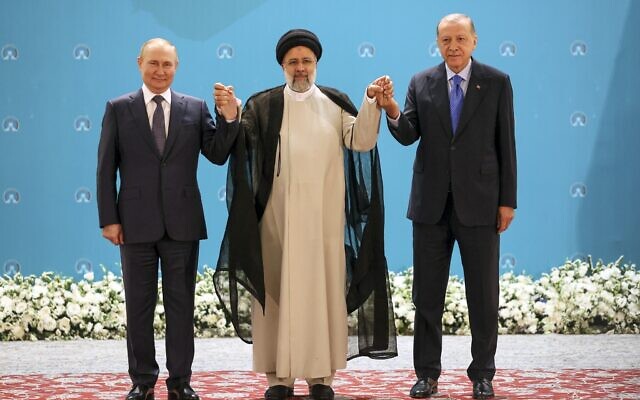 Three days after US President Joe Biden's trip to the Middle East, Tehran hosted Russian President Vladimir Putin and Turkish President Recep Tayyip Erdogan on July 19. This tripartite meeting was held within the framework of the seventh summit of the heads of states of the Astana Peace Process for Syria. The three parties announced that the next meeting will be held in Russia before the end of 2022. But what were the motivations of Turkey, Russia and Iran in attending the summit? And what are the summit's consequences on the Syrian crisis?
For Turkey, it was critical to attend the summit on the eve of extensive military operations in northern Syria. Beginning months ago, Erdogan has repeatedly threatened to launch a military offensive in northern Syria to create a "safe zone" that would drive Kurdish militants 30 kilometers (19 miles) back from the Turkish border (Arab News, July 19). The cities of Tal Rifaat and Manbij, located west of the Euphrates River, are controlled by Syrian Kurdish militias from the People's Protection Units (YPG). Ankara considers the YPG a "terrorist group" and says the group is linked to local armed fighters belonging to the Kurdistan Workers' Party (PKK), which Turkey has also designated as a "terrorist organization" (News Prepare, July 20).
At the meeting, Erdogan noted that Turkey had struck an agreement with Moscow and Washington in 2019 under which both Russia and the United States were supposed to help push outlawed Kurdish militants 30 kilometers away from the Syrian-Turkish border (Arab News, July 20). For this reason, the Tehran meeting was an opportunity for Erdogan to remind the attending leaders that "this still has not happened. It is long overdue" (Arab News, July 20). By participating in the summit, Erdogan was trying to gain legitimacy for conducting military operations in northern Syria so the operations would be recognized at the regional and international levels as "counterterrorism operations" and not "intervention and encroachment on Syrian territory." In this regard, Erdogan told the leaders of Russia and Iran that "he expected their full support in Ankara's fight against terrorists in Syria" (Daily Sabah, July 20).
For Russia, the summit was an opportunity to further discuss its own problems in the region. After the beginning of the Ukrainian war, several reports were published about the reduction of Russian troops in Syria and their re-deployment to the front in Ukraine (Financial Times, April 28). This issue could create a power vacuum and opportunities for Israel, the US and Turkey. In such a situation, Israel would increase air attacks on Iranian military positions and bases in Syria, as Tel Aviv worries that a military vacuum would be filled by Iran or proxy forces, such as Lebanese Hezbollah. Indeed, the US could use a power vacuum in Syria to strengthen its military presence east of the Euphrates, and Turkey could conduct unfettered military operations in the Kurdish regions of northern Syria.
Therefore, Putin's presence at the summit in Tehran contained a message to all players in Syria: Russia has not lost its focus and military power in Syria because of Ukraine. In fact, after several years of military presence and financial expenses in Syria, Moscow does not want to weaken its position and role in Syria's political process—nor risk losing out on economic and infrastructure projects there. Russia sees the continuation of its military presence in Syria as a pressure lever against the West in the Ukraine crisis.
For Iran, the summit provided an opportunity to raise its military and security concerns in Syria. In particular, Tehran was worried about three issues: Israeli attacks on Iranian positions in Syria, the American military presence east of the Euphrates and Turkish military operations in the Kurdish regions of Syria, west of the Euphrates. In a meeting with Erdogan, Supreme Leader Ayatollah Sayyid Ali Khamenei mentioned that any "military attack on northern Syria would be harmful to Syria, Turkey and the region. It would not bring about the political moves Turkey expects" (Fars News Agency, July 19). With Putin, the Supreme Leader mentioned that "Iran's fundamental stance has always been opposing military intervention there, while the fertile and oil-rich eastern side of the Euphrates River is occupied by the Americans, they must be forced to leave" (Islamic Republic News Agency, July 19).
Following the Astana peace summit in Tehran, Iranian President Ebrahim Raisi, in a press conference with Putin and Erdogan, underlined that "the US presence east of the Euphrates is unjustifiable, so the Americans should pull out" (Islamic Republic News Agency, July 20). At the end of the meeting, Faisal Mekdad, the Syrian minister of foreign affairs, arrived in Tehran to inform the Syrian government of the summit's results.
However, the situation on the ground in Syria remains exceptionally complicated. This is partly due to the difference in the threat perceptions of Iran, Russia and Turkey. Tehran and Moscow share similar sentiments in opposing Turkey's military operations in northern Syria and the US military presence east of the Euphrates; however, both governments differ on their views of Israel's military operations in Syria. In recent years, Russia has not provided full air coverage of Iranian positions in Syria during Israeli airstrikes. Tehran hopes that, with the escalation of differences between Moscow and Tel Aviv in Ukraine, Russia and Iran will cooperate and coordinate more in countering Israeli military operations. In this regard, Supreme Leader Ali Khamenei "praised the Russian president's recent anti-Zionist stance" (Islamic Republic News Agency, July 19).
In contrast, for Turkey, the main threat is the Kurds, not Israel and the US. It is still not clear if the summit in Tehran, as well as the meeting of Iranian Armed Forces Chief of Staff Major General Mohammad Bagheri and Turkish Defense Minister Hulusi Akar, will affect Turkey's decision to carry out military operations in the Kurdish regions of northern Syria (Mehr News Agency, July 19). In the meeting with Putin and Raisi, Erdogan posited, "You say you understand Turkey's concerns, and we thank you for this, but words alone are not enough" (Al Jazeera, July 19). For this reason, when Erdogan returned to Ankara, he said, "A potential new military operation in northern Syria will remain on Turkey's agenda while Ankara still sees a terror threat coming from the neighboring state" (TASS, July 20). Therefore, it seems that Turkey will still execute its military operations in northern Syria, but at a more limited level and with increased consultation from Russia and Iran.