A Belt and Road to Nowhere? Italy on the Frontlines of Europe's Changing Strategy Toward China
Publication: China Brief Volume: 23 Issue: 15
By: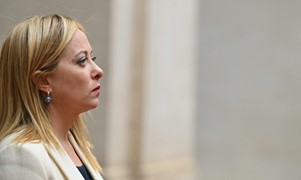 Introduction
During her tenure as Prime Minister, Giorgia Meloni has been far more active on the international scene than most observers predicted. Within the first ten months of her tenure, she has traveled to capitals across Europe, Asia, and North Africa and has hosted numerous foreign leaders on official visits. In July, Meloni visited Washington, D.C. where she and President Biden affirmed their commitment to deepening collaboration across various areas of shared interests.
Meloni's foreign policy agenda has touched on a range of issues including, but not limited to, European security, migration, energy policy, and international trade. It is on this last issue that Italy's decision-making might be most impactful. As the Meloni administration reassesses its economic partnerships around the world, Italy's relations—and by extension the European Union's (EU) overarching position—towards the People's Republic of China (PRC) could witness lasting changes.
At the heart of the new government's economic policy lies its choice of whether to withdraw from China's Belt and Road Initiative (BRI). Meloni—along with many members of her cabinet—have voiced skepticism towards the agreement. As such, everything is on the table in the run-up to the decision at the end of the year.
Buyer's Remorse Over BRI
When Italy—under the Movimento Cinque Stelle (5-Star Movement) government of Giuseppe Conte—became the first, and only, G-7 country to join the BRI in March 2019, international criticism was swift. There was immediate puzzlement and pressure from allies and partners. Several Western nations were concerned about how Italy's participation in the BRI would influence Italy's existing trade relations. Many of Italy's European allies feared that the Conte government's decision was analogous to letting a Chinese "Trojan Horse" gain access to the rest of the European market (France 24, March 21, 2019). In the United States, there were concerns with both the process—namely Italy's failure to consult with Washington—and the potential for a fundamental shift in Italian geopolitics (Jamestown, April 24, 2019).
Furthermore, Italy joined the BRI at a time when European stakeholders were starting to express skepticism towards China's growing economic influence. Following the collapse of the Conte government in February of 2021, fundamental questions surrounding Italy's membership of the initiative resurfaced.
To exacerbate the initially haphazard implementation of BRI in Italy, the actual development of Sino-Italian relations through the BRI memoranda was met with significant obstacles. Largely due to COVID-era disruptions, China's footprint in Europe was substantially reduced between 2019 and 2022. Beginning in 2021, Italy's caretaker government—under the leadership of Mario Draghi—repeatedly used the "Golden Powers" rule to block Chinese companies from acquiring Italian intellectual property, citing national security concerns. In spite of these obstacles, Chinese exports to Italy grew from $34 billion in 2019 to $51 billion in 2022 (Trading Economics, accessed August 10). Italian exports, however, saw a smaller gain from $14.5 billion to $18.5 billion, reinforcing fears that the BRI would accrue unbalanced economic benefits to China and simply increase Italy's trade deficit with Beijing (Trading Economics, accessed August 10). Moreover, Italian political elites were concerned that unfettered trade with the PRC would alienate Rome's traditional economic and security partners in Europe and North America.
BRI's Implications Beyond Trade
Contrary to Chinese rhetoric that seeks to compartmentalize economic relations from security and foreign policy (Global Times, August 1), Italy's place within this "New Silk Road" framework carries significant ramifications beyond bilateral trade and investment. Opposition to the project—both within Italy and among its allies—exists on economic, political, and security grounds.
Politically, BRI is becoming increasingly problematic in light of the other foreign policy activities of the Meloni government. For example, in the immediate run-up to the election, Meloni famously staked out a position in support of Taiwan, deriding China's threats to Taiwanese autonomy as "unacceptable." She also admitted that she did not see compelling reasons to renew Italy's participation in BRI (ANSA.it, September 22, 2022). Underpinning these views was Meloni's stated commitment to "standing tall in the Western camp" (Decode39, September 23)—a position that is fundamentally at odds with continued participation in the Chinese initiative.
These skeptical attitudes are shared by high-ranking members of Meloni's coalition government. Italy's foreign minister, Antonio Tajani from Forza Italia, the junior partner in the coalition, is a known China-skeptic who was vocally opposed to Italy joining the BRI from the outset (ANSA.it, March 22, 2019). Adolfo Urso, the Minister of Economic Development, is also wary of Italian economic dependence on China. Speaking in terms of shared values within the Atlantic Alliance, he has argued for the importance of reducing "political risk" while increasing "commercial opportunities" (Nova.news, June 19).
Europe's bitter experience with Russian oil and gas is also on the mind of Italian policymakers. As Urso argued, "Italy risks moving from subordination to Russian gas and oil to a more serious and long-term subordination to critical raw materials from China which has a sort of monopoly for everything that goes into making solar panels, wind farms, microchips and all that which serves digital and green technology" (Nova.news, July 18). Concerns remain that BRI could be an avenue for China to reinforce this sort of dependence—while using investment to gain influence in Italian politics and control of Italian intellectual property.
In late July, the strongest statements against the BRI have come from Italy's defense minister, Guido Crosetto, who denounced the decision of the Conte government to join the BRI as "improvised and villainous." Crosetto argued further that the agreement could be dissolved "without causing damage" to Sino-Italian relations (Corriere della Sera, July 30).
Italy's Shifting Partnerships
If the agreement is indeed dissolved it will reflect a broader reorientation of Italian foreign policy, particularly Italy's relations with the broader Indo-Pacific region. Since coming to office, Meloni's actions in Asia have been largely inconsistent with achieving cordial relations with China. In March, Meloni met with the Indian prime minister, Narendra Modi, during a brief trip to Delhi. During that meeting, Italy and India established a new "strategic partnership" (The Hindu, March 2). Both leaders touted cooperation across a wide range of issues such as supply chain diversification, business development, and technological collaboration (The Economic Times, March 27). In July, an Indian destroyer carried out "a passage exercise" with an Italian vessel demonstrating the burgeoning defense cooperation between the two countries (Decode 39, August 4).
Italy has also been active in its relations with Japan. In March, Italy, Britain, and Japan announced plans to jointly develop a fifth-generation fighter aircraft for delivery by 2035 (Nikkei Asia, March 17). In August, Italian F-35s arrived in Japan for joint exercises with Japanese fighter pilots (The Japan Times, August 4).
On July 26, Meloni met Vietnamese President Vo Van Thuong commemorating 50 years of relations between the two countries and celebrating Vietnam as another "strategic partner," as well as Italy's "first commercial partner in South East Asia" (Giorgia Meloni Twitter, July 26).
Meloni has followed up her statements on the campaign trail by continuing to build relations with Taiwan (Decode 39, February 20), while championing Taiwanese democracy and "peace and stability across the Taiwan Strait" (The White House, July 27). The Meloni administration's support of Taiwan's core values has promoted a corollary of Taiwanese support for Italian—and European—economic independence from Beijing's centralized "supply chain network" (Taipei Times, August 3).
Close Italian relations with Vietnam, Japan, India, and Taiwan in security, technology, investment, and trade are not likely to sit well with China. The very real possibility that Italy might withdraw from the BRI—coupled with Ms. Meloni's other diplomatic initiatives in Asia—have created considerable concerns in Beijing. With an approach that encompasses both carrots and sticks, Chinese officials continue to trumpet the agreement's potential, while pushing the Italian government to act autonomously and avoid giving into the "paranoid hype" created by the US (Ministry of Foreign Affairs of the People's Republic of China, May 10; Global Times, August 1; Global Times, May 9). At the same time, Beijing has conveyed some not-too-subtle warnings of a "potential negative impact" if the BRI memorandum is not renewed (Global Times, July 24).
Conclusion
Beijing is not only looking for economic influence: the CCP also seeks to maintain the political clout and leverage ensured by Italy's continued participation in the BRI, not just in Italy, but globally. China is concerned that the US ability to influence the economic partnerships of its allies is a clear demonstration of the West's—particularly of America's—continued political and economic clout on the world stage. This is a position of power that China is eager to erode.
Meanwhile, the BRI remains a contentious issue in Italy. As Meloni stated in May during an interview with Il Messaggero, the government's evaluation of the partnership "is very delicate and affects multiple interests" (Il Messaggero, May 28). She argued that Italy, despite joining the "Silk Road," does not have "the greatest economic and trade relations with China." However, she noted that other countries "have good relations" with the PRC even though they are not part of the BRI. Crosetto argued along the same lines when he colorfully reminded his audience that through its membership  Italy had only succeeded in selling China "a load of oranges," but France "without signing any treaties," had nevertheless sold Beijing billions of euros worth of aircraft (Corriere della Sera, July 30).
There are obvious difficulties in making a definitive prediction about which way Meloni will turn. However, it is likely that if the Italian government withdraws from the BRI, it will seek ways to soften the blow to China and try to establish a new foundation on which to maintain a functional—and profitable—economic relationship. Moving on from the "villainous" decision to join the BRI will undoubtedly please the United States, but it will also solidify Meloni's place as a trusted and central player in the transatlantic alliance.
On the BRI issue, both China's carrots and its sticks may be illusory, especially when compared with the very tangible—and mutual—benefits apparent in the relationship between Italy and its G-7 partners, most prominently the US. Within Italy, a withdrawal from the BRI would also make sense in terms of protecting the country's fundamental economic interests and its place at the heart of Europe. How China will react, however, remains to be seen. The blow to Beijing's prestige from the termination of the BRI agreement is likely to sting for some time—and should be a reminder to China that Europe is not for sale.