A 'Fantastic' NATO Summit as a Possible Bargaining Chip in Trump's Talks With Putin
Publication: Eurasia Daily Monitor Volume: 15 Issue: 104
By: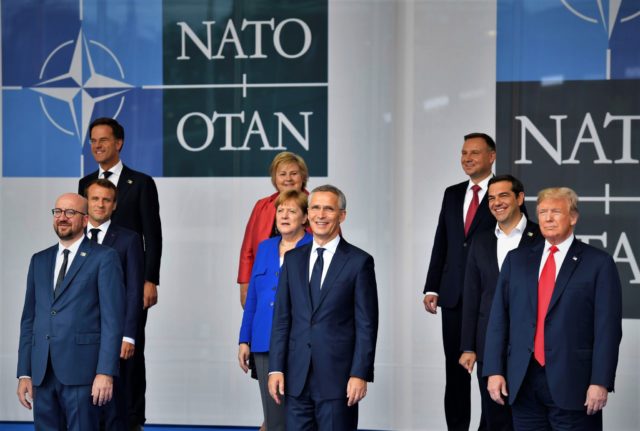 After the end of the Cold War, both the East and the West agreed they were no longer enemies, and Russian delegations regularly visited summits of the North Atlantic Treaty Organization (NATO). The last such delegation attended NATO's Chicago Summit, in 2012, though it was a low-level group and authorized only to discuss Afghanistan with the North Atlantic Alliance. Since 2014 and the illegal annexation of Crimea (or "reunification" as it is known in Russia), NATO's ties with Moscow have been cut to a minimum. But while Russia is not at the table, it nevertheless remain important for the transatlantic community. The main business of NATO since 2014 seems to have been building up capabilities to deter possible Russian mischief along the Alliance's eastern flank—more or less comparable to its priorities during the Cold War. The July 11–12 NATO summit in Brussels, Belgium, was convened primarily to finalize and approve plans drawn up by member states' military staffs to enhance the Alliance's strategic mobility. As is typical of NATO initiatives, the plan received its own catchy moniker—"30-30-30-30." It obliges Alliance members to collectively build up capabilities to move and deploy 30 combat (mostly European) army battalions, 30 air force squadrons and 30 warships in 30 days to the east of Europe, primarily to Poland and the Baltic states, to deter (or, in the worst case scenario, to combat) a massive force Russia might send into the area with hostile intent (Militarynews.ru, July 11).
The North Atlantic Alliance's military potential is much stronger than Russia's. The latter has a relatively small economy, based mostly on exports of oil, natural gas and other commodities, and a population many times smaller than the combined transatlantic bloc. But unlike Western democracies, Russia can secretly, without any public debate, mobilize and move into action thousands of troops and heavy equipment—as happened in 2014, in Crimea—potentially overpowering the armed forces of Poland and the Baltic States as well as the relatively small contingents of other Allies that have been deployed on NATO's eastern flank in recent years. The 30-30-30-30 plan, just approved at the Brussels Summit, essentially provides for an enhanced deterrence force. In other words, such a force is relatively too small and too slowly assembled to be an effective vehicle of military victory over Russia, but is designed to hopefully deter an attack that could escalate into an all-European or even global conflict, which both the East and the West would seek to avoid.
Since 1949, deterrence has been the backbone of NATO strategy and remarkably successful, keeping the peace in Central Europe since 1945. Of course, effective deterrence requires credibility. NATO countries do not want to deploy massive forces to face Russia close to its borders, so the summit in Brussels approved plans to enhance strategic mobility in Europe. Infrastructural and legal bottlenecks must be removed and new joint staffs created to manage the execution of the "4×30" deployment to make it a credible deterrent (Newsru.com, July 11).
As agreed to long before the Brussels Summit, NATO plans to enhance strategic mobility, prepare the 4×30 reaction force, increase battle readiness, prepare for cyber warfare, and increase defense spending by European Allies. Indeed, regarding the final point, inequities in so-called "burden sharing" have been the main public focus of United States President Donald Trump's harsh criticism of other NATO members. For deterrence to be successful, NATO's defense preparations must be as transparent as possible, so that any adversaries, and Russia in particular, will take note and avoid aggressive actions. Moscow was well prepared for the NATO summit and denounced it beforehand. Kremlin spokesperson Dmitry Peskov claimed the Alliance is a "confrontational Cold War leftover." According to Peskov, "NATO is expanding its military infrastructure to our borders, and this confirms its aggressive nature" (Militarynews.ru, July 10). According to Defense Minister Sergei Shoigu, "Under the pretext of facing rogue states in the Middle and Far East, the US is moving forces and establishing bases close to Russia's borders, while NATO is expanding [sic] to the east" (Interfax, July 11).
The Russian defense, intelligence and foreign policy community routinely overemphasizes the US and NATO threat in its assessments as a pretext to clamor for more budgetary allocations. The Russian military, in particular, wants to avoid returning to the financially meager years of the post–Cold War 1990s, when Alliance forces and the Red Army considered one another partners. As such, there is great interest in Moscow about the longer-term outcomes of the Brussels Summit as well as what political baggage Trump may bring to Helsinki, Finland, for his first full-scale summit with President Vladimir Putin, on July 16.
Trump has been attacking NATO members, and Germany in particular, for spending too little on defense, while insisting the US was spending too much to defend Europe. Trump's protracted wavering commitment to stand by Washington's long-term Allies was apparently undermining the backbone of NATO's defense—its deterrence policy (Meduza, July 11). Such a watershed strategic policy change, if it materialized beyond pure rhetoric, could open for the Kremlin interesting future possibilities. The first NATO secretary general, Lord Ismay, famously stated that the organization's goal was "to keep the Russians out [of Europe], the Americans in, and the Germans down [not dominating]." Nowadays, this set of priorities may fully go into reverse: the Americans out, the Russians in, and Germany possibly rising again.
On the second day of the summit in Brussels, Trump told journalists the US was paying up to 90 percent of the cost of NATO (a serious exaggeration), but added that things have much improved, with Allies pledging to spend more: "First to 2 percent [of] GDP and to 4 percent in the future." According to Trump, "NATO is much stronger today than two days ago; it was a good summit, and Putin will see that." He insisted, "NATO is helping Europe more than the US," but acknowledged "it's important to the US" (Interfax, July 12). Looking ahead to the coming tête-à-tête in Helsinki, Trump declared, "Putin is not an enemy," but a "competitor that could be a friend." Trump did not exclude the possibility of an agreement with Putin to curtail military exercises in the Baltics (Interfax, July 12).
The US leader revealed that his discussions with Putin would focus on Syria, Ukraine and "election meddling"; he believes a deal is possible. A "fantastic" NATO summit in the run-up to Helsinki could be a valuable horse for future horse trading.