A Lost Year for Russia
Publication: Eurasia Daily Monitor Volume: 13 Issue: 40
By: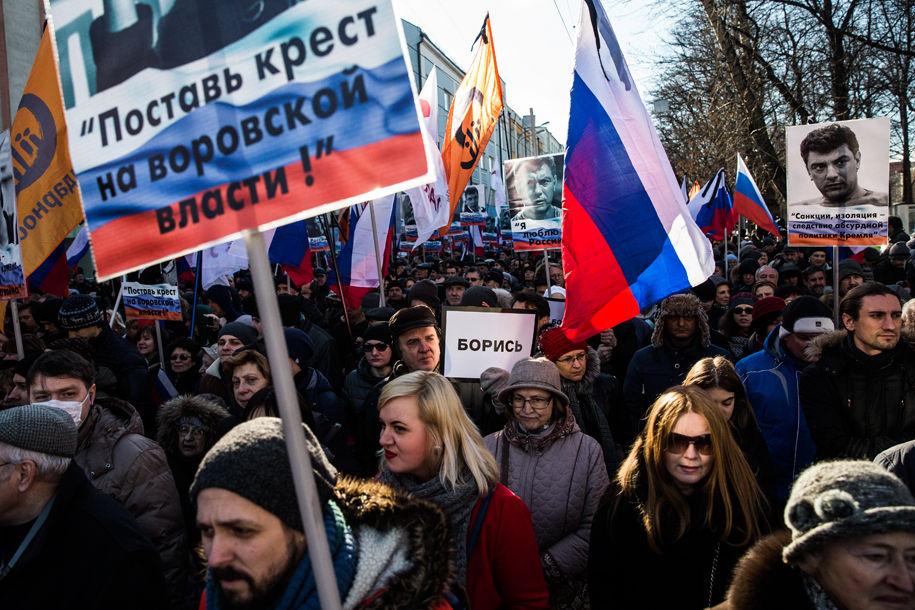 It is the dubious ceasefire in Syria that keeps Russia in the focus of global media attention these days, as if the outcome of this catastrophic civil war actually depends upon Russian bombs falling here or there. President Vladimir Putin has not committed to anything binding because he has always claimed that only the Islamic State and other terrorist groupings are being targeted by Russian airstrikes (Rbc.ru, February 26). He appears not to care about the humanitarian costs of the war but is keen to engage in a direct dialogue with the United States on managing it—and he is even more keen to demonstrate the faults of US President Barack Obama's Syrian policy. Putin almost certainly knows that the Syrian intervention is losing popularity among Russians, and he has reason to worry about the growth of discontent. Speaking to the Federal Security Service (FSB) Collegium last Friday (February 26), he started with the Syrian ceasefire but quickly turned to the more important problems of countering the subversive activities of foreign special services (Kommersant, February 26).
He mentioned that more than 400 foreign agents were uncovered inside Russia, of which 23 were brought to justice. But he made absolutely no reference to a notorious crime that occurred one year ago, in the heart of the Russian capital (Moskovsky Komsomolets, February 26). Nonetheless, under the watchful eyes of thousands of police officers, tens of thousands of Muscovites marched last Saturday to the bridge opposite the Kremlin, where Boris Nemtsov was gunned down on February 27, 2015 (Moscow Echo, February 27). That murder seemed to have little if any long-term effect on Russian society, and nearly half now say that they have no particular feelings about it (Levada.ru, February 19). It was the annexation of Crimea two years ago that sharply divided the country into the majority of "patriots," who were overjoyed with that "reunification," and "traitors," who condemned it, and Nemtsov was firmly and fiercely in the latter camp (Vedomosti, February 26). Nemtsov's report on Russia's aggression against Ukraine was finished and published by his friends after his death, but his foes cannot accept the fact that the murder has proven him right (New Times, February 16).
The investigation into the carefully planned and deliberately shocking crime is stalled, even if the details of its execution are now well established (Novaya Gazeta, February 24). The names of the gunmen, drivers and watchmen involved in setting the ambush for Nemtsov are known, and there is no shadow of doubt that this team of Chechen "guardsmen" was dispatched to Moscow on the order Chechnya's leader, Ramzan Kadyrov (Moscow Echo, February 26). He is indeed the only political player in Russia who controls his own armed forces and deploys them to Moscow on a permanent basis for protecting economic and criminal interests (Pskovskaya Guberniya, February 24). Putin's siloviki (security services personnel) are seriously irritated with this independent projection of armed power, but Russia's leader remains reluctant to punish the escapades and crimes of his protégé, who feels empowered to threaten liberal opposition leaders with physical violence and death (Ezhednevny Zhurnal, February 24).
This political protection at the highest level makes Putin, for all intents and purposes, an accomplice in Nemtsov's murder, which is a non-event in all official media channels (Moscow Echo, February 26). By making sure that this execution-style assassination of one of the brightest figures in the opposition remains unpunished, he has effectively altered the rules of high-level and grass-roots politics in Russia (Gazeta.ru, February 26). The State Duma is busy adopting legislation that makes independent observation of voting all but impossible, while Putin has instructed the FSB to focus on preventing any use of electoral "technologies" that could distort the pre-determined outcome (Novaya Gazeta, February 26).
Veteran oppositionists Grigory Yavlinsky and Mikhail Kasyanov, the latter of whom is particularly targeted by Kadyrov's threats, are nevertheless stubbornly trying to build a political campaign ahead of parliamentary elections this September (Nezavisimaya Gazeta, February 26). While fearless anti-corruption campaigner Alexei Navalny, who recently won his case in the European Court on Human Rights concerning an unfair trial in Moscow, is calling on Muscovites, via Twitter, to partake in a street rally (Navalny.com, February 26). And Mikhail Khodorkovsky argues from exile that Putin has brought Russia to the brink of a revolution, so the task is to ensure its relatively peaceful character (New Times, February 8).
The thesis on the inevitability of a revolution might appear far-fetched, but the deepening economic decline naturally brings with it both public apathy and anger (Newsru.com, February 26). While Putin's approval ratings remain sky-high, the falling incomes and the severe cuts in budget allocations for health care, housing and education cause disillusionment in the government's performance, which is not captured by the increasingly mistrusted opinion polls (Nezavisimaya Gazeta, February 26). Putin's propaganda-polished image of a superhero is growing dull, and there is a gradual change in people's attitudes. As Nemtsov famously once said: "I have only one serious issue with Putin—he makes me feel like puking" (Ezhednevny Zhurnal, February 26).
Russia has lost a year sinking into its economic degradation, dragging its feet over the withdrawal from the occupied territories in eastern Ukraine, and stepping into the quagmire of the Syrian chaotic war. Putin mostly succeeded in converting the arrogant stance of victorious power into the defensive determination to withstand hostile pressure, but internal decline can only be explained away by the external sabotage for so long. The quality of his leadership is challenged not so much by the liberal opposition, but more by the inability to put together a meaningful anti-crisis plan—and very particularly by the inability to check Kadyrov's brutal display of violent power projection.
The only place where Putin can assert his leadership happens to be Syria, and he is exploiting to the maximum the confusion in Western management of this catastrophe by presenting himself as a determined enforcer of stability. His Western counterparts are probably as fed up with his cynical posturing as Nemtsov was, but have to pin their hopes on the Syrian ceasefire for lack of better options. Every party to the war expects the pause in hostilities to break down, and Russia stands ready to take advantage of that. But the sum total of the risks Moscow is taking grows taller every day. Boris Nemtsov proved that Putin's regime has mutated into a deadly and deeply corrupt cabal, and, in death, he keeps asking Russians and their friends how long this can be tolerated.