A Stability Check in US-Russian Relations
Publication: Eurasia Daily Monitor Volume: 18 Issue: 169
By: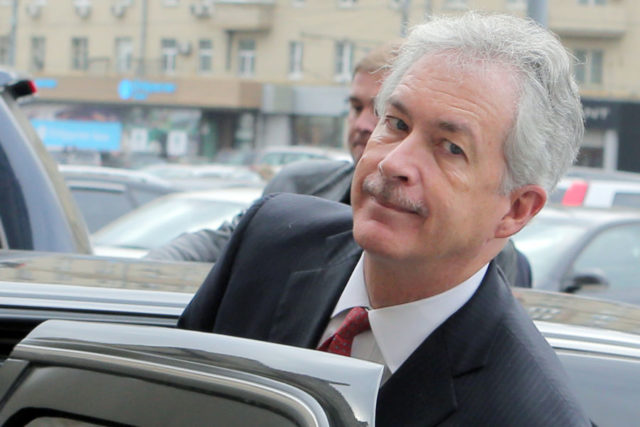 Russia has not entirely avoided contravening international laws and norms since the Geneva summit in mid-June, but its behavior has been an improvement compared to many periods in recent memory. United States President Joseph Biden impressed upon President Vladimir Putin, over the course of their three hours of talks in the Swiss lake-side city, that he expected Russia's policies to be "stable and predictable"; and these two descriptors have been evoked many times since, most recently in the context of a surprise visit to Moscow of Central Intelligence Agency (CIA) Director William J. Burns last week (November 2–3) (Kommersant, November 3). In addition to a reported phone conversation with Putin, Burns—who is quite familiar with goings-on around Moscow, where he was an ambassador in 2005–2008—held face-to-face meetings with Nikolai Patrushev, the secretary of the Russian Security Council and one of Putin's oldest lieutenants, and Sergei Naryskin, the director of the Foreign Intelligence Service (SVR) (Interfax, November 8; Izvestia, November 3). Official commentary on the results of these discussions has been scarce, but Washington generally has more reasons to be satisfied with the status of the uneasy relations than the Kremlin.
One peculiar feature of the dialogue is that while it continues through various channels, including the September meeting between both countries' top military officials (Mil.ru, Jcs.mil, September 22), normal diplomatic connections remain essentially blocked (RIA Novosti, November 5). Many areas where cooperation could have been possible, such as the messy crisis in Afghanistan, are effectively frozen. In the last week, it has been Russia's lack of commitment to take practical steps in reducing greenhouse gas emissions and Putin's no-show at the COP26 Glasgow environmental summit that invited Biden's criticism (see EDM, Russiancouncil.ru, November 1). Moscow also persisted with the cartel deal on curtailing oil production in the OPEC+ format, despite urging from Washington to increase supply to the struggling global market (Nezavisimaya Gazeta, November 5). European natural gas consumers have also been severely affected by shortages of supply, and Gazprom's position, while not blatantly disruptive, was certainly not helpful or responsive to US appeals (The Insider, October 21).
One area where cooperation is seeing some kind of progress is cyber security: the United States and Russia have apparently managed to overcome their long-running disagreements in this sphere and presented a joint draft resolution on responsible state behavior in cyberspace to the United Nations General Assembly (Forbes.ru, October 18). After Putin and Biden's Geneva summit, the intensity of cyberattacks originating in Russia on critical US infrastructure went down; but in late October, Microsoft registered a new surge and attributed it to the hacker group Nobelium, which has connections to the SVR (RBC, October 26). Russian sources suggest Burns raised this issue with Naryshkin; while the State Department made waves online by announcing a reward of $10 million for information about the leaders of the hacker group DarkSide, responsible for a series of notorious ransomware operations earlier this year (Izvestia, November 4).
Russia's top priority area of engagement with the US is strategic arms control, and while both sides have preferred to describe the Geneva consultations on strategic stability as "constructive," few signs exist of meaningful progress (RIA Novosti, November 6). Moscow's stance on non-strategic nuclear weapons makes all potential progress conditional on the withdrawal of US B-61 bombs from Europe. This negotiating position is aimed primarily at fostering disagreements inside the North Atlantic Treaty Organization (NATO). Indeed, Russian propaganda puts a spin on the dubious proposition of incorporating the principle of "no first use" into the forthcoming US Nuclear Posture Review, seeking to add more confusion (Kommersant, November 1). Yet undercutting Russia's desire for engaging in high-profile arms control talks bilaterally—thus, de facto gaining the status of equal counterpart to the US—is the sharp surge in China's nuclear capabilities, which Beijing resolutely denies (RBC, November 6). Russian experts argue that the China-driven radical shifts in the nuclear balance in the Indo-Pacific theater make it necessary to reintroduce intermediate-range missiles into the Russian Armed Forces' arsenal, which is legally possible after the collapse, in 2019, of the Cold War–era Intermediate-Range Nuclear Forces (INF) Treaty (Rosbalt, November 4). One difficult issue in the nuclear non-proliferation area, where the Biden administration hoped for Russian support, is the revision and revival of the 2015 multilateral agreement on curtailing the Iranian nuclear program. But recent talks between Foreign Minister Sergei Lavrov and his Iranian counterpart, Hossein Amir-Abdollahian, confirmed that no such support is to be expected (RIA Novosti, November 6).
One loaded question that has suddenly reemerged in the US-Russian dialogue is the new concentration of Russian troops on the border with Ukraine; even official Russian news agencies reported that Burns allegedly raised this matter during his talks in Moscow (TASS, November 6). Clashes in the Donbas war zone have, indeed, escalated to the level where full-blown hostilities are only a step away, and the Ukrainian forces have responded to multiple ceasefire violations by using Bayraktar TB2 attack drones supplied by Turkey (Ezhednevny Zhurnal, October 28). For now, diplomacy looks unlikely to discharge this stand-off, and the US Navy deployed into the Black Sea first the destroyer USS Porter (Arleigh Burke–class) and then the flagship of the Sixth Fleet, the amphibious command ship USS Mount Whitney (Nezavisimaya Gazeta, November 2). Conferring with his top brass in Sochi, Putin provocatively suggested that the military track these vessels using either binoculars or the crosshairs of an anti-ship weapons system (Izvestia, November 1). He certainly remembers that it was the deployment of a massive grouping of troops on the border with Ukraine last spring that granted him the opportunity for a summit with Biden; he may hope that a replay of the threat will secure him another such high-profile meeting (Novaya Gazeta, November 4).
Yet prestige is not all that drives Putin's ambition—it is also dissatisfaction with the fruits of Geneva. The matter of the return of diplomatic property may ultimately be of relatively little import for the Kremlin, and Moscow is more concerned that there is still no relaxation of US sanctions, what it sees as too little regard for Russia's interests in Syria or in the Arctic, and purportedly too much criticism of Moscow's tightening control over President Alyaksandr Lukashenka's autocratic regime in Belarus. Biden's plan to convene a summit of democracies adds to the irritation in Putin's court, where key subordinates have found themselves on the receiving end of stern messages from Washington. Their response may be to try to convince their boss that Russia's behavior of late has become rather too predictable for their personal comfort.