A Year in Review: Middle Volga Republics Becoming an Ever Bigger Headache for Moscow
Publication: Eurasia Daily Monitor Volume: 17 Issue: 6
By: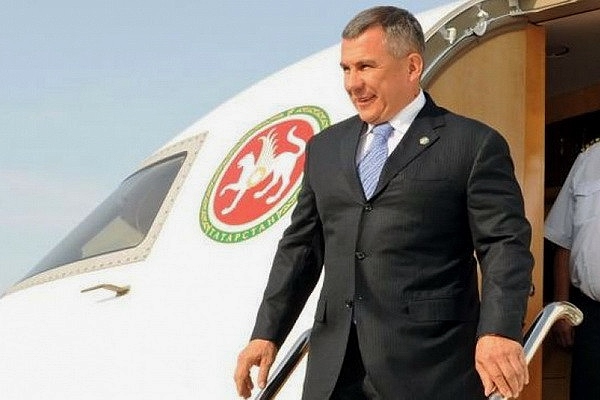 Both individually and as a group, the six non-Russian republics of the Middle Volga—Tatarstan, Bashkortostan, Udmurtia, Mordvinia, Mari El and Chuvashia (collectively known as the Idel-Ural)—have become a radically more serious problem for Moscow over the last year, challenging it in new ways and old. This situation makes it almost certain that the region will be a hot spot for Moscow during 2020—not because the Middle Volga nations are likely to engage in mass demonstrations or violence but because their politicians and intellectual elites will use political means and the courts to block or at least slow President Vladimir Putin's homogenization and Russification drives. As a result, and as was the case in the 1990s, the Idel-Ural can be expected to play a key role in determining what is possible for Moscow and its relationship with regions and republics across the entire Russian Federation.
Perhaps the most dramatic but not necessarily the most important aspect of this trend is the increasing activism of two regional groups and the ways in which they have attracted attention and support from abroad. The first of these is the new Tatarstan Government in Exile, whose members say they speak not only for the Tatars and Tatarstan but for all the peoples of the Idel-Ural (Tatar-toz.blogspot.com, November 16, 2019). And the second group is the Free Ural movement and its Internet portal, which has become sufficiently influential that Moscow has blocked the site but not been able to prevent its activists from moving abroad and continuing to speak out on behalf of the nations of the Middle Volga (Idelreal.org, November 1, 5, 2019).
Both have issued statements on key developments in the region and, more generally, organized protests at Russian diplomatic missions abroad. Moreover, they have developed ties with Russian opposition groups, international human rights organizations and, in particular, generated support from the Ukrainian government (Ideleral.org, June 5, 2019, November 4, 2019, November 5, 2019; Tartar-toz.blogspot.org, October 6, 2019; Region.expert, June 5, 2019, June 19, 2019; Solydarnist.org, November 5, 2019; Yenicag.ru, May 7, 2019; Facebook.com/Free.IdelUral, April 16, 2019; Sichovyk.com.ua, May 23, 2019; Windowoneurasia2.blogspot.com, June 7, 2019).
And perhaps especially ominously from Moscow's point of view, these groups have pushed for Bashkortostan and its neighbors to seek to reclaim Turkic and Muslim lands in Orenburg, which Moscow transferred to that Russian oblast to deny the Middle Volga republics an external border and, thus, the chance to move toward independence. Given recent and ongoing debates about current borders of Russian federal subjects, that is very much a live and potentially explosive issue (Windowoneurasia2.blogspot.com, December 27, 2018; Facebook.com/Free.IdelUral, April 26, 2019).
The activities by the Tatarstan Government in Exile and the Free Ural movement have attracted some international attention throughout 2019; but with rare exceptions, important developments in each of the six republics have not. This may turn out to be a momentous omission, particularly since those events and trends in the Idel-Ural are likely to play an even more prominent role in the coming year.
During 2019, Tatarstan moved to resume its leadership role in the region. In the 1990s, Tatarstan under then-president Mintimir Shaymiyev took the lead in promoting the expansion of the powers of the republics within the Russian Federation. But after Shaymiyev's retirement, Kazan appeared to pull back from such a role. Last year, Tatarstan finally resumed it with a vengeance—though now as the defender of the rights the Tatars, nations of the Middle Volga and all non-Russians still have, rather than hoping to extend their powers, as it did earlier.
Among the moves Kazan undertook over the last 12 months was to lead the charge against academician Valery Tishkov, Putin's point man on Russianization and Russification. Some Tatarstani officials and activists went so far as to seek Tishkov's indictment for extremism (Windowoneurasia2.blogspot.com, February 12, 2019, February 13, 2019). They have warned other non-Russians of the threat Moscow's educational policies have for them and the future of their nations (Idealreal.org, January 29, 2019; Business-gazeta.ru, February 25, 2019), and they sounded the alarm on Tishkov's efforts to allow residents of Russia to declare multiple citizenships in the upcoming census (Nazaccent.ru, December 17, 2019; Kommersant.ru, December 16, 2019; Business-gazeta.ru, November 30, 2019). Finally, officials in Kazan came out to oppose Russian plans to celebrate "victory" over the Tatar-Mongol horde (Idelreal.org, January 1, 2020).
But for many observers, Tatarstan's renewed leadership role has rested on four other issues. First, Kazan consistently resisted Moscow's demand that it give up its republican presidency (Idealreal.org, July 15, 2019). Second, it cast itself as the defender of all Tatars serving in the Russian military (Idealreal.org, November 26, 2019). Third, some activists portrayed Kazan as being in the business of creating "a Noah's ark" not only for Tatarstan and the peoples of the Middle Volga but for all non-Russians inside the current borders of the Russian Federation (Idealreal.org, October 20, 2019). And fourth, some Tatars, many of whom now use the Russian language rather than Tatar, suggested a possible nightmare future for Moscow: They said that Russian-speaking Tatars were not any more likely to assimilate, as Moscow hopes, but rather would become "the Irish" of the Middle Volga and Russia, a reference to the fact that the Irish did not become anti-British nationalists until they learned English (Windowoneurasia2.blogspot.com/, February 3, 2019).
Three developments in Bashkortostan, the second Turkic Muslim republic in the Middle Volga, were significant in 2019. First, Ufa has been seeking to use the upcoming September 2020 census to boost the number of those identifying as Bashkirs in order to assume a larger role in the political life of that republic. Because most of those who might re-identify are Tatars, this has sparked concerns in Kazan that Ufa has stolen a march on Tatarstan and that the number of recognized Tatars in the Russian Federation will decline (Bash.news, January 19, 2019; Windowoneurasia2.blogspot.com, December 30, 2019). Second (and in response), Tatars in border regions of that republic took a leaf from the Baltic freedom struggle at the end of the 1980s and organized a human chain to underscore the importance of Tatar nationality as distinct from Bashkir (Azatliq.org, April 23, 2019; Idelreal.org, September 12, 2019). And third, Ayrat Dilmukhametov, a Bashkir opposition politician in jail since March 2019, has become perhaps the most widely attended spokesperson for the idea that the best defense of the non-Russian republics is the creation of civic nations within them and the support of regionalism and federalism more generally (Idelreal.org, August 1, 2019).
Meanwhile, a dramatic protest action in Udmurtia has reanimated non-Russian resistance to Russification there. In September, Albert Razin, a 79-year-old Udmurt scholar, committed suicide burning himself to death because he said he could not continue to live if his language was destroyed. His self-immolation attracted attention across Russia and, indeed, the world; but more importantly, it reignited local challenges to Moscow's Russification policies (Idelreal.org, September 10, 2019). Since that time, other activists in that Finno-Ugric republic have taken up the cause of defending their dying language—with some success.
Nearby, the tiny Finno-Ugric republic of Mari El seldom receives much coverage; but it did this past year due to the ongoing legal travails of its former head as well as the efforts of its citizens to prevent the deaths of villages and their combination into larger entities—in which the Maris would have fewer possibilities to save their language—thus becoming a model for other non-Russian republics (Zamanabiz.blogspot.com, October 2019). And in a remarkable way, Mari El's inherent invisibility to most Russians became an issue after a survey found that many Russian journalists think the republic is inhabited not by members of the Mari nationality but by "Marieltsy" (Facebook.com/gelovea, January 9, 2019; Region.expert, January 10, 2019).
Mordvinia, the second-most-populous Finno-Ugric republic in the Middle Volga, is generally known only as the site of the largest concentration of GULAG camps in Soviet times and of Russian prison colonies today (Windowoneurasia2.blogspot.com, July 20, 2019). But this past year it attracted attention for two other reasons: a petition effort in Alatyr (in neighboring Chuvashia) to move that city to Mordvinia (Idel-ural.org, December 9, 2019) as well as a growing conflict between the two branches of the Mordvin nation, the Moksha and the Erzya. Notably, Moscow appears to be stoking this division to weaken the republic (Idel-ural.org, October 28, 2019; Idelreal.org, October 22, 2019).
Finally, the Christian Turkic republic of Chuvashia attracted attention last year because its people succeeded in blocking the erection of a statue of Ivan the Terrible, a victory that encouraged others to resist Moscow's increasing obsession with the brutal tsar (Turantoday.com, May 14, 2019). But statistical figures show that Chuvashia has been less successful in defending its language against Moscow's Russianization drive (Mariuver.files.wordpress.com, August, 2019).
Any of these above-described issues, both general and specific, could become a flashpoint in 2020. The census itself is certain to spark problems. And Tatarstan's resumption of its leadership role for all the Russian Federation's non-Russians is likely to lead the Kremlin to take steps to undermine Kazan—possibly with some dramatic and, thus, explosive personnel changes.