Afghan Forces' Unexpected Win: The Killing of Qari Saifullah Akhter
Publication: Terrorism Monitor Volume: 15 Issue: 6
By: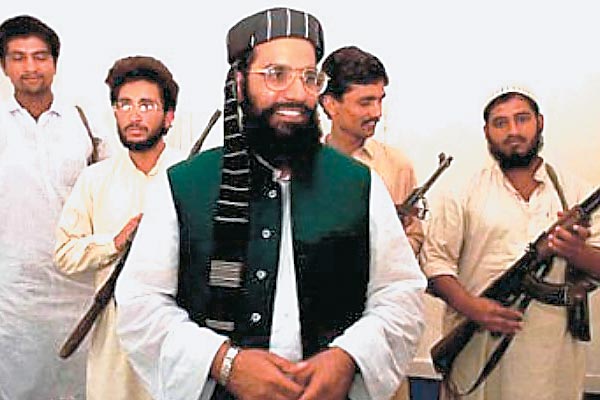 The death in a clash with Afghan forces of long-time Pakistani jihadist Qari Saifullah Akhter, the emir of Pakistan's Harkat ul Jihad e Islami, is both a surprising victory for Afghanistan's security forces and an indication of the Taliban leadership's recent attempts to rebuild frayed links with al-Qaeda amid Afghanistan's on-going conflict.
Akhter, 58 and widely respected in the jihadist circles of Pakistan and Afghanistan as a veteran of 40-years of jihad, was killed by Afghan security forces in the Birmil district of Paktika province in January (Newsline, February 20). He was reportedly fighting alongside the Afghan Taliban, apparently having recently relocated to the country.
As well as a setback for the Afghan Taliban and Pakistani Islamist terrorist groups, his death in rural Afghanistan comes as something of a surprise since, according to earlier reports, he had been enjoying a comfortable retirement in Pakistan, where he ran a madrasa near Islamabad. [1]
Veteran of Jihad
Akhter began his jihadist career at a time when few Pakistanis, even Pakistani Islamists, were considering armed conflict. He was a graduate of the notorious Jamaia Uloom ul Islamia madrasa in Binori Town, Karachi and a protégé of Mufti Nizamuddin Shamzai, the madrasas' principal and considered the "godfather" of Pakistani jihadists. At the time, jihadist movements in Pakistan required Shamzai's blessings to launch their tanzeemat (organizations). Even Mullah Omar, the Afghan Taliban's supreme leader, is believed to have considered Shamzai as a mentor.
Akhter was a pioneer of jihadist organizations in Pakistan. In 1981,  he and two other students from the madrasa — Fazal ur Rehman Khalil and Irshad Ahmad — founded Harkat ul Jihad-e-Islami (HuJI), an Islamist jihadi movement with roots in Pakistani Deobandi sects. Khalil would later split with Akhter, establishing Harkat ul Mujahedeen, a splinter group of HuJI, and go on to become a co-signatory with al-Qaeda's Osama Bin Laden on a fatwa against "Jews and Crusaders" in 1998.
In the wake of the 1979 Soviet invasion of Afghanistan, HuJI had the blessing of Shamzai, along with seed money provided by Islamist charity organizations then working to promote Afghan jihad in Pakistan. Today it has the distinction of being the only Islamist terrorist organization of Pakistani origins to have operations in India, Bangladesh and Myanmar. [2]
Akhter, in collusion with rogue Islamist military officers, was even part of the failed Islamist coup, known as Operation Khilafat, aimed at toppling the government of Prime Minister Benazir Bhutto in 1995. [3]
Regional Network
Apart from his strong jihadist credentials in Pakistan, Akhter was one of only a small number of militants to develop an early rapport with the Afghan Taliban. During the Taliban's rule of Afghanistan, between 1996 and 2001, he became an advisor to Mullah Omar and served as a judge in Kabul. His HuJI organization even supplemented Afghan Taliban forces with a contingent of Pakistani foot soldiers to aid the group's conquest of northern Afghanistan.
Akhter used his Taliban influence to help develop al-Qaeda-Taliban relations. When al-Qaeda provided fighters from its non-Afghan Brigade 055 to aid Taliban forces in fighting against Northern Alliance forces, it was on Akhter's advice.
After the U.S. invasion of Afghanistan in October 2001, the HuJI leader was seen fleeing with Mullah Omar on his motorcycle in the suburb of Kandahar. [4] Despite reports he was killed fleeing Afghanistan, he later resurfaced in Pakistan but remained aloof from public gatherings and talks.
Return to Afghanistan
Akhter's recent reemergence in Afghanistan, fighting alongside Taliban forces, provoked some excitement in the jihadist world, as well as confusion among the authorities. According to an Afghan government statement, Akhter was overseeing a "terrorist hub" in the Bagram and Reshkor regions of Kabul province. It is likely the Taliban hoped to use his influence to build alliances and boost morale ahead of the upcoming spring fighting season.
Afghan officials created confusion and generated further speculations about Akhter's presence in Afghanistan because they first announced his death in a clash with Afghan military in Birmil district of Paktika province, but five weeks later claimed he was killed in a raid in Nawa district of Ghazni province (Nation, January 10; Geo News, January 10).
Since Akhter served as a go-between for al-Qaeda and the Afghan Taliban while Afghanistan was under Taliban rule, it is possible he was in the country to reconcile the two Islamist militant forces as part of a broader strategy before the start of spring and the beginning of a new fighting season. The recent divisions in the Afghan Taliban, following the death of former leader Mullah Mansoor Akhter in 2016, could have prompted the group to call on him. Afghanistan's Taliban-led insurgency is not monolithic and its leadership's promises that the Afghan government will soon fall increasingly appear overblown to its supporters. It may be the Taliban hoped to capitalize on Akhter's veteran status since — at the age of 58, it is unlikely he was there to fight.
Akhter may have hoped that the emergence of Islamic State's Khurasan chapter in Afghanistan, which has been unsettling for both the Taliban and al-Qaeda, could improve ties damaged in the wake of the U.S. invasion of Afghanistan and more tightly knit the two together.
The development also comes amid a recent shift in Afghan politics that has seen a peace agreement between the government and the veteran Hizb-e-Islami militia leader Gulbaden Hekmatyar. Hekmatyar's move to join the political establishment was a blow to the Taliban. Bringing in Akhter was perhaps a move by the Taliban to show the group can still claim broad support from the jihadist community.
Taliban Leadership Divided
Afghanistan is likely to see an increase in violence as the spring fighting season begins, with the 2017 fighting season set to test the Afghan government and security forces. In that context, Akhter and his HuJI could have been a boon to the Taliban and his death may prove something of a pre-emptive victory of Afghan security forces, albeit an unexpected one.
Akhter was a seasoned jihadist who had fought against the Soviets in the 1980s. His return from retirement to the war zone of Afghanistan appears to be a dramatic development and is perhaps indicative of attempts by the Afghan Taliban's leadership to rebuild and strengthen damaged links with al-Qaeda.
That in itself could be a desperate move, given divisions within the group's leadership. If so, the Afghan government should act quickly and seize the opportunity to break the back of the Islamist insurgency.
NOTES
[1] Author interview with Azaz Syed, Islamabad-based senior journalist (February 18, 2017)
[2] Further information on the group can be found on the South Asia Terrorism portal (here); see also Asia Times Online (December 10, 2004
[3] Benazir Bhutto makes reference to this in her book Reconciliation: Islam, Democracy and the West, Simon and Schuster (New York: 2008)
[4] Carlotta Gall, The Wrong Enemy: America in Afghanistan 2001-2014, Penguin Publishers (London: 2014)