Allied Resolve 2022: Moscow's Maskirovka Operation
Publication: Eurasia Daily Monitor Volume: 19 Issue: 12
By: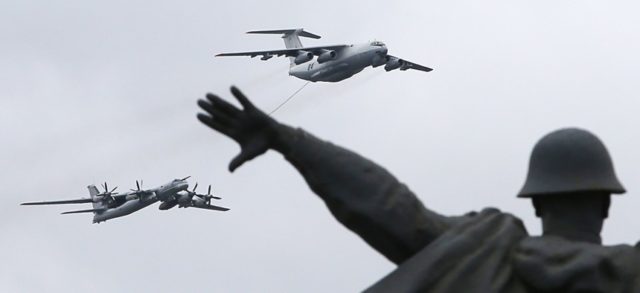 Russia's Armed Forces continue to arrive in Belarus for the bilateral large-scale military exercise Soyuznaya Reshimost (Allied Resolve) 2022, officially scheduled for February 10–20. These deployments, which add to the wider Russian force buildup in proximity to Ukraine's borders (see EDM, January 26), involves moving equipment, hardware, weapons systems and military personnel from the Eastern Military District (MD) as well as from other MDs. However, the size and scale of the movement of forces for what is cast as a joint military exercise appears to be conceptualized in Moscow as a maskirovka (military deception) operation. Details regarding the force deployment indicate that the Russian military planning transcends a standard exercise model. Russian Armed Forces units scheduled to participate in Allied Resolve 2022 will complete their deployment and combat readiness checks by February 9, prior to commencing the "exercise" (Mil.ru, February 1).
Allied Resolve 2022 occurs in the wider context of Russia's unprecedented force massing close to Ukraine's borders, which includes elements from Russia's eleven combined arms armies and one tank army The size and scale of this is measured in terms of the estimated Ground Forces Battalion Tactical Groups (BTG), although all those being observed actually represent a prepositioning of hardware and weapons, mainly without military personnel. International attention on the buildup tends to portray this as a second variant following an earlier such arraying of forces in the spring of 2021. In fact, it is one continuous buildup, which slowed in the run-up to Zapad 2021 in September but then resumed later in the fall; much of the buildup elements moved in during March–April 2021 stayed in place (Twitter.com/konrad_muzyka, January 23).
By stark contrast, the Russian deployment to Belarus contains both hardware and military personnel. The size of the Russian Armed Forces elements sent to Belarus for Allied Resolve 2022 eclipses those that were there for Zapad 2021; reportedly involving up to 200 transportation trains comfortably deploying 20,000 troops (Motolka.help/ru-news, January 26). Declassified US intelligence estimates referred to by Ambassador Linda Thomas-Greenfield during the January 31 United Nations Security Council session on Ukraine indicate a Russian force in Belarus totaling 30,000 personnel (France24.com, February 1).
Russian forces will conduct Allied Resolve 2022 using five training ranges and four airfields in Belarus. Social media postings indicate that the Russian forces are spreading out thinly across Belarus territory and well beyond the officially designated training locations. Russian BTGs have been transported by road and rail across up to 7,000 kilometers, from the Eastern MD. Additionally, Airborne Forces (Vozdushno-Desantnye Voyska—VDV), Aerospace Forces (Vozdushno Kosmicheskikh Sil—VKS), and Missile and Artillery Troops (Raketnyye Voyska i Artilleriya—RV&A) elements are deploying to Belarus. The VDV deployment includes the 98th Air Division's 217th Airborne Regiment, 76th Air Assault Division's 234th Air Assault Regiment and 124th Tank Battalion, as well as the 11th Air Assault Brigade. The Ground Forces' 36th, 37th, 38th, 57th and 64th Motorized Rifle Brigades, 127th Motorized Rifle Division's 114th and 394th Motorized Rifle Regiments, and 5th Tank Brigade are also taking part. And so are the Naval Infantry's 155th Brigade and the RV&A's 103rd and 107th Brigades (Bmpd.livejournal.com, January 31). The Eastern MD's 103rd and 107th Iskander-M brigades (from Ulan-Ude and Birobidzhan, respectively) add to the standoff strike capabilities of the Russian forces.
In addition to air-defense and air force platforms, electronic warfare (EW) systems, radars, surface-to-air missile (SAM) systems (including S-300Vs and S-400s), artillery and multiple-launch rocket systems (MLRS), as well as important logistics capabilities have been deployed. This includes a Material-Technical Support (Materialno Tekhnicheskogo Obespechenie—MTO) brigade from the Eastern MD, which, during armed operations, would play a significant combat service support role for Russian force groupings. The assembly of Russian firepower and conventional military capabilities, including the MTO combat service support, suggests preparations beyond a standard military exercise. This is also supported by Moscow informing defense ministries in the Baltic States that due to COVID-19, the country has suspended its participation in verification activities linked to the 2011 Organization for Security and Cooperation in Europe's (OSCE) Vienna document between January 24 to February 28—meaning that Allied Resolve 2022 will involve no foreign observers (Twitter.com/MoD_Estonia, January 24).
Moreover, under the guise of the exercise, units from the Eastern MD organized a unified command-and-control (C2) system in Belarus to connect mobile field command posts (Tvzvezda.ru, January 31). On January 31, the Russian defense ministry announced, "The units of the Eastern Military District […] have begun to deploy mobile field command posts at the training grounds. Signal troops specialists have organized a unified command-and-control system." The system includes the control points of the units involved, located at the training grounds. All the links of the system are provided with secure radio communications as well as wired channels. Videoconferencing is available at all points, which "allows commanders of various levels to transmit control signals in real time" (Komsomolskaya Pravda, January 31). To place command posts on the ground, engineering work has been carried out, [and] camouflage measures are being carried out," according to the Russian defense ministry (Izvestia, January 31).
Unlike the wider force buildup close to Ukraine, the Russian deployment to Belarus for Allied Resolve 2022 includes military personnel, meaning that the Ground Forces and VDV BTGs are fully manned. Allied Resolve 2022 is not an ordinary joint military exercise, reflected in its scale of deployment, combat service support, amassing firepower including standoff strike systems, and the timing of suspending participation in the 2011 Vienna document until the end of February. Allied Resolve 2022 appears calibrated as a maskirovka operation to conceal precise planning for military operations, either directly using Belarus territory to mount an attack south across the Ukraine border or to distract attention from the wider massing of Russian forces.
Even as outside observers closely examine details of the ongoing Russian force buildup, especially indicators such as amassed blood supplies and field hospital preparations, scant attention seems to have been paid to how network-enabled and digitized the likely military operation might prove to be. Russia's Armed Forces appear to be in the final stages of assembling a large-scale force to conduct large-scale operations in Ukraine, but first the integrated network-centric application of military force is highly likely to overwhelm Ukraine's Armed Forces and the Ukrainian state at high speed. The Kremlin's ultimate intentions remain largely inscrutable, and the possibility for miscalculation on all sides is high. Yet one truism is clear: the level of Russian forces committed to the theater and maintaining heightened combat readiness cannot be sustained indefinitely.