Antifa's 'J20' Campaign: Anarcho-Communist Actions Since the New Year
Publication: Terrorism Monitor Volume: 19 Issue: 4
By: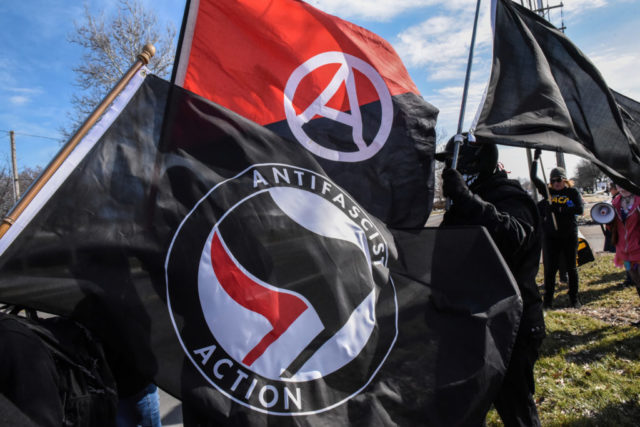 The new year brought about a noticeable shift in the tactics and goals of Antifa groups nationwide. After President Joe Biden's January 20 inauguration, Antifa cells in the Pacific Northwest, northern California, and Colorado simultaneously broadened their focus from anti-police rhetoric to condemnation of the United States as a whole. This adjustment in Antifa's publicized ideology increased the transparency of the movement's end-goals and shed light on their experimentation with alternative 'direct action' tactics, which began with Antifa cells' launching on Inauguration Day a series of coordinated protests and marches marketed as Antifa's "J20 [January 20]" campaign.
Antifa's Inauguration Day Campaign Exposes New Agendas
From 2016 to 2020, Antifa protests almost exclusively expressed contempt of former President Donald Trump, his administration's Mexican border immigration policy, and the police's use of force. However, on President Biden's Inauguration Day, Antifa cells in cities such as Portland, Seattle, and Denver took to the streets for coordinated marches and riots called "J20." One day afterward, they bragged about their activities on the Antifa website, itsgoingdown.com (It'sGoingDown, January 21). The messaging at all the rallies was harmonized around anti-American sentiment and a rejection of the United States' political and economic systems as a whole.
One difference between various "J20" Antifa actions was that rioting was widespread on the West Coast, while rallies in the Rocky Mountain region remained lawful. In Seattle, for example, which regularly witnesses Antifa actions, a late afternoon march transitioned into a riot when black-bloc Antifa activists smashed the windows of an Amazon Go store and a Starbucks store and sprayed anarchist graffiti on the walls of multiple commercial buildings. Meanwhile, in downtown Portland, Antifa conducted a 'direct action' attack on the local Democrat Party office (Twitter.com/PDXZane, January 20). The building's windows were shattered and anarchist graffiti was left on the office exterior. Rioters also marched with signs stating "We don't want Biden, we want revenge for police murders, imperialist wars, and fascist massacres" and "We are ungovernable" (Twitter.com/ByMikeBaker, January 20).
Further south, in California's Bay Area, an Antifa-organized march saw graffiti sprayed on the San Mateo county courthouse's sign and probationary building (Antifasac.Blackblogs.org, January 15). Marchers also chanted anti-American messages such as "No prisons, no walls, no USA at all" (Twitter.com/Srodd_CPR, January 20). In Denver, the "J20" rally organized by a local Antifa group called "Denver Communists" remained non-destructive. However, the rhetoric in speeches made by Antifa activists shed light on anarcho-communist ideology. One speaker asserted the United States, "cannot be reformed, the solution is to abolish America" (Twitter.com/Scatsots, January 20). Another speaker exclaimed that the U.S. flag is a symbol of slavery and genocide and shortly afterwards a large U.S. flag was burned by an Antifa black-bloc militant (Twitter.com/Scatsots, January 20; Twitter.com/JoshWhitston, January 20).
New Tactics in Antifa's Toolshed
Antifa in the Pacific Northwest has begun leveraging the homelessness crisis to promote their property use demands. In multiple instances, Antifa's activism for the homeless has transitioned into militancy, however. In Olympia, Washington, for example, a mixed group of Antifa and homelessness activists from Olympia Housing Now forcibly occupied Red Lion Hotel armed with hatchets, knives, batons, and tactical gear, including helmets and gas mask (Olympiawa.gov, February 3; Facebook.com/OlyHousingNow, January 31). Olympia Housing Now then released its list of demands that included ending homeless sweeps (forced disbanding of homeless encampments on public property), implementing city-funded housing vouchers to allow homeless individuals to reside in hotels and motels without paying out-of-pocket, and imposing "impact taxes" on all commercial and luxury buildings in the downtown district (Twitter.com/RebeccaforWA, January 31). As SWAT and local police responded to the Red Lion Hotel occupation, hotel guests were forced to shelter in place in their rooms while staff hid in the building's basement. The occupation in Olympia mimicked tactics used by Portland Antifa in December 2020 during the occupation of a Travelodge motel, which indicated organizational learning between Antifa cells (Twitter.com/TacHousing, December 28, 2020).
On January 22 in Washington state, which has seen significant Antifa-related activity, Antifa also broke into Bellingham city hall, where they stole a U.S. flag and robbed a journalist's recording microphone after throwing a hot drink on him (Twitter.com/DeeDeeKIRO7, January 22). That same day, Antifa activists assaulted the co-founder of a local homelessness non-profit, HomesNow, for filming them on his cell phone (Youtube.com/HomesNow, January 22). Following numerous confrontations between Antifa, the public, and city officials, the camp in Bellingham was scheduled for a sweep. However, upon discovering Bellingham Antifa requested backup from neighboring Antifa cells as far away as Portland to disrupt the sweep, the city was forced to expedite their operations to avoid a potentially dangerous situation (Twitter.com/ChoeShoe, January 28). The sweep was conducted successfully. However, officers met resistance from local Antifa activists, who formed defensive lines in the road while brandishing wooden pallets as makeshift shields (Twitter.com/ChoeShow, January 28).
Three days before the Bellingham 'direct action,' on January 19, Antifa conducted another 'direct action' attack on a San Francisco Immigration and Customs Enforcement (ICE) facility that involved shattering windows and spraying anarchist graffiti throughout the building exterior (Kron4 News, January 19). The following day, an anonymous article claiming credit for the vandalism was published on the anarchist news website indybay.com (Indybay.com, January 19). The author claimed that 30 "anti-racists" vandalized the building (Itsgoingdown.com, January 24; itgoingdown.com, November 7). The writer also stated the goal of the attack was to incite "a series of break-ins and breakouts from prisons and detention centers" nationwide.
Antifa's Next Steps from Supporting Black Lives Matter to Social Media Adaptation
On February 3, Antifa's "Denver Communists" grouping held a Zoom conference on the subject of Marxism and Black Liberation. The meeting's special guest was co-founder of the Long Beach Black Lives Matter chapter, Michael Brown (Facebook.com/DenverCommunists, February 3). On February 11, Antifa then marched in Seattle after an officer-involved shooting resulted in the death of Greg Taylor, who was being pursued by police officers after shooting two individuals, one of whom died. Body cam footage showed Greg Taylor attempting to shoot at police officers. Antifa and Black Lives Matter-aligned groups organized a protest (Twitter.com/PNWRAC, February 10; Twitter.com/MrAndyNgo, February 11). Antifa's continued focus on immigration, policing policies, and racial issues runs parallel to the goals of Black Lives Matter. Thus, it is likely Antifa groupings will continue to support the Black Lives Matter movement throughout 2021.
In August 2020, Facebook purged several Antifa webpages (Washington Times, August 20, 2020). In January 2021, Twitter also removed well-known Antifa accounts, including "The Base" and "It's Going Down" (Twitter.com/MrAndyNgo, January 21). Antifa groupings and news websites have since begun moving to a new social platform called "Kolektiva.social" (Mic.com, November 10, 2020). That website was designed by anarchists to support their communications and news dissemination and is still in the early phases of adoption, but has attracted well-known groups such as Pacific Northwest's Youth Liberation Front, It's Going Down, and Antifa International (Kolektiva.social, September 2020).
The shift in U.S. political leadership following Joe Biden's January 20 inauguration has triggered Antifa cells to adopt a broadened set of Marxist-aligned demands while continuing to call for police abolition, open borders, and general anarchy. It can be expected Antifa cells nationwide will operate both autonomously and in alignment with Black Lives Matter as they continue to utilize riotous 'direct action' and experiment with militant homelessness and other new advocacy tactics.