Are Russian Military Exercises in the North Caucasus a Signal to Azerbaijan and Georgia?
Publication: Eurasia Daily Monitor Volume: 12 Issue: 67
By: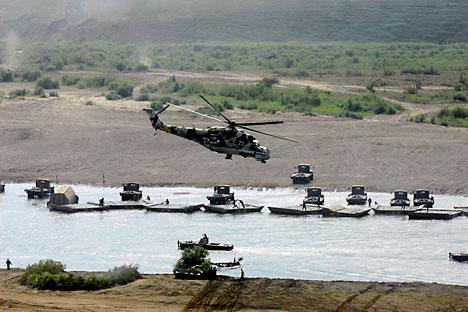 Russian defense and interior ministry troops have each staged large-scale military exercises, one after another. Military drills take place across Russia practically year-round, but what was interesting about a recent series of exercises is that they were conducted in the mountainous regions of the North Caucasus. Russia's borders with Georgia and Azerbaijan pass through the Caucasus Mountains, raising the question of whether these two countries are somehow linked to Russia's future moves.
In mid-March, three-day command post exercises were held in Stavropol region and North Ossetia. Over 2,000 military communications specialists participated in the exercises, and about 500 pieces of special equipment were used (Kavkazsky Uzel, March 17; see EDM, March 24). Two weeks later, on March 31, the press service of the Southern Federal District announced that command post exercises were again being held in North Ossetia, this time with the participation of an anti-aircraft missile brigade based in Vladikavkaz. The exercises involved over 250 soldiers, over 50 pieces of military equipment and Su-25SM attack aircraft. The brigade's management teams and unit designations were put in a state of high alert. The brigade then marched 150 kilometers to the area of Sernovodskoe in the Stavropol region, where they practiced skills necessary for combat operations (Mil.ru, March 31).
A day later, the Russian media announced that even larger Russian army exercises had taken place in South Ossetia, involving personnel from the Russian military base in South Ossetia, other Russian forces and South Ossetian armed groups. More than 800 Russian soldiers and about 200 pieces of military equipment were used (Pravoslav-voin.info, April 1). They were supported in the exercises by the air defense forces of the Southern Military District, along with Russian forces based in Armenia that included Mi-24 helicopters, MiG-29 jets and air defense systems (RT, April 3).
Earlier this week, military sources announced that military reconnaissance troops had also begun holding exercises. According to the sources, 250 soldiers from mechanized infantry units of the Southern Military District and the Black Sea Fleet launched exercises in North Ossetia's Darial Gorge. The Southern Military District spans both the North Caucasian Federal Districts and the Southern Federal District (RIA Novosti, April 7). According to the press service of the Southern Military District, the units will operate behind the lines of a simulated enemy for two months. Under conditions close to actual combat, the military will practice rock climbing, crossing spaces through water and air, setting up observation outposts, reconnaissance ambushes, raids and other actions (Kavkazsky Uzel, April 7). The press service specifically mentioned that the military reconnaissance troops would learn how to seal off areas where illegal armed formations are located, destroy subversive groups, and locate weapons caches and ammunition in the highlands and forests. Also, Russian soldiers practiced operating as part of assault groups in urban areas to eliminate militant bases, rescue hostages, and capture buildings and infrastructure (Mil.ru, April 6).
Since the exercises are taking place in the mountainous part of the Northern Caucasus and are focusing on the skills needed to conduct military operations in the mountains, Moscow appears to be signaling that it does not plan to stop with the annexation of South Ossetia and Abkhazia. Frequent media reports about Russian plans to construct new highways from Dagestan, Chechnya and Ingushetia to Georgia appear to be intentional leaks.
Units of the Southern Military District are not the only ones that have participated in the latest wave of military exercises: they also have included units from other military districts, such as the Central Military District. For example, Central Military District anti-aircraft units that are based in Bashkortostan intercepted cruise missiles fired by a simulated enemy using Buk-M2 anti-aircraft missiles. That exercise was conducted at the Kapustin Yar missile base in the Astrakhan region near the Black Sea (Mil.ru, April 7). The scale of the latest Russian military exercises have been quite large and unusual for southern Russia.
Strangely enough, military exercises were not held in Chechnya, Dagestan or in Kabardino-Balkaria, where they would have been appropriate given the tense situation in these republics over the past 16 years.
Why then has Russia been holding large-scale military exercises at a time when its economy is not in the best shape and its ground forces are heavily involved in eastern Ukraine? First of all, with Armenia having joined the Eurasian Union, Putin must show the real benefits of that union to a country that is separated from Russia by Georgia and Azerbaijan. These exercises also may be a means of signaling the government of Georgia that if it does not show flexibility on issues of interest to Russia, Moscow will press forward in a southerly direction. For example, Moscow has been seeking overland transit approval for its military forces through Georgia to Russian bases in Armenia, something the Georgian government has long denied because of the Russian occupation of Abkhazia and South Ossetia. Secondly, the population of Russia itself is primed to see the country as powerful, with an army that is strong and feared by everybody in the world, the way the Soviet army was feared. In Putin's Russia, life is being recast along the lines of the Soviet past. Putin is threatening to attack Russia's neighbors if Crimea is not forgiven and he does not have his way.