Armenia and Azerbaijan Flex Military Muscles While Nagorno-Karabakh Peace Negotiations Stall
Publication: Eurasia Daily Monitor Volume: 13 Issue: 190
By: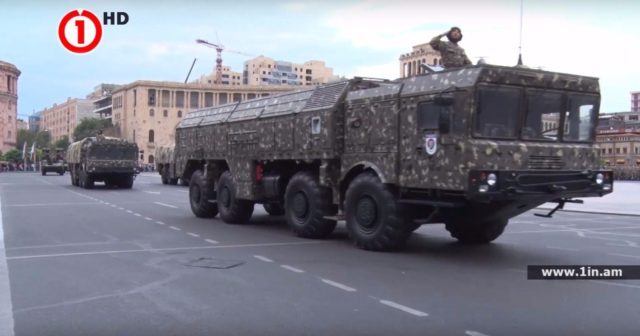 The meetings between the Azerbaijani and Armenian presidents in Vienna (May 16) and St. Petersburg (June 20), following a dangerous flare-up of tensions on the frontline in early April 2016, produced hope for tangible progress in the long-deadlocked Nagorno-Karabakh peace process. However, the lack of progress since then and the increased ceasefire violations reveal that discussions of a real breakthrough are still premature. Although the foreign ministers of Armenia and Azerbaijan are likely to meet on the margins of the OSCE Ministerial gathering in Hamburg on December 8, no one holds high expectations about the outcome of the meeting (Commonspaces, November 16). Actually, since the end of the summer, hopes for peace seem to be replaced by increased efforts to build new military deterrence and counter-deterrence capabilities via rearming and large-scale military drills.
Immediately after the April escalation, Armenia pushed forward with the delivery of new weapons and sophisticated equipment from Russia, based on the $200 million military loan agreement from July 2015 (Azatutyun.am, April 15). Part of it was demonstrated at the Independence Day military parade in Yerevan on September 21. Armenia particularly showcased its Iskander missiles, Smerch multiple rocket launchers (MLRS), Buk surface-to-air missile launchers and radars (albeit without any missiles), and new T-90 main battle tanks that the country previously did not possess (ArmeniaWeekly, September 22, Janes, September 23). Yerevan also announced a deal with Russia on the delivery of six ТОС-1А "Solntsepyok" thermobaric flamethrowers (1news.az, November 14).
Among the newly acquired weapons, the Russian-made short-range ballistic Iskander missiles were the most serious addition to Armenia's military arsenal, although it has yet to become clear who controls the "launch button" of this formidable weapon. Ownership of the missiles was not clarified immediately after the parade, which led to speculation that they are from the inventory of Russia's 102nd military base in Armenia, which reportedly acquired an Iskander back in 2013 (Vestnik Kafkaza, September 29). Armenia's Ministry of Defense only confirmed a month after the parade that the demonstrated missiles were Armenian property and they are indeed 500km (310 miles) range Iskander-Ms. However, it is not clear how Russia could export Iskander-Ms to Armenia, since according to the Missile Technology Control Regime (Russia is a member since 1995), the maximum allowed range of exported ballistic missiles is 300km. Moreover, the 2015 military loan agreement with Russia never included delivery of Iskanders (Janes, September 23), and although Russia sells weapons to Armenia at discount prices, Armenia hardly possess the financial means to purchase Iskanders that cost a few hundred million USD (EDM, September 23).
In general, Russia has always been very reluctant to hand in such advanced missile technology to anyone, including its closest ally Belarus. Thus, if the major aim of demonstrating Iskanders was to deter Azerbaijan, it was also calculated to counter accusations among the Armenian public that Russia betrayed its ally during the April 2016 escalation leaving it alone against Azerbaijan, which is also armed with Russian-made weapons (Vestnik Kafkaza, September 29).
If parading Iskanders was in part designed to frighten Baku, it achieved the opposite, generating a harsh reaction in Azerbaijan. Azerbaijani Defense Minister Zakir Hasanov instructed the Armed Forces to increase monitoring of Armenia's strategic and military facilities, to identify and prioritize new targets and be ready to destroy them if necessary (see EDM, September28), presumably Iskanders and Smerch MLRSs being among such key targets. Azerbaijan also introduced the domestically built Zerbe kamikaze drone at ADEX-2016 Defense Exhibition at the end of September, which is capable of attacking some of Armenia's long range weapons, stationed behind the line of contact (APA.az, September 21). It was also announced that Turkey has finalized delivery of 21 T-300 Kasirga multi-barrel rocket launchers (100–120km engagement range) to Azerbaijan (Azernews, September 21). Yavar Jamalov, Azerbaijan's Defense Industry Minister, also revealed that the negotiations are underway with foreign partners to bring 280-km (173 miles) range ballistic missile technology to Azerbaijan (Report.az, September 27).
Baku has made an amendment to its draft budget law, which entailed a major increase in projected military spending for 2017. According to the amended draft law, defense spending is increased to AZN 2.642 billion ($1.55 billion), a 63 percent increase from the initially proposed AZN 1,026 billion (News.az, November 17). In general, Armenia's and Azerbaijan's military spending for the past decade were the largest in the whole post-Soviet region in terms of military budget to GDP ratio. According to Bloomberg, Azerbaijan and Armenia together spent almost $27 billion on defense in 2005–2015 (Bloomberg, November 13).
Along with increased armament efforts, the region also witnessed new large-scale military drills over the last few months. Armenia held a number of drills in the occupied territories of Azerbaijan between the end of September and mid-November, during which artillery strikes were clearly heard from nearby Azerbaijani villages located along the line of contact (APA, September 27, APA, October 27, 1news.az, November 8). Not surprisingly, many of these drills coincided with the fiercest ceasefire violations, a number of which have significantly increased since the end of summer. Three Azerbaijani soldiers were killed in the skirmishes since September, while the Armenian side lost at least six servicemen during cease-fire violations. The period between October 31 and November 2 witnessed one of the most serious and continuous ceasefire violation along the line of contact and other bordering areas between Armenia and Azerbaijan, involving the use of large-caliber mortars, grenade launchers, and heavy machine guns, a rare event since the April escalation (Azertag, October 31, Trend, November 3).
As a response to the exercises in the occupied territories, Azerbaijan launched large-scale drills of its own from November 12 to 18, involving 60,000 troops, fifty aircraft, 150 tanks and armored combat vehicles, and hundreds of artillery and rocket launchers and drones (Trend, November 12). This came in addition to five-day long drills of artillery and rocket troops held at the end of September (Ministry of Defense, September 26).
Thus, while the peace negotiations are effectively stalled, the focus is shifting away from peace negotiations, and toward armament efforts. Whilst receiving scarce media attention internationally, events on the front line also continue to be very tense, threatening to trigger new and more dangerous rounds of escalations in the Armenia–Azerbaijan conflict over Nagorno-Karabakh.