Armenian Government Stabilizes COVID-19 Cases, but Structural Risk Factors Remain
Publication: Eurasia Daily Monitor Volume: 17 Issue: 41
By: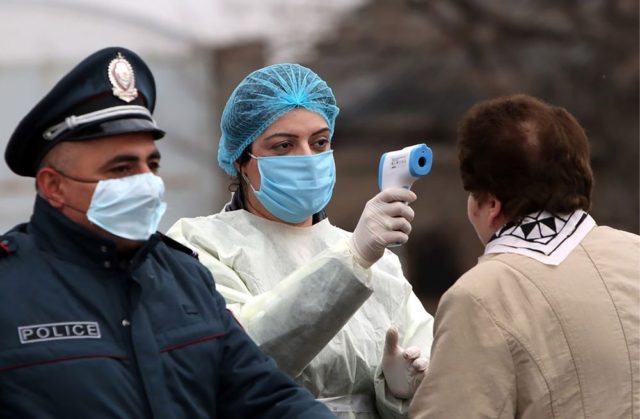 The COVID-19 situation in Armenia presently remains under control, although the peak of infection almost certainly has yet to occur. As of Sunday, March 29, 2,054 persons tested negative, and 424 positive, with 33 closed cases—30 resulting in recovery and 3 deaths. Each of the deceased patients (55, 72 and 73 years old) had suffered from pre-existing conditions (Azatutyun.am, March 29). By March 30, 58 more persons tested positive; though 25 of them had already been under quarantine (Azatutyun.am, March 30).
The government's earliest response to the COVID-19 situation was to suspend the visa exemption for Chinese citizens on January 31; indeed, the mutual exemption for short-term travelers had just come into force on January 19 (Azatutyun.am, January 31). On February 24, the Cabinet decided to also terminate travel allowances with Iran, with exemptions for both countries' citizens returning home as well as for cross-border cargo transit (Facebook.com/nikol.pashinyan, February 24); only a few days earlier, some officials had dismissed suggestions about the need for such measures. On March 1, the first known infected person, a 29-year-old man who had returned from a trip to Iran two days earlier, was quarantined (Facebook.com/nikol.pashinyan, March 1). Officials measured travelers' temperature at border checkpoints, and citizens returning from certain countries were required to report and be quarantined for two weeks if they exhibited symptoms of respiratory disease. Moreover, the government issued a general warning to avoid mass events. However, by March 13, a dozen more positive cases were diagnosed as people contracted the infection from a woman who had visited Lombardy—Italy's worst hit region. She had returned to Armenia on February 29, and then attended her son's engagement party (Azatutyun.am, March 13). Some critics of the government used the COVID-19 outbreak as a pretext to condemn the authorities' earlier decision to license low-cost international flights: Ryanair had started direct flights from Yerevan to Rome and Bergamo in late January (see EDM, February 5).
The Armenian Church has also come under criticism for performing religious rites in the presence of large numbers of people, as usual (Civilnet.am, March 15). On March 16, the government declared a state of emergency for four weeks, including passing measures such as closing all educational institutions, suspending travel to Georgia (except for cargo), and banning gatherings of over 20 people (including religious ceremonies), while also requiring citizens to keep social distance whenever possible and avoid unnecessary personal contact (Azatutyun.am, March 16). The constitutional referendum scheduled for April 5—which in case of adoption of the proposed amendment would allow for the dismissal of seven out of nine members of the Constitutional Court—was also postponed.
All passengers aboard the last few permitted flights from Italy (the latest on March 15) were subjected to a mandatory two-week quarantine. The government additionally announced plans to acquire fast-acting tests that could be performed within 15 minutes (Tert.am, March 15). Prime Minister Nikol Pashinyan, in his address to the parliament, said there were a total of 360 ventilators in the country, of which 15 were immediately ready, at the main infectious disease hospital in Yerevan (News.am, March 16). Health Minister Arsen Torosyan also announced that the hospital would be expanded with a new 40-bed ward (Facebook.com/ATorosyanOfficial, March 18).
The fast-developing health situation in the country led to a spike in conspiracy theories and speculation in some media outlets and across online social networks. In an effort to stem growing panic, the government ordered all media and social network users to solely republish any domestic or international information about the COVID-19 situation from official Armenian sources (Lragir.am, March 16). For example, media and social network users were required to remove links to an Ekho Moskvy article that suggested the Russian government was covering up the dire situation inside Russia (Aravot.am, March 20). Armenian public television also had to remove a report borrowed from CNN about the huge number of COVID-19 deaths in Iran (Aravot.am, March 21). Journalists and watchdog organizations strongly criticized that approach; as a result, some of the limitations, particularly regarding the coverage of the pandemic abroad, were lifted (Azatutyun.am, March 25). In any case, the limitations were ultimately ineffective against ongoing panic mongering by groups linked to the former regime (see EDM, September 19, 2019), who for example, spread speculation about an imminent food shortage supposedly caused by the government's alleged mismanagement of the situation (Facebook.com/samsonyan.narek, March 29).
Further measures by Yerevan have included amendments to the administrative and criminal codes, providing fines or even imprisonment for violating the government's quarantine requirements, with up to five-year sentences in case of neglect resulting in the death of another person (Azatutyun.am, March 23). Additionally, the government ordered that between March 25 and March 31, besides medical institutions and vital infrastructure facilities, only banks, pharmacies, and shops selling food would be allowed to work; during this period, citizens could spend minimum time outside only while carrying IDs and written statements justifying the need to visit one of these open places (Azatutyun.am, March 25). Economic emergency measures have included preferential loans to businesses, including private entrepreneurs, that may be affected by the temporary closures (Hetq.am, March 26).
So far, Armenia's government and medical service has managed to stabilize the domestic spread of COVID-19. However, risk factors exist that may potentially result in a sharp increase of the burden shouldered by the country's healthcare system. One such risk factor is the nation's social structure, which increases individuals' chances of contracting the disease: Armenia has many low-income or less urbanized, traditional households with multigenerational families, where adults, even after already having their own children, still live together with their elderly parents. Another problem is a widespread social lack of responsibility, discipline and control: particularly older Armenians are continuing to gather outside their apartment blocks to play cards, backgammon, etc. Finally, the situation may soon be further complicated by social issues arising from reduced remittances, as low oil prices and the depreciation of the Russian ruble (see EDM, March 19, 25, 26) cut into Armenian guest workers' incomes that they send home to their families. Armenia may still only be experiencing the opening round of this crisis.