Armenian Opposition Launches Non-Stop Protests
Publication: Eurasia Daily Monitor Volume: 8 Issue: 185
By: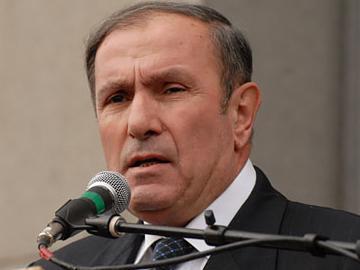 After months of unsuccessful negotiations with the government, Armenia's most influential opposition force led by former President Levon Ter-Petrosian has launched a new campaign of round-the-clock demonstrations supposedly aimed at forcing early national elections. Hundreds of people camped out in Yerevan's Liberty Square on September 30 in scenes reminiscent of Ter-Petrosian's 2008 post-election protests that were staged in the same venue and harshly suppressed by the authorities.
In contrast to 2008, immediate regime change is clearly not the opposition objective this time. Ter-Petrosian has indicated that his Armenian National Congress (HAK) will stop pushing for fresh presidential and parliamentary elections in return for other concessions from President Serzh Sargsyan. The latter has stood firm so far, saying through his political allies that Armenia's governing coalition will not even negotiate with the HAK until the demonstrations are over. At the same time, unlike his more uncompromising predecessor Robert Kocharian, Sargsyan seems unlikely to order their forcible dispersal.
The protests began one month after the collapse of an unprecedented dialogue between the ruling three-party coalition and the HAK. They followed several concessions made by Sargsyan last spring after a series of HAK rallies that drew relatively large crowds (see EDM, May 16). In particular, the president initiated a general amnesty that led to the release in late May of the last opposition figures remaining in jail. They were controversially jailed in connection with deadly street violence sparked by a disputed presidential election held in February 2008. Sargsyan also accepted HAK demands for a renewed criminal investigation into the unrest that left ten people dead on March 1-2, 2008 (Armenian Public Television, April 20).
Representatives of the two rival camps held six rounds of negotiations in July and August. Coalition representatives agreed to listen to HAK arguments for early elections even if they continued to reject the idea in principle. The dialogue ground to a halt after the August 9 violent dispute in downtown Yerevan between police officers and seven young HAK activists, who were detained on the spot in still unclear circumstances. Six of them were released in the following days. The other activist, Tigran Arakelian, was charged with hooliganism and assault and remanded in pre-trial custody (www.1in.am, August 19). Law-enforcement authorities' refusal to free Arakelian led the HAK to suspend the talks on August 26 (www.a1plus.am). Ter-Petrosian's bloc which considers the case to be politically motivated, said they could resume discussions only after his release.
However, Ter-Petrosian effectively dropped that precondition on September 30 as the HAK set up a tent camp in Liberty Square and thus sought to ratchet up the pressure on the government. The Sargsyan administration waited for ten days to reject the offer. The coalition negotiators said on October 3 that they will not hold further talks with their opposition counterparts as long as the "illegal" anti-government protests continue. The HAK responded by declaring continued dialogue with the authorities "pointless" and pledging to step up its campaign (www.armenialiberty, September 23, October 3, 4).
Just how the bloc plans to do that remains unclear. Its latest campaign has clearly failed to build sufficient momentum so far, with only up to 5,000 people attending daily rallies held in Liberty Square, a far cry from Ter-Petrosian's massive 2008 demonstrations. Their organizers have not managed to even match attendance at HAK rallies held last February and March.
In any case, Ter-Petrosian appeared to have little choice but to opt for non-stop rallies. He has for several years' resisted calls by radical elements in his movement to repeat the kind of actions that nearly brought him back to power in 2008. The charismatic leader and his entourage have fueled more expectations of such an offensive this year with their constant talk of inevitable snap elections and claims that Sargsyan will eventually meet the fate of the deposed rulers of Egypt and Tunisia. A further delay of more radical anti-government actions could have therefore alienated even Ter-Petrosian's most ardent sympathizers.
Yet despite his continuing harsh attacks on the ruling "kleptocratic" regime, Ter-Petrosian is ready to reach what he described on September 23 as a "reasonable compromise" with the government. Addressing a Liberty Square rally held on that day, witnessed by the author, he implied that the HAK will reconsider its demands for snap elections if the government makes other political concessions. "We are not interested in empty, petty concessions," Ter-Petrosian warned.
Although Ter-Petrosian did not go into detail, the HAK is understood to be ready to settle for significant amendments to Armenian election legislation proposed by the party. Armenia's Electoral Code underwent numerous government-drafted amendments, endorsed by the Council of Europe, as recently as in May. The HAK and the two other major opposition groups, the Heritage Party and the Armenian Revolutionary Federation, consider them inadequate for the proper conduct of the next parliamentary and presidential elections due in 2012 and 2013 respectively.
Sargsyan has still not responded to Ter-Petrosian's offer. His refusal to unconditionally resume talks with the HAK as well as an October 5 court ruling extending opposition activist Arakelian's arrest by two months (Haykakan Zhamanak, October 6) suggest that Sargsyan is currently undaunted by the non-stop protests. The Armenian leader has already drawn some political dividends from his ill-fated dialogue with the opposition, earning praise from the European Union and the Council of Europe.
In a further major boost to Sargsyan, the Council of Europe's Parliamentary Assembly (PACE) adopted a resolution on October 5 (www.coe.int) welcoming his spring overtures to the HAK and the summer talks between the two sides. The resolution, condemned by the HAK, says those developments mean that "the chapter on the March 2008 events can finally be considered closed for the Assembly." It says nothing about the collapse of that dialogue and the latest events in Yerevan.