Armenia's Attempts of Maneuvering Amidst the Russian-Ukrainian War
Publication: Eurasia Daily Monitor Volume: 19 Issue: 41
By: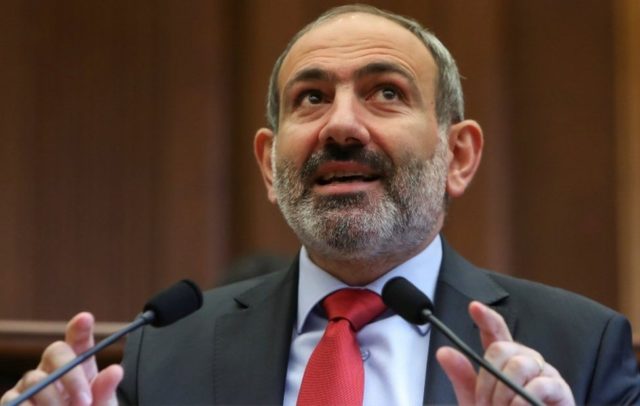 For a long time, given Armenia's security predicament, attempts to avoid antagonizing Russia have been one of the key features of the country's policy. Obligations deriving from Armenia's membership in the Eurasian Economic Union (EEU), or the Russia-led Collective Security Treaty Organization (CSTO) have never been questioned. Thus, due to Armenia's turn to preside over the CSTO in 2022, Prime Minister Nikol Pashinian was the one who formally declared the "peacekeeping" operation in Kazakhstan in early January. Armenia also routinely voted against resolutions condemning Russia, particularly regarding Russia's occupation of parts of Georgia and Ukraine at the United Nations General Assembly, the Parliamentary Assembly of the Council of Europe (PACE), and other international fora. At the same time, it also kept following a policy of non-recognition of Georgia's and Ukraine's breakaway regions.
After Russian President Vladimir Putin's belligerent speech on February 21, in which he denied Ukraine's right to be a sovereign state and implied that the breakup of the Soviet Union in 1991 had been illegitimate, and the grotesque televised meeting of Russia's Security Council, for a brief period there could still be some, if negligible, hope that he might be satisfied by recognizing the so-called "Donetsk People's Republic" and "Luhansk People's Republic" on Ukrainian territories occupied by Russia in 2014. On February 23, the Armenian ministry of foreign affairs spokesman stated that recognition of the so-called republics was not considered (Armenpress.am, February 23), and positive feedback from the chargé d'affaires of Ukraine, Denys Avtonomov, followed (Factor TV, February 23). However, Russia's large-scale military invasion the next morning required some additional balancing.
So far, Armenia's immediate policy priorities can perhaps be summarized as follows: avoiding recognition of the so-called "people's republics"; avoiding military support for Russia, possibly disguised as "peacekeeping," which would likely result in total international isolation and, consequently, unavoidable membership in the Russia-Belarus Union. At the same time, evading direct involvement in the sanctions imposed on Russia, and not provoking Moscow into some hostile action or withdrawal of its military units from Karabakh; moving forward with delimitation and demarcation of the border with Azerbaijan, preferably with mediation by the Organization for Security and Cooperation in Europe's (OSCE) Minsk Group co-chairs. Other imperatives include securing the continuous supply of grain and other staple foods from Russia and minimizing the socio-economic consequences of declining remittances, which is inevitable due to the sanctions and economic decline in Russia.
The government in Yerevan took some cautious steps to maintain a neutral stance. Armenia abstained from voting at the UN Human Rights Council when the Ukrainian delegation requested an urgent debate for an international probe into human rights violations caused by Russian aggression (Un.org, February 28). It also abstained from voting as the UN General Assembly adopted a resolution demanding that Russia immediately end its military operations in Ukraine. Besides Russia, only Belarus, Eritrea, North Korea and Syria voted against that resolution (Un.org, March 2). In both cases, the chargé d'affaires of Ukraine noted those were positive signs (Azatutyun.am, March 1; 1in.am, March 17). Then, Armenian representatives did not participate in the vote at the PACE, which adopted a document on the consequences of Russia's aggression against Ukraine (Coe.int, March 15).
Even such a cautious approach triggered Moscow's angry reaction. While Russian propaganda outlets rebuked Kazakhstan and Kyrgyzstan for their attempted neutrality, the absence of endorsement of Russia's actions in Ukraine by Armenia has been accompanied by threats. Moscow was particularly irritated by "treachery" embodied by Pashinian's visit to Paris and meetings with the French President Emmanuel Macron and President of the European Council Charles Michel on March 9, "instead of expressing support to Vladimir Putin in such a critical geopolitical situation." The timing of the planned visit of Armenia's Minister of Foreign Affairs Ararat Mirzoyan to the NATO headquarters also caused consternation in the Russian media (Vestnik Kavkaza, March 10).
Meanwhile, shortly before the beginning of the large-scale Russian military invasion of Ukraine, the leaders of the parliamentary opposition (see EDM, July 1, 2021), including ex-president Robert Kocharian, started openly advocating for joining the Russia-Belarus Union (Civilnet.am, February 17). Such suggestions were accompanied by demands to leave the EU's Eastern Partnership, as Belarus did a few months before. Furthermore, opposition activists who staged protests on February 21-22, when Eastern Partnership's Euronest parliamentary assembly session was taking place in Yerevan, anticipated that Russia's pressure would soon help them overthrow the incumbent government (Aravot.am, February 21).
Attempts to normalize the idea of giving up sovereignty and joining the Russia-Belarus Union have been intensifying. Ruben Vardanian, who made a fortune in Russia while possibly being involved in money laundering (RFE/RL, March 4, 2019), and is the principal financier of the Country to Live party formed in 2021, argued in an interview with Kentron TV that while pressure from both Russia and the US is mounting, union membership might soon become unavoidable, so the goal, in that case, should be "becoming like one of Russia's most advanced regions—Tatarstan" (Tert.am, March 15).
In turn, the spokesman of the Republican Party of Armenia, Eduard Sharmazanov, has also been disseminating Russia's propaganda narrative that the war is not between Russia and Ukraine, but between Russia and the West, and engaging in speculations about the imperative of making a choice, that is, to form a union with Russia (Facebook.com, March 18). Seemingly, such propaganda is one of the methods of pressure used ahead of Pashinian's visit to Moscow, planned for April. The opposition will further intensify its activities to advance Russia's policy goals.