As Medvedev Fades Away, Russia Becomes a Major Issue
Publication: Eurasia Daily Monitor Volume: 8 Issue: 104
By: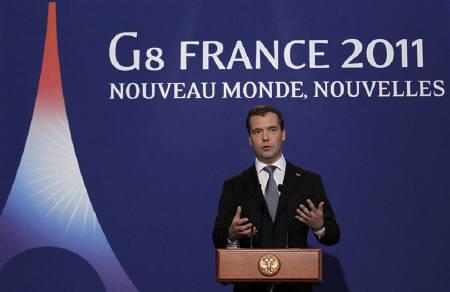 The G8 summit in Deauville, France last week was a forgettable event, and the series of bilateral high-level meetings on its margins added marginally to its insignificance; but the leaders of seven Western democracies had to acknowledge the fact that President Dmitry Medvedev was no longer a meaningful political figure. There were always questions about the limits of his authority as well as expectations that he would gradually grow into the job and steer Russia toward real modernization. He was a person they had been able to do business with, and Russia's relations with the West indeed improved markedly from the low point in the fall of 2008. Medvedev could still play some useful supporting roles like trying to talk sense into Colonel Gaddafi, who is trapped in an unwinnable civil war (Kommersant, www.gazeta.ru, May 27). This mediation has a slim chance of success, and Medvedev's hope for proving himself worthy of a second presidential term is even slimmer, which rekindles the major problem of Russia's international behavior shaped by domestic stagnation.
Medvedev's petty personality matters little for setting Russia's trajectory, but he has become the figurehead for the elite groups that think about reforming the self-serving and utterly corrupt system of power—and also for proof of the futility of such wishful thinking. There could hardly be a better demonstration of Medvedev's helplessness than the so-called "Khodorkovsky affair." At his high-profile press-conference on May 18, Medvedev faced a question about whether Mikhail Khodorkovsky's release from prison would constitute a "danger for society," and supplied a curt answer: "It would constitute no danger whatsoever." On the day of Medvedev's departure to Deauville, the Moscow court announced its decision on the appeal on the blatantly false verdict in the second trial of Khodorkovsky and his partner Platon Lebedev: the court hypocritically reduced the sentence by one year (Novaya Gazeta, Moskovskiy Novosti, May 26). This has become Medvedev's final failure in the test of his ability to ensure a modicum of independence for the courts and a beginning of protection against political persecution for entrepreneurs (www.gazeta.ru, May 26).
There is no secret in what Medvedev told his G8 counterparts about the forthcoming elections: his senior partner-in-power Prime Minister Vladimir Putin has definitely set his sights on securing a dominant majority for the obedient United Russia party, returning to the supreme office and scrapping the awkward construct of duumvirate. Toward this end, Putin has firmly dismissed Medvedev's timid propositions about the benefits of political pluralism and ordered to form a broad-based Popular Front in order to prop up United Russia's sagging popular support (Nezavisimaya Gazeta, May 27; Vedomosti, May 25). In order to simulate political competition, flamboyant billionaire Mikhail Prohorov was instructed to take charge of the liberal quasi-party Pravoe Delo. Yet, he knows better than to dodge the augustly whims that could cost him not only his reputation (Kommersant, www.grani.ru, May 27).
Nothing could possibly stand between Putin and his pre-planned electoral triumph, but this does not mean that one year from now he will be in a position to macro- and micro-manage Russia as he sees fit. Seeking to dispel the premonition of change with the message of stability and trickling-down prosperity, Putin is not blind to the consequences of slower economic growth, even if uninterrupted by a new contraction. He is aware that his pet business designs, including over-sized state corporations like Rostekhnologii managed by trusted lieutenants like Sergei Chemezov, cannot deliver on his new aim of high-tech reindustrialization (Vedomosti, May 11). It is entirely possible that Putin will start his new presidential term by executing some of the reform ideas, which Medvedev hesitantly ventured, including partial privatization—certainly into good hands (Nezavisimaya Gazeta, May 27).
Putin appears to be serious about moving away from the model of harvesting and distributing the oil rent, not only because of its vulnerability to oscillating prices, but also, as he asserted in one of his recent speeches, because "an economy driven by natural resources puts us on one of the lowest positions in the world division of labor." He might even enact the long-discussed plan for splitting the almighty Gazprom into several parts, so that several producing companies will have no formal control over pipelines (Vedomosti, May 26; Kommersant, May 20).
This pseudo-liberalization and retro-modernization does not appeal to the falsely-loyal business elite, so the massive outflow of capital from Russia continues despite Putin's expressed disapproval of this "unpatriotic" behavior (www.newsru.com, May 24). It means that the deceivingly smooth economic sailing in the election year will meet some seriously rough weather at the very start of Putin's new presidency. He will have to choose between populist giveaways and rescue packages to "friendly" businesses, but at least there will be a prime minister to blame for the unforeseen hardships. Beautiful pictures of a prosperous future that are painted now by the court economists look more professional than the electoral platform of President Alyaksandr Lukashenka. In fact, however, the economic recession in Russia is as predictable as the current deep crisis in Belarus was one year ago (www.gazeta.ru, May 25).
For the United States and the EU, the revolutionary situation in Belarus may look interesting, but an escalation of social tensions in Russia would be a matter of grave concern, not least because its foreign policy behavior could become erratic. Medvedev's warning to President Barack Obama that the missile defense controversy could degenerate into a full-blown confrontation by 2020 might appear nonsensical, but what he is really saying is that the incompatibility of strategic aims is a matter of little import for him. Rather this incompatibility could easily become a casus quasi-belli for his successor. Putin has no doubt that Western leaders actually prefer his substance to Medvedev's smiles and would show him all the due respect of the real leader of rising Russia. If he is shunned as just another self-appointed autocrat presiding over a crumbling economy, he will exploit every strategic vulnerability from Afghanistan to Libya and every disunity in the Euro-Atlantic-Pacific alliance in order to boost his own profile. Long spoons will be needed for the dinner table at the next G8 summit.