As SCO Admits New Members, Central Asian Countries Want Greater Focus on Economic Issues
Publication: Eurasia Daily Monitor Volume: 15 Issue: 93
By: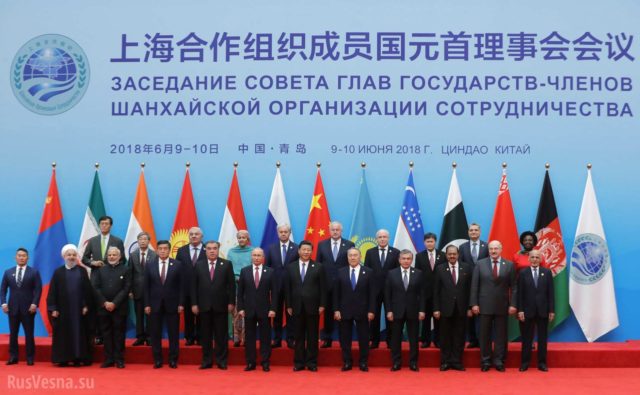 From June 8 to 10, the Chinese port city of Qingdao hosted the Shanghai Cooperation Organization's (SCO) annual head of states meeting. For the first time, seventeen years after the creation of SCO in 2001, the organization officially welcomed new members—India and Pakistan. Two years ago, when talks of enlarging the SCO turned serious, Central Asian member states, in particular Kazakhstan and Uzbekistan, were the least enthusiastic about the expansion (see EDM, June 29, 2016). Astana and Tashkent feared that having the world's top two most populous countries as members, importing protracted India-Pakistan tensions into the SCO, as well as Russian diplomatic intrigues meant to exploit the former could easily divert the organization's focus away from Central Asia.
Economic development is the top priority for Central Asian countries today, and they want the SCO to pay increased attention to this issue. As such, the SCO's Central Asian member states increasingly see this organization as a platform to voice their economic aspirations and promote their economic projects. To be sure, at the Qingdao meeting, Central Asian governments did also discuss "harder" security issues, including fighting terrorism and illicit drug trafficking; but they—especially Uzbekistan and Kazakhstan—clearly wanted to put more emphasis on economics.
For Uzbekistan's President Shavkat Mirziyaev, increasing regional trade was the top agenda point at Qingdao. While praising the 30 percent growth in trade between SCO countries and Uzbekistan since the beginning of 2018, he called for boosting these numbers further by creating expedited border crossing points for agricultural products. Mirziyaev also stressed the importance of building the Uzbekistan–Kyrgyzstan–China railroad as well as the Mazar i Sharif–Herat railroad, planned by Uzbekistan, and the development of transportation corridors from Central Asia to the Persian Gulf (President.uz, June 10; UzA.uz, June 11).
Kazakhstan's Nursultan Nazarbayev, meanwhile, announced the launch of the "Astana" financial center and did not hide his concerns over global monetary instability and its adverse effects on his country. As such, Nazarbayev proposed payments in national currencies among SCO countries as a way to mediate the situation. He also called for the intensification of regional investment projects and recommended building a high-speed railway to connect China with Germany via Astana and Moscow (President.kz, Forbes.kz, June 10). Kyrgyzstani President Sooronbay Jeenbekov focused on the soon-to-be complete CASA-1000 project, which will allow it to export electricity to Afghanistan and Pakistan. During the SCO summit, Bishkek's delegation also raised the country's role in the Chinese Belt and Road Initiative as well as its support for the Uzbekistan–Kyrgyzstan–China railroad (President.kg, June 10). Tajikistan's representative, President Emomali Rahmon, limited his remarks on the economy to simply outlining the significance of the region's transit potential (President.tj, June 10).
The SCO heads of state summits also serve as an important platform for bilateral meetings. For Uzbekistan's president, most of his tête-à-têtes in Qingdao did not go beyond trite diplomatic exchanges. The exceptions, however, were his one-on-one meetings with Russian President Vladimir Putin and Chinese President Xi Jinping. In his talks with Putin on the sidelines of the SCO summit, Mirziyaev stressed the unchanged state of strategic relations between the two countries (President.uz, June 9). In light of Mirziyaev's visit to the United States last month (May 15–17) and rumors of Moscow's concerns about Tashkent's possible cozying up with Washington, these assurances were surely meant to dissipate any such anxieties coming from the Kremlin (BBC—Uzbek service, May 17).
Meanwhile, in his meeting with Xi, Uzbekistan's leader proposed developing cooperative region-to-region partnerships between the two countries, thus signaling a desire to shift bilateral relations away from a purely Tashkent-Beijing axis (President.uz, June 9). Since coming to power, Mirziyaev has introduced inter-regional cooperation models with several of Uzbekistan's neighbors, whereby designated regions of Uzbekistan hold regular meetings with regions of foreign countries. Now, he seems to be promoting similar sub-state-level interactions with Chinese provinces.
While the presidents of Uzbekistan and Tajikistan limited their visits to Qingdao to participating only in the SCO summit, the leaders of Kazakhstan and Kyrgyzstan also secured important meetings outside of the SCO format, which resulted in procuring needed Chinese funds. Notably, the Kazakh-Chinese Business Council (held in Beijing, on June 7) concluded by signing $13 billion dollars' worth of investment deals. And the two governments initiated a joint Eurasian Nurly (Bright) Investment Fund, worth $500 million dollars (Kazinform.kz, Kazakhstan Today, June 8). Whereas, Kyrgyzstan's President Jeenbekov held a state visit to China prior to the SCO summit and obtained a 600 million yuan (around $90 million) grant to fund infrastructure projects in his country (24.kg, June 7).
After the addition of new SCO members, the Central Asian republics may find themselves grappling with possible diminished roles at future summit meetings. But for China, security on its western border as well as along the borders of the five Central Asian states are crucial issues for the SCO to address. Therefore, Beijing can be expected to continue to push for the full engagement of the Central Asian capitals within this regional organization. For Central Asian countries, the SCO structure will remain a useful platform for bilateral meetings as well as to advocate for multinational economic projects; and the recent enlargement of the SCO could actually be a positive development in this regard.