As Ukraine Conducts Deep Strikes, Russia Turns to Iran
Publication: Eurasia Daily Monitor Volume: 19 Issue: 185
By: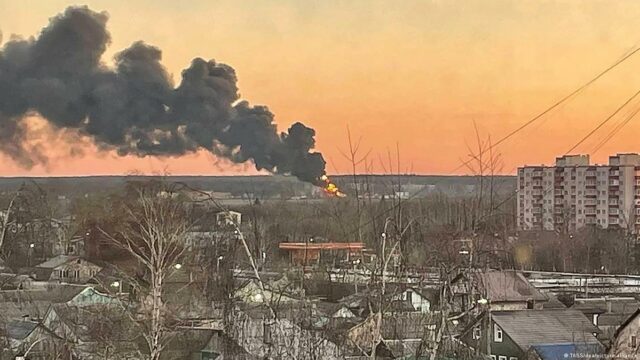 On December 5, two Ukrainian strikes on Russian air bases deep into Russian territory and far from the frontlines produced a painful shock for Russian forces and could signify a further mutation, if not escalation, of the war. Each time Ukrainian forces deliver a long-range high-precision attack—from the sinking of the Moskva cruiser in mid-April 2022 to the strike on Saky air base in Crimea in early August and the swarm attack of air and naval drones on Sevastopol in late October—Russia has been caught unprepared and has struggled to find a response. In retaliation for the December 5 strikes, Russia sought to hit back with yet another missile strike on Ukrainian energy infrastructure, but the strength of this operation was slightly below the six previous missile attacks from October 10, and this was certainly no surprise for Ukraine's missile defense (Nezavisimoe voennoe obozrenie, December 8).
The material impact from the Ukrainian strikes on the Engels air base in Saratov region and the Dyagilevo air base in Ryazan region was limited: one Tu-95MS bomber was damaged during the former attack, while one Tu-22M bomber was damaged during the latter, in which several casualties were also reported (Meduza, December 7). The capacity of Ukrainian forces to hit targets 700 kilometers away from the launch site truly astonished the Russian top brass and infuriated "military-patriotic" bloggers, who deplored the carelessness and feebleness of Russia's air defense (Topwar.ru, December 7). Russian official sources quickly clarified that the strikes were delivered by old Soviet Tu-141 Strizh drones, designed for intelligence and reconnaissance but recently modernized to carry a small warhead, of which only a score remain in Ukraine (Izvestiya, December 7; Currenttime.tv, December 9). Kyiv did not confirm this data, but it has succeeded—in addition to receiving Bayraktar TB2 strike drones from Turkey and Switchblade 300 loitering munitions from the United States—in producing several of its own long-range weapon systems, despite multiple Russian missile strikes on its industrial facilities (Nezavisimaya gazeta, December 6).
Using these capabilities for attacks deep within Russian territory, the Ukrainian command takes care to target military bases and assets, in sharp contrast with indiscriminate Russian attacks on Ukrainian civilian infrastructure and residential areas. For instance, the Khalino airfield near Kursk, where the fuel depot was hit on December 6, used to be a civilian facility, but since the start of the war, it has been used exclusively for military purposes (Svoboda, December 6). What is particularly significant about strike on the Engels air base is the fact that it is a major facility for Russian strategic aviation, and as such, many Moscow commentators have emphasized the first-ever direct hit on an element of the strategic triad, pivotally important for national security (Nezavisimaya gazeta, December 7). The squadrons of Tu-95MS and Tu-160 bombers based in Engels (which appear to be a rare observers of a sadly dilapidated locale) are constantly used for launching cruise missiles on Ukrainian territory from a safe distance—usually over the Caspian Sea, which veils the misfiring missiles—making it a legitimate target for Ukrainian retaliation (Novayagazeta.eu, December 7).
Asserting the right to attack military assets in every region of the Russian Federation, the Ukrainian command is avoiding creating any threats for Belarus, despite the fact that a significant grouping of Russian forces is deployed on Minsk's territory (see EDM, November 9). In early December 2022, Belarusian President Alyaksandr Lukashenka greeted Russian Defense Minister Sergei Shoigu and asserted that Belarussian and Russian troops were training together as a joint army (Kommersant, December 3; Nezavisimoe voennoe obozrenie, December 8). In this light, Ukraine must prepare for a possible new attack from the north, but it is, nevertheless, exercising restraint, noting that not one Iskander missile has been launched from Belarussian territory, even if its airspace has been used by Russian bombers for cross-border missile strikes (Svoboda, December 3).
The war, therefore, shows no horizontal escalation while its theater deepens into Russia, but it has also gained wider international dimensions, as Western military support for Ukraine strengthens and includes more effective weapon systems—and as Russia seeks to expand military ties with Iran preparing, according to diplomatic sources, a new treaty on comprehensive cooperation (RIA Novosti, December 7). The main content of this cooperation in the past few months has been the supply of Shahed-136 drones, which supplemented Russian missile strikes and saturated Ukrainian air defense with swarm attacks (Novayagazeta.eu, October 21). The effectiveness of these attacks has steeply declined, as Ukraine deployed special teams of drone-hunters. As a result, only Odesa, which drones launched from Crimea can approach by sea, has suffered significant damage in recent days (Currenttime.tv, December 10).
Russia needs new shipments of drones and wants to import intermediate-range ballistic missiles (the Iskanders being in short supply) from Iran, but the question remains regarding the Russian goods and services to be provided in return for these weapons (Topwar.ru, December 10). One proposition was to increase the export of natural gas, as the volumes pumped to Europe have sharply declined, but Uzbekistan has rejected Putin's plan for a "gas alliance," and Kazakhstan is also far from enthusiastic about this transit route (Forbes.ru, December 8). In truth, what Tehran wants from Moscow are weapon systems it cannot produce, including helicopters and surface-to-air and anti-ship missiles, and the Kremlin is assessing such options against possible harsh reactions in Saudi Arabia and Israel (Svoboda, December 9). Denials cannot ensure secrecy around these preparations, therefore the US and other members of the Western coalition are fine-tuning the sanctions regime to pre-empt the dangerous expansion of the weapons trade between the two rogue regimes (Kommersant, December 9).
Western concerns about potential disproportional actions from Moscow in response to Ukrainian long-distance strikes are gradually diminishing, as Russian forces are facing severe difficulties in sustaining the volume of weekly missile attacks and have few other options for retaliation. Russian President Vladimir Putin has sought to boost domestic support for the "special military operation" by annexing four Ukrainian regions, but that political blunder has instead severely compromised Russia's territorial integrity. Now, Moscow cannot assert that a Ukrainian strike on a military target in the Kursk region is a wholly different national security matter as compared to a strike on the rear echelons of its forces still attempting to capture Bakhmut. The Iranian connection cannot possibly grant Russia capabilities that would assuredly undermine the Ukrainian will to resist Moscow's aggression and to deny Russian troops any safe supply routes and areas for regrouping.