Azerbaijan, Belarus Pursue Military Cooperation
Publication: Eurasia Daily Monitor Volume: 14 Issue: 161
By: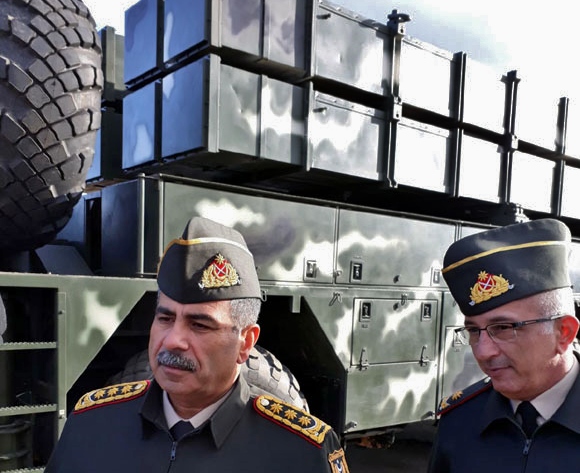 Azerbaijan's Defense Minister Zakir Hasanov visited Belarus, on October 9–10, and toured local defense-industry enterprises to review modern military equipment that could help boost the capabilities of the Azerbaijani army (Mod.gov.az, October 8, 10). The Ministry of Defense released photos of Hasanov standing in front of the new Polonez multiple-launch rocket system (MLRS), the T38-Stiletto short-range air-defense system, radars and a communications jamming (electronic warfare) station—a clear indication of what Azerbaijan is interested in purchasing from Belarus.
Azerbaijani officials had previously reviewed Belarus's advanced military technology, such as radars, scout surveillance devices and radio-communication jamming stations, during last year's defense-industry exhibition in Baku (Bsvt.by, accessed December 12). Therefore, Hasanov's latest visit to Belarus may have been the final stage of the bilateral dialogue—i.e., aimed at signing the necessary documents. Apparently, Minsk is willing to offer Baku access to its military equipment designs and modernized facilities; whereas Belarus's defense industry might obtain investment support from Azerbaijan for joint development of new weapons (Belarus Digest, October 19; Vzglyad.az, October 23). Reportedly, the Azerbaijani defense minister was also interested in the results of last September's joint Russian-Belarusian Zapad 2017 military exercises and the experience of Belarus's military engineers (Sputnik.by, October 10).
According to the Stockholm International Peace Research Institute (SIPRI), in 2016 Azerbaijan bought weapons from Belarus for $170 million, which might include an advance payment for the Polonez (Naviny.by, October 22). Azerbaijan earlier also bought tanks, artillery, armored vehicles, aircraft, radio-technical reconnaissance as well as anti-aircraft/tank missile systems from Belarus. Belarusian companies, meanwhile, have modernized Azerbaijan's Soviet-made surface-to-air and anti-aircraft missile systems (Armstrade.org, January 10, 2012).
After Russia's refusal to sell the Iskander theater ballistic missile system to Belarus, Minsk developed an indigenous alternative—the Polonez MLRS—which reportedly outstrips Russia's Uragan-1M and Smerch, Turkey's Kasirga and Israel's Lynx system in range and fire characteristics (Hvylya.net, June 18, 2016; Virtualaz.org, October 9, 2017; Belvpo.com, June 8, 2015). Although it is rocket artillery and not a ballistic missile launcher, the Polonez is sometimes compared to the Iskander system due its unique tactical-technical characteristics: an inertial guidance and correction system based on global navigation satellites, an unprecedented accuracy level for long-range target engagement (50–200/300 kilometers), missile warhead flexibility, remote-controlled commands, quick deployment, the ability to overcome missile/air-defense systems, tactical maneuverability in difficult geography, and superior target destruction (Army-technology.com, accessed October 3; Nevskii-bastion.ru, November 23; Vpk.gov.by, May 21, 30).
When Armenia acquired Iskanders from Russia last year, this did not radically alter the overall military balance in the South Caucasus, but it has accelerated the arms race with Azerbaijan (see EDM, September 28, 2016). The Azerbaijani media excitedly trumpeted Hasanov's Belarus visit; while Armenian news sourced reacted with predictable panic that the Polonez would greatly enhance Azerbaijan's combat potential in the light of the fluctuating regional military balance. Although Moscow supposedly assured Baku that the Armenian Iskanders would not be used against Azerbaijan nor deployed in the Karabakh region (Inosmi.ru, December 23, 2016; Nezavisimaya Gazeta, December 16, 2016), Azerbaijan intends to use the Polonez as a symmetrical response to Armenia (Belarusinfocus.info, December 5, 2016; RIA Novosti, November 17, 2016).
Armenia undoubtedly understands that unlike its Iskander—the ultimate control of which remains uncertain (see EDM, September 28, 2016)—command of the Polonez will unquestionably rest in the hands of Azerbaijani officers (Inosmi.ru, October 18, 2017). Minister Hasanov earlier commented that Azerbaijan possesses stronger missile-attack countermeasures. He also questioned the type of Iskanders sold to Armenia (i.e., whether they were the shorter-range export version "E," rather than "M"), their technical condition, ownership and possibility of application (RIA Novosti, July 13).
Before the Polonez, Azerbaijan reportedly considered acquiring tactical/ballistic/anti-aircraft missiles from Pakistan (Hatf-4/Shaheen-1, Hatf-IX/NASR), Turkey (Khan), China (long-range missiles), France (ASTER 30-SAMP/T) or Russia (Bal-E). Notably, Baku was also looking into the Israeli Iron Dome air-defense system and the Ukrainian-made Grom-2 tactical missile, which resembles the Iskander-M (Segodnya.ua, April 30; News.az, July 10, August 11, 2014; Ng.ru, November 11, 2016; Armstrade.org, May 29, 2014; Apa.az, May 11, 2017 and December 17, 2016; Vesti.az, May 12, 2011; Arms-expo.ru, September 15, 2014).
The Azerbaijani military already owns diverse air-defense/tracking systems, such as the S-125, S-200 and S-300PMU-2 (more advanced than Armenia's S-300PT and S-300PS), as well as Barak 8 (with Green Pine radars), Osa, Pechora and Tor-M2 surface-to-air missile (SAM) systems. These air-defense weapons are further integrated with Azerbaijan's Israeli-made Orbiter 2M, Hermes 450, Heron-1 and Harop drones (Armiya.az, November 16; Vzglyad.az, October 10; Azeridefence.com, March 22, 2016; Army-technology.com, October 3). That said, most of these installations are designed to counter aerial threats at short–medium altitudes. Azerbaijan still lacks an advanced air-defense system that could provide reliable protection of the country's strategic infrastructure in a large-scale war—like the potential threat posed by Armenian Iskanders. The Polonez is not a solution to this vulnerability.
The Russian S-400 air-defense system could be a good option for Azerbaijan, particularly as a counter to Armenia's Iskander missiles; however, Baku has avoided it in order to avoid becoming more dependent on Russian arms. When Russia sells or offers new destructive weapons to Armenia, Moscow simultaneously aims to motivate Azerbaijan to buy Russian counter-measure weapons against Armenian weaponry. Thus, Russia can compensate its loses from donating or selling subsidized weapons to Armenia by selling other armaments to Azerbaijan at market prices.
At the same time, the United States' Patriot air-defense system or the Israeli David's Sling are out of reach to Azerbaijan due to their political, technical and financial aspects (see EDM, October 5, 2016). Moreover, acquiring any foreign-made missile system with a range of more than 300 km would fall afoul of the Missile Technology Control Regime. The most optimal scenario for Azerbaijan, therefore, would be to begin joint production domestically with a foreign partner of short-range missiles using imported technology. The Belarusian-designed MAZ/MZKT military vehicles, currently being assembled at a facility in Ganja, Azerbaijan, could serve as mobile platforms for such a missile system (Report.az, September 27, 2016; Rosbalt.ru, December 1, 2016). However, setting up domestic production lines will take longer than simply buying off-the-shelf weapons from abroad.
Azerbaijan's talks with Belarus on new arms sales come in the wake of Russia's new military loan to Armenia to buy advanced weapons, the Russia-Armenia unified air-defense system, and Yerevan's decision to increase its 2018 defense budget (Caspiannews.com, November 28, 2016; EurasiaNet, October 18, 2017). Undoubtedly, the deliveries of formidable Belarusian weapons (like the Polonez) to Azerbaijan will cause an outcry in both Yerevan and Moscow. After all, Belarus is formally Armenia's ally within the Collective Security Treaty Organization (CSTO) (see EDM, February 15), while Russia remains Azerbaijan's largest military-technical supplier (Eadaily.com, October 23), despite Moscow's role as a mediator on the Karabakh conflict. Nevertheless, Azerbaijan will in all likelihood move ahead with the purchase from Belarus in order to diversify its arm imports and find cheaper solutions for its unmet military needs.