BAKIYEV WALKS IN AKAYEV'S SHOES AS OPPOSITION WANTS TO REPLAY TULIP REVOLUTION
Publication: Eurasia Daily Monitor Volume: 3 Issue: 206
By: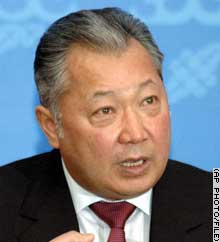 On November 2 the opposition bloc "For Reforms" staged mass anti-government demonstrations in the Kyrgyz capital, Bishkek. The protests continued throughout the weekend. Under mounting pressure, Kyrgyz President Kurmanbek Bakiyev submitted a package of constitutional reforms to parliament yesterday, November 6. The parliament convened an emergency session on Monday evening but failed to come to a consensus on the new constitution. However, 39 parliamentarians, a majority, have voted for the new constitution.
Bakiyev is feeling increasing challenges to his hold on power and is resorting to dirty tricks to undermine the opposition. Today, November 7, the police tried to forcefully disperse crowds by using tear gas (Akipress, November 7). A rival mass gathering has been organized near For Reforms' demonstration and is trying to provoke the opposition into starting a fight. An anti-For Reforms meeting was organized in the southern city of Jalalabad, demanding Omurbek Tekebayev's resignation from the parliament. Tekebayev is For Reforms' key leader and a likely presidential candidate should Bakiyev's regime fall apart.
According to For Reforms, they will continue their demonstration until the president announces a date for a national referendum to change the existing constitution. The bloc argues that Bakiyev is intentionally undermining constitutional reform efforts that would potentially reduce the president's powers. The opposition also realizes that, given the current state of affairs, Bakiyev has no chance of winning a second presidential term.
As tensions rise in Bishkek, most locals are blaming the opposition for the disruptions. According to For Reforms' leader Edil Baisalov, the number of demonstrators reached as high as tens of thousands (tazar.kg, November 5) and there are roughly 1,700 people continuously staying overnight in special tents assembled in front of the government headquarters. However, other sources are more skeptical, estimating that the maximum number of demonstrators hardly reached 4,000 people. According to Bely Parohod, the number of people constantly present on the central square is 700-800 (November 4).
The head of the National Security Service, Murat Sutalinov, is reportedly promising to clear the central square in Bishkek from For Reforms' demonstrators. The NSS is ready to use arms to protect the government headquarters; already two armored personnel carriers have been dispatched to the central square. The Russian news agency Lenta.ru is reporting that some protestors may have been shot (Lenta.ru, November 7).
The role of the local mass media in these critical days is difficult to underestimate. Most Bishkek residents are preoccupied with some type of business or public services and prefer not to show up at the central square. They generally prefer to acquire information about the progress of demonstrations from a number of local newspapers. However, since November 2, it has been virtually impossible to access online mass media outlets with Kyrgyz domains due to government censorship. A similar policy of blocking information was deployed prior to the ouster of former Kyrgyz president Askar Akayev during the Tulip Revolution of March 24, 2005.
Since the August 2005 presidential elections, when Bakiyev won 90% of the popular vote, his approval rating has been falling on an almost weekly basis. Bakiyev has been unable to prove himself as a politician or as a leader. His inconsistencies have failed to convince his supporters of the strength and efficiency of his political partnership with Prime Minister Felix Kulov. His foreign policy efforts have also been a failure, especially during negotiations on the status of the U.S. military base in Bishkek. Furthermore, Bakiyev's son Maxim has gained a reputation as a businessman who quickly seized control over major economic sectors in the country, including energy.
Despite his obviously diminished popularity, Bakiyev maintains that the support he received during the presidential elections provides him with an undisputable source of legitimacy. Ironically, Akayev used similar dull arguments as his regime collapsed. Kulov, although enjoying wider and longer popularity compared with Bakiyev, has also faced intense criticism for being ignorant of political reforms and being too submissive to the president.
Like Akayev during the period of mass demonstration against his regime in March 2005, Bakiyev risks quickly losing the support of his own government. Bakiyev's subordinates could side with the opposition to secure their own positions in the government. Already now the governor of Chui oblast, Turgunbek Kalmuzayev, and Minister of Interior General Omurbek Suvanaliyev are openly supporting For Reforms. Loosing his key supporters would signify Bakiyev's defeat and the possible collapse of his government. There also appears to be tensions developing between the pro-Bakiyev and pro-opposition factions within the government.
The opposition also counts some rather infamous political figures among its members. For instance, Melis Eshimkanov, a parliamentarian and member of For Reforms, has a reputation for changing his loyalties depending on his own interests. During Akayev's regime, Eshimkanov switched his views for and against the former president several times. As the Tulip Revolution unraveled in 2005 he quickly changed his positions in favor of the new regime. Roza Otunbayeva and Azimbek Beknazarov are also controversial figures who are as much criticized by the Kyrgyz public as they are favored.
The opposition is taking care to not destabilize Bishkek. Its popular approval rating is contingent on its ability to avoid violence and lootings like that plagued the city on March 24 last year. Indeed, the opposition warns that the government is preparing for possible lootings in Bishkek. In fact, because there is a general fatigue among Bishkek residents about the possible repetition of mass disorders, many are not in favor of the government or the opposition. "Kyrgyz are ashamed of being similar to Ecuador or Haiti, where one toppling of a regime is quickly followed by another," one Kyrgyz observer told Jamestown.
Bishkek residents are skeptical about the possible replication of anything like the Tulip Revolution. Although Bakiyev has turned out to be a weak politician and corruption rates are soaring, locals would prefer that he remain in office until his first term expires in 2010. If Bakiyev postpones constitutional reform until then, he could easily win another presidential term, because the current constitution provides the president with overwhelming powers.
If there is an early regime change before the next presidential election, the Kyrgyz public would not be fully happy with the current rivals for political power. Still, depending on what takes place in the coming days, weeks, or months, the locals will prefer stability to change. The period since March 24, 2005, has proven too turbulent to call for democratic changes at any cost.