BAKIYEV WINS PRESIDENCY IN ONE ROUND — HOW LONG WILL THE HONEYMOON LAST?
Publication: Eurasia Daily Monitor Volume: 2 Issue: 134
By: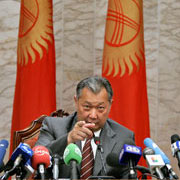 With roughly 90% of the vote, Kurmanbek Bakiyev won Kyrgyzstan's July 10 presidential elections in the first round. Bakiyev had served as acting president since the March 25 Tulip Revolution. He was able to unite many former opposition figures, among them Azimbek Beknazarov, Daniyar Usenov, and Adakhan Modumarov, who had been unable to work together during the reign of Askar Akayev. At the same time, Bakiyev was able to win the elections largely due to the support of Kyrgyzstan's most popular politicians — Acting Prime Minister Felix Kulov and Acting Foreign Minister Roza Otunbayeva.
Not all of those who voted for Bakiyev genuinely supported his candidacy. Many voted for stability in the country, fearing the fragile situation could unravel if a national leader was not clearly defined. The Bakiyev-Kulov partnership was a key factor in Bakiyev gaining nation-wide approval. The Kyrgyz capital was especially skeptical about the elections, as looting and numerous demonstrations have plagued the city since March 24. Indeed, about 3% of Bishkek's registered voters voted "against all" candidates: "None of the candidates deserves the presidency. I voted against all, although this is not the way out," said one 32-year old entrepreneur from Bishkek. For some Kyrgyz the presidential race represented a choice between the lesser of two evils — Bakiyev was regarded as the best possible figure among a field of rather unfamiliar candidates. His wide support is, therefore, susceptible to sharp decline.
The new president will have to satisfy popular demands by improving the economy and eliminating corruption. However, as the Georgian and Ukrainian "color revolutions" suggest, anti-corruption policies often divert the government's attention from other important problems, such as agriculture and social services. Georgia's economic problems have worsened since the 2003 Rose Revolution despite the arrest and imprisonment of numerous political figures on corruption charges. The recent disagreement between Ukrainian President Viktor Yushchenko and Yulia Tymoshenko on the re-privatization of private property shows that addressing corruption can be an ambiguous undertaking and raises controversies within the government. In Kyrgyzstan, recent tensions in Osh between supporters and opponents of Bayaman Erkinbayev, a well-known businessman and parliamentarian, are just one example of anti-corruption policies sparking armed clashes (see EDM, June 14).
According to Bakiyev-Kulov pre-election promises, the legislative branch must become a leading political actor in the country (see EDM, May 17). However, the current parliament stands as an uncompromising opposition force that still supports Akayev. It is possible that, as a prime minister, Kulov will dissolve the parliament. Such a move would meet the expectations of the population that rioted against Akayev's regime and rigged parliamentary elections in February and March. But if Kulov continues to strongly support the parliament's legitimacy, his popularity will inevitably decrease.
Sunday's elections employed a variety of techniques to guarantee the fairness of the balloting, including transparent ballot boxes, marking voters, and exit polls. About 340 international observers from 45 countries participated in the elections nationwide. No major disturbances were recorded on election day. All national law-enforcement personnel were mobilized on July 10 as a precaution. Military training exercises were carried out in central Bishkek on the eve of the elections.
The Chair of the OSCE Parliamentary Assembly, Kimmo Kiljunen, reported that the elections were a "step forward" and indicated tangible progress carried out in an unrestricted environment.
But along with such approving comments, Kiljunen acknowledged that the abnormally high turnout — reaching 75-95% at every precinct — seems rather dubious and requires additional investigations (Akipress, oscepa.org, July 11). The Coalition for Democracy and Civil Society has reported individual cases of voters illegally transported to their polling place, but such reports are not widespread. Unsuccessful presidential candidate Jypar Jeksheev adamantly contends that mass falsification took place during the elections. According to him, the government deployed its administrative resources to the maximum extent: students, pensioners, and public workers were allegedly forced to vote for the interim president (Kabar, July 11).
Russian newspapers were quick to label the Kyrgyz outcome as a victory for Moscow. As Moskovsky komsomolets (July 11) reports, unlike the new Georgian and Ukrainian governments, Bakiyev clearly favors intensifying ties with Russia at the expense of other international actors currently active in the country. For example, Kyrgyz Ambassador Apas Jumagulov declared that the U.S. military base must be gradually withdrawn from Kyrgyzstan. At the same time, he notes that the Russian base must remain in Kyrgyzstan due to its strategic importance (Akipress, July 11).
Ousted president Akayev, currently living in Russia, continues to seek ways to influence the political situation in Kyrgyzstan. According to Moya stolitsa novosti (July 8) he deliberately supported the Bakiyev-Kulov team to create direct ties between his regime and the new government. Akayev claims that Bakiyev is a product of his leadership — "I raised him from the head of a regional administration to governor of the two most important oblasts, to prime minister," the former president told Kommersant (July 11).
In the early and mid-1990s Akayev was supported by the overwhelming majority of the government and the Kyrgyz people. But Akayev failed to satisfy popular expectations for economic prosperity and liberal democracy. Although there is a chance that Bakiyev will exhaust his current popularity during his first term as president, Kyrgyzstan's civil society institutions and mass media have evolved over 14 years of independence and will be able to provide better oversight of government policies. As one faculty member at Kyrgyz-Slavic University commented, "Bakiyev might not be the Kyrgyz Ataturk, but as long as there is stability in the country, he is the right candidate."