Baku Pushes New Azerbaijan-Iran-Turkey-Georgia Grouping to Enhance Intra-Regional Cooperation
Publication: Eurasia Daily Monitor Volume: 15 Issue: 46
By: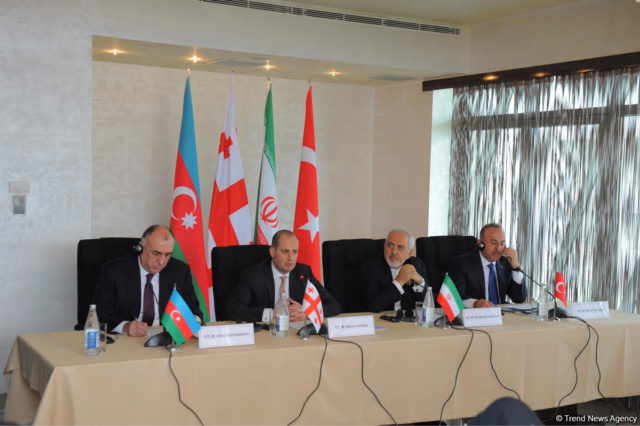 On March 15, Baku hosted the first official ministerial meeting of a new quadrilateral regional format, encompassing Azerbaijan, Turkey, Iran and Georgia (Trend, March 15). The new grouping was conceived to enhance cooperation among the four neighboring states, particularly in the security sphere. Until now, perhaps the most productive intra-regional cooperation format in the South Caucasus was the Azerbaijan-Turkey-Georgia triangle. Under the umbrella of this trilateral format, the participating countries have worked to deepen their defense ties as well as held annual military drills (see EDM, March 11, 2014; June 7, 2017). Despite attempts by some observers to portray the tripartite grouping as an anti-Russian bloc in the South Caucasus, the three states have denied such accusations.
As much as the tripartite Azerbaijan-Turkey-Georgia arrangement has contributed to greater integration among the three states as well as bolstered the geostrategic significance of South Caucasus region as a whole, Baku believes that additional cooperation with Iran can further enhance those trends. Such expectations are not unfounded, as Iran's economic and geographic potential could, indeed be quite beneficial for its neighbors (see EDM, March 9, 2016). As such, Baku was the main driver behind establishing this new format with Iran, noted Azerbaijani Foreign Minister Elmar Mammadyarov during his meeting earlier this month with Georgian Defense Minister Levan Izoria. According to Mammadyarov, the new four-party grouping will open up a number of new areas for cooperation for the participating regional states (Interfax, March 9, 2018).
Iranian-Azerbaijani relations have been progressively normalizing since the election of President Hassan Rouhani, and the subsequent progress on the nuclear talks between Iran and the Western states. President Rouhani has visibly changed the Iranian government's policies toward Azerbaijan, and he has notably paid several official visits to Baku. In recent years, Azerbaijan and Iran have agreed to lay new railway connections between their countries, including the Rashat–Astara, Nakhchivan–Mashhad and Astara–Astara rail links (see EDM, July 17, 2017). The latter was inaugurated this past January (Financial Tribune, January 13, 2018). By pushing Iran to join the new quadrilateral cooperation format, Azerbaijan intends to attract more investment to the country. Specifically, Azerbaijan is seeking investments in its non-oil sectors, and Iranian companies and businessmen could become a valuable resource there. For the past several years, Azerbaijan has been rapidly changing its economic strategy, shifting its focus from a reliance on oil and natural gas and working to modernize domestic industrial production capacity and developing various non-energy sectors—particularly tourism, logistics and agriculture (CACI Analyst, February 19, 2016).
As was mentioned above, regional security remains at the top of the agenda for all four states—and in particular for Georgia and Azerbaijan. Both of these post-Soviet republics continue to suffer from unresolved territorial conflicts. Against the background of the persistent threats of renewed confrontation between Russia and Georgia or Armenia and Azerbaijan, Baku and Tbilisi have been particularly eager to promote the idea of intra-regional military cooperation. Within that context, Georgian Defense Minister Izoria visited Baku on March 9 and held official meetings with President Ilham Aliyev as well as the Azerbaijani minister of defense, Colonel General Zakir Hasanov. During the latter meeting, the two defense ministers discussed cooperation in the fields of verification and arms control. As a result of those talks, the two top defense officials signed a roadmap of bilateral cooperation for 2018 (Abc.az, March 9). Several days later, Georgian Prime Minister Giorgi Kvirikashvili arrived in Baku to meet with President Aliyev. The two leaders discussed how regional cooperation was increasingly boosting the geostrategic importance of the South Caucasus on the global level (Trend, March 12).
During his official speech at the Global Baku Forum, on March 15, Turkish Prime Minister Binali Yıldırım emphasized the significance of his country's close cooperation with Azerbaijan and Georgia for improving regional security (Turan.az, March 15). Despite the fact that Russia continues to perceive the South Caucasus as its geopolitical backyard, Turkey has worked to strengthen its position in the region for a long time. And the trilateral arrangement with Azerbaijan and Georgia has been instrumental in this policy.
One of the most important fruits of that cooperation has been the Southern Gas Corridor, a network of pipelines designed to transit Caspian-basin natural gas westward, across the South Caucasus and Turkey, to Europe. Turkey has benefited economically and will improve its energy security situation thanks to its close cooperation with energy-rich Azerbaijan—the main supplier of the Southern Corridor's longest segment, the Trans-Anatolian Pipeline (TANAP)—as well as with Georgia, a transit country for part of the Corridor's first important link (the South Caucasus Pipeline—SCP).
Now, a growing willingness to develop closer regional cooperation with Iran may mean that, in the near future, Iranian gas could also be pumped into the Southern Corridor and transported westward to southeastern Europe. Additionally, the Georgian market, which suffered shortages of gas in the last year (see EDM, February 12), could greatly benefit from Iranian gas both to meet growing domestic consumption as well as a source of additional transit revenue. Finally, in light of Russia's deteriorating relations with the West, the relative importance of Azerbaijan and Georgia has been growing. Thanks to strategically important trans-regional transit projects like the Baku–Tbilisi–Kars (BTK) Railroad, the two countries are increasingly positioning themselves as a gateway to Europe and Asia for Turkey as well as for Iran. All these abovementioned factors likely contributed to the decision by Baku, Ankara, Tbilisi and Tehran to establish a new cooperative quadrilateral grouping.
This new cooperation format has the potential to significantly shift regional trade and boost economic development over the medium and long term. And for Azerbaijan, the four-party format will be an important tool to further diversify its international relations so as to avoid becoming too strongly dependent on any one regional country.