Beijing Summit Cements China's Role as Dominant Outside Power in Turkmenistan
Publication: Eurasia Daily Monitor Volume: 20 Issue: 8
By: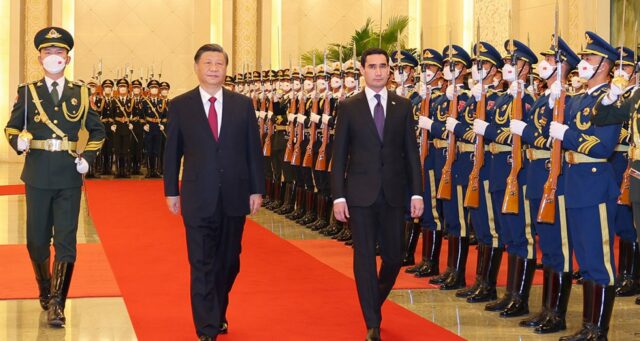 Since gaining independence in 1991, Turkmenistan has typically attracted only sporadic international attention both because of its constitutionally mandated policy of strict neutrality and the extreme isolation Ashgabat has pursued with an authoritarianism so severe that it rivals that of North Korea. But the country's enormous natural gas reserves and its strategic location, next to an unstable Afghanistan and astride a major east-west trade route, has changed that over the past several years. Various countries, ranging from Russia and Turkey to the European Union member states and United States, have begun to devote more attention to a country they had generally ignored until now. But none has done more and achieved more success than China (see EDM July 29, 2021; December 15, 2022). And China cemented its role as the dominant outside power in Turkmenistan at a recent summit meeting between the presidents of both countries. As such, Beijing's new status not only gives it expanded opportunities to gain access to Turkmenistani gas and transportation routes but also to use Turkmenistan to help expand Chinese influence across Central Asia. Indeed, that is likely to be the central consequence of this meeting.
China's success in this regard should not surprise anyone. In many ways, Ashgabat is the perfect partner for Beijing. Its authoritarian elite prefer to behave secretly rather than with open discussion, and they, similar to the Chinese Communist Party elite, resent any criticism of their human rights record. Significantly, Turkmenistan has not criticized Beijing for its repression of Muslims in Xinjiang. In addition, from China's perspective, Ashgabat is an ideal partner in Central Asia not only because its elite are open to corruption but also because Turkmenistan's rulers have kept the country out of Moscow-dominated integration projects, including the Eurasian Economic Community and the Collective Security Treaty Organization, giving China an opening, especially as Beijing has money to spend on infrastructure projects (Carnegie.ru, January 22, 2021). Finally, due to its own security concerns, Turkmenistan opposes any change in international borders and thus backs Beijing on the status of Taiwan and welcomes the security assistance China gives without the constraints most other countries impose (see EDM July 13, 2021; July 20, 2021).
The meeting between Chinese President Xi Jinping and Turkmenistani President Serdar Berdimuhamedov took place on Friday, January 6, a day chosen because it marked the 31st anniversary of Beijing's diplomatic recognition of Ashgabat (Mfa.gov.tm, January 7). The two leaders engaged in what can only be described as a lovefest, praising each other and signing a laundry list of agreements that would seem to put them on the path to becoming allies (Salam News, January 6; Tdh.gov.tm, January 6; Mfa.gov.tm, January 7; Hronika Turkmenistana, January 7). Their agreements were of two primary types: one regarding China's expanded role in Turkmenistan's economy and the other regarding Beijing's hopes that Ashgabat will be an agent for expanding its influence throughout Central Asia. The reasons for the first are more obvious; but those for the second are likely to be the more consequential.
Regarding Beijing's expanded role in the Turkmenistani economy, the two presidents agreed that Ashgabat will sell even more gas to China and, to that end, will build a fourth pipeline eastward. They also agreed that Chinese investors will expand their role in Turkmenistan, first and foremost, in infrastructure projects including not only railroads and highways but also in other economic sectors. They agreed on expanded security cooperation, which likely means an expanded Chinese presence in Ashgabat and along the Afghan border. Additionally, they agreed on the expansion of bilateral ties in education and cultural affairs, something that will draw Turkmenistan even further into China's orbit (Casp-geo.ru, January 10).
On the matter of using Ashgabat as a base to expand Chinese influence throughout the region, the two presidents agreed on three steps that will likely have an enormous impact far beyond Turkmenistan's borders. First, they agreed that China's Belt and Road Initiative and Turkmenistan's New Silk Road initiative should be integrated, something that will expand Beijing's ability to export goods westward through Turkmenistan via the Caspian Sea to the Caucasus and onward to Europe. Second, they indicated that this east-west route has priority over any other, including the north-south corridor that Russia and Iran are keenly interested in, but that it would not be developed in a way that would preclude others from investing in such a route. And third, they agreed that Turkmenistan will take the lead in organizing a summit meeting for the five Central Asian countries and China, a Chinese "5+1" arrangement that is effectively a rebuff to Russia's "5+1" plans (Casp-geo.ru, January 10). Russian commentators have sought to downplay this challenge by arguing that China and Russia are themselves strategic partners, but it is clear that the relative power of the two has now shifted in China's favor, largely due to Moscow's war against Ukraine (Iarex.ru, January 8).
At the very least, Turkmenistan's new level of cooperation with China and its willingness to act as Beijing's agent in Central Asia calls into question the longstanding division of labor between Russia and China, an arrangement in which Moscow provided security, while Beijing offered investment. Moscow lacks both the troops and money to hold up its end of that deal, and so, China is moving in to create a new security situation in Central Asia, one in which, whatever Moscow may think, Beijing is going to be the dominant player well into the future.
Meanwhile, China's expanding role in the region represents a challenge to Turkey's aspirations, with Beijing now partnering with the Turkic country in the region least willing to assist Ankara's vision for a new Turkic world. It is also a challenge to the West, which seeks a bigger role but lacks both the focus and political assets of China.
Until recently, pro-Moscow commentators in Central Asia were more concerned about Turkish and Western influence in the region than they were about Chinese control (Polit Navigator, September 22, 2021). Now, after the Beijing summit, that will almost certainly change, with consequences for Moscow's relations with Beijing in the offing.