Belarus and Russia Resolve Their Pending Energy Issues, for Now
Publication: Eurasia Daily Monitor Volume: 15 Issue: 137
By: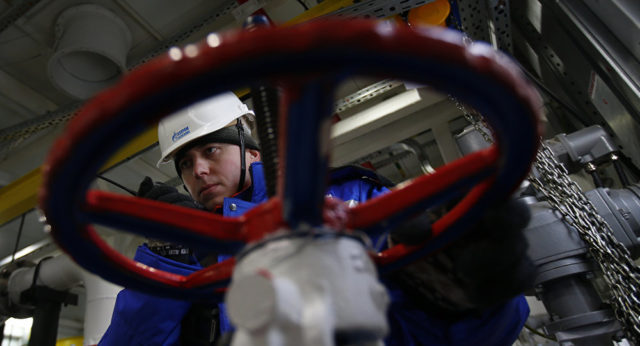 The presidents of Belarus and Russia, Alyaksandr Lukashenka and Vladimir Putin, held a long bilateral summit in Sochi, on September 21. The countries' prime ministers and key government members also took part in the meeting, which attracted significant media attention (Belta.by, September 21). Prior to the summit, Belarusian-Russian relations seemed at the edge of a crisis, manifesting in economic disputes and exchanges of combative rhetoric (see EDM, September 11). For example, in August, Lukashenka stated that "the Russians behave toward us in a barbarian style" (Belta.by, August 10). And speculation around the appointment of Mikhail Babich as Russia's new ambassador to Minsk, who will hold simultaneous status as Putin's plenipotentiary envoy for promoting trade and economic cooperation with Belarus, only added fuel to the fire (Belta.by, August 24; see Commentaries, July 20; see EDM, August 8).
On August 22, Lukashenka and Putin held a brief one-on-one meeting and agreed to continue discussions together with their government teams the following month (President.gov.by, August 22). Notably, after recent changes in both countries' governments, a new crop of individuals is now in charge of Belarusian-Russian economic relations in Moscow as well as Minsk. But the most problematic issues in the two countries' relations have remained the same, with energy deals continually at the heart of these disputes.
After the Putin-Lukashenka talks in Sochi, however, Minsk stated that all problems in the energy realm have now been resolved (President.gov.by, September 22). Russia's Ambassador Babich also confirmed that the two sides reached major agreements, adding that only some nuances remain to be clarified during the upcoming Commonwealth of Independent States (CIS) summit in Dushanbe, where the presidents of Belarus and Russia will participate (Tut.by, September 25). At that point, the details of the agreements will apparently finally be presented to the general public.
The news agency Reuters reported in mid-August that Russia would restrict the deliveries of petrochemicals and liquefied natural gas to Belarus as well as suspend previously agreed-upon credits (Reuters—Russian service, August 10). Thus, Russia signaled that it wanted to amend existing agreements and review the costs, volumes and conditions of deliveries to Belarus. The previous agreements, centered on oil and petrochemicals, were signed in 2015 and then amended in 2017 (see EDM, April 6, 2017).
According to the 2015 agreement, Belarus obtained the right to leave export levies on petrochemicals in its own budget as long as their amount did not exceed $1.5 billion a year. However, falling oil prices resulted in significantly lower revenues compared to what Minsk had expected. In particular, in 2015 the overall amount reached $1.2 billion, in 2016 it fell to $0.5 billion and then rose to $0.6 billion in 2017. Budgetary losses were aggravated by what Minsk considered the unfair pricing of Russian natural gas. Consequently, Belarus initiated a review of the agreements (Minskdialogue.by, September 3).
After a prolonged dispute, a new compromise was famously reached in April 2017, which intertwined gas, oil and petrochemicals. Essentially, Belarus would receive 16 million tons of oil annually to refine for the needs of its internal market, while excess petrochemicals could be exported. Like previously, the agreement stipulated that Belarus could keep up to $1.5 billion of export fees in its budget. The key novelty of the amended agreement had to do with the so-called "double customs clearing" ("peretamozhka"), which became compensation for the higher costs of gas Belarus had to pay. This meant that an additional six million tons of Russian crude oil aimed for customers in the European Union would transit Belarus via the transportation system on its territory, and export levies paid on it would also stay in the Belarusian budget. In 2017, the levies amounted to $0.5 billion, and in 2018 they were expected to generate about $0.6 billion (Banki24.by, December 22, 2017).
As complicated as the scheme looks, it seemed to satisfy both sides. Therefore, information about Russia's intention to review the agreements yet again came as a surprise to many. The reason became clear only recently. At the end of 2017, Russian private companies started to increase petrochemical deliveries to Belarus. In January–August 2018 they delivered roughly 30 percent more of petrochemicals year-on-year (Belstat.gov.by, accessed September 21). This covered about a third of Belarus's internal demand. Deliveries to Belarus are more profitable for Russian companies than selling petrochemicals inside Russia. Belarusian companies also benefit from them. The latter could now export an equivalent amount of the petrochemicals produced by Belarusian refineries to third countries and, thus, generate more profit.
Thus, Russia basically accused Belarus of manipulating the agreement. In August, Lukashenka commented on the situation: "[T]hey tell me to ban imports of petrochemicals from Russia, and I reply that they should better ban their exports" (Tvr.by, August 26). Besides losses to the Russian budget, the Kremlin seems unhappy with the fact that Belarus exports more oil products to Ukraine once Russian producers cover the demands of the Belarusian internal market. But more importantly, it looks like this is generally a reaction to the fact that the Russian economy faces serious problems, including as a result of Western sanctions. Hence, as economist Anton Boltachka put it, Russia wants to control Belarus's financial gains. Minsk, in turn, tries to maximize those gains (Minskdialogue.by, September 3).
One additional theme that has further complicated this current round of energy negotiations between Minsk and Moscow is the so-called Russian "tax maneuver." Generally approved by the State Duma (lower chamber of the Russian parliament), the modified tax code is expected to result in a gradual (over the upcoming six years) abolishing of oil export levies (from roughly 30 percent to 0 percent) (Duma.gov.ru, September 22). This will run in parallel with the hiking of the mineral extraction tax within the same parameters. The measures will clearly have a highly negative effect on the Belarusian economy. According to the Belarusian Ministry of Finance, only in 2019 the country's budget will lose about $300 million (Belta.by, August 9). And the overall loss (including multiplying effects) could exceed $1 billion.
It has become a tradition of sorts in Belarusian-Russian relations to repeatedly review bilateral energy agreements. This is a consequence of the fact that Russia continuously postpones the introduction of the single markets of gas and oil and petrochemicals within the Eurasian Economic Union framework (they are now expected to be launched in 2025). Thus, the latest Belarusian-Russian energy accord is unlikely to remain unaltered for long.