Belarus Finds Itself Between a Rock and a Hard Place
Publication: Eurasia Daily Monitor Volume: 15 Issue: 146
By: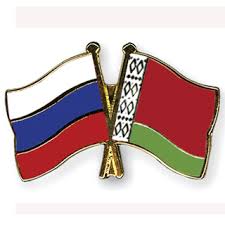 The putative detachment of Belarus from Russia as well as a twin topic, the supposed annexation of Belarus by Russia, are never-ending refrains in both countries' media. The former is predictably pursued by Russia's media outlets, whereas the latter can generally be found by reading materials put out by the Belarusian opposition. But in an unusually lengthy recent article, the Russian "patriotic" online newspaper Vzglyad offers a rather conciliatory perspective on so-called detachment. Yes, nationalist forces pursue that goal, but they are less popular in Belarusian society than they were in the 1990s. And yes, parallels between Ukrainian Bandera-style nationalism and the heirs of Belarusian Nazi collaborators are relevant, but the latter are feeble and deprived of political capital, the Vzglyad article concedes (Vzglyad, October 8).
Equally conciliatory is the currently dominant Belarusian perspective on annexation. Thus, Yury Drakakhrust of Radio Liberty suggests that, all too frequently, crying wolf regarding conceivable Russian plans to swallow up Belarus may actually lull one's vigilance at a time when it is needed most. It is unlikely, believes Drakakhrust, that annexing Belarus will boost the Russian president's popularity the way Crimea did (Svaboda.org, October 8). And yet, the fact that President Alyaksandr Lukashenka even broached the annexation topic in his conversation with the newly appointed Russian ambassador Mikhail Babich is telling. Specifically, Lukashenka declared, "Immutable is the fact […] that we are a sovereign and independent country. To be frank, not merely due to the aspirations of our people did we become sovereign and independent. Russia itself wanted that, and the current leadership of Russia has pledged continuity. In the 21st century, talking about incorporation of Belarus into Russia (as some do) is nothing short of ludicrous. I have never heard [that sort of thing] from the current president of Russia. Neither had I heard that from [his predecessor]" (Lenta.ru, October 12).
Not quite so, says Drakakhrust. In 2002, Vladimir Putin did not mince words, suggesting that if Belarus wants to take advantage of discounts on hydrocarbons, then all six of its regions (five oblasts and the city of Minsk) ought to join Russia as separate entities (Tut.by, October 12). That suggestion was a cold shower. "Even [Soviet leaders Vladimir] Lenin and [Joseph] Stalin did not insinuate anything like that," Lukashenka exclaimed at the time, while commenting on Putin's contentious words (Vip.ru, August 22, 2002). This time, however, at the Mogilev-based Forum of Regions of Russia and Belarus, Lukashenka greeted his Russian colleague as follows: "I am grateful to you, president of Russia, for finding time to arrive in this bright city. It is not by accident that I called it a Russian city as Mogilev and Vitebsk do not differ from Russian cities" (Tut.by, October 12). In Drakakhrust's opinion, this was too much, as Russia may take such rhetoric literally at some point.
Nuances of the close Russian-Belarusian relationship may at times be awkward and delicate indeed. For example, Dziannis Melyantsou, of the Minsk Dialogue Track II expert initiative, calls attention to the fact that too many Belarusians, including those working for the government, use e-mail accounts running on Russian domains like mail.ru. Many associates of Belarus's Ministry of Defense, staff members of the country's Security Council, Belarusian diplomats, and many others all have private e-mail addresses on this service, which Melyantsou suggests, is insecure (Facebook.com, October 10). Additionally, there are serious inconsistencies in the language policies of specific Belarusian media outlets. For instance, a widely discussed interview with Ivan Shyla, recently fired from the TV channel Belsat, which broadcasts from Warsaw (see EDM, September 24), was awkwardly bilingual: The correspondent from the Belarusian pro-Western nationalist paper Nasha Niva asked questions in Belarusian, but Shyla, a former associate of the Belarusian-language TV channel, responded exclusively in Russian, as if to underscore that Belarusian may be a badge of ethnicity but not by any means a spontaneous language of everyday communication. In addition, this supposedly valiant dissident (in 2007, he was suspended from his high school in Soligorsk, Belarus, for active involvement in the Young Front, an unregistered anti-Lukashenka movement) confessed that in Poland he abused drugs. So he is glad to move back to Belarus where it will be easier to steer clear of them (Nasha Niva, October 11). Such information, disclosed with panache, tends to tarnish the reputation of Belarusian nationalist devotees.
Yet, if excessive closeness to Russia is fraught with the risk of losing independence, what awaits Belarus in the West is sometimes not reassuring either. Ales Bialyatsky, the leader of the human rights watchdog group Viasna, once imprisoned in Belarus for tax evasion (see EDM, December 12, 2011), complains about the rise of isolationism and xenophobia in Europe. "Do we want to be part of such a Europe?" he asks rhetorically (Svaboda, October 12). Aside from this, Europe's treatment of Belarus betrays a tug of war between habitual democracy promotion and the growing importance accorded to the country's geostrategic position. These twin impulses have long made strange bedfellows, and the interview of Carnegie Endowment's Balázs Jarábik with the bimonthly magazine New Eastern Europe strongly reflects the tension found therein. Notably, Jarábik argued that the authoritarian Belarusian regime manages the entire country much better than democratic regimes of Ukraine and Moldova manage their respective countries. Belarus is the only Eastern Partnership country enjoying territorial integrity, but it is treated unfairly by the European Union, which still has not finalized its framework for relations with Minsk, he asserted. Furthermore, he stressed that Belarusians choose social security, health care, and education over democracy, but the government is, nevertheless, becoming increasingly sensitive to public opinion. Belarus is experiencing a slow democratic transition of the kind Spain went through last century. Finally, Jarábik contended that Belarus has made many steps toward the West, including visa-free travel, but the EU did not reciprocate. As such, the Carnegie expert warned that there are limits to one-sided concessions from Belarus (New Eastern Europe, September 2).
Jarábik's criticism of the EU policy toward Minsk seems to be on target as much as Drakakhrust's and Melyantsou's criticism of Belarus's occasionally zealous flirting with Russia. Squeezed between Russia and the EU, Belarus is, indeed, looking for partners that will meet it halfway. More often than not, however, it encounters indifference and rigidity on both geopolitical flanks.