Belarus Opening up to the World Amidst Russian Accusations of Disloyalty
Publication: Eurasia Daily Monitor Volume: 15 Issue: 116
By: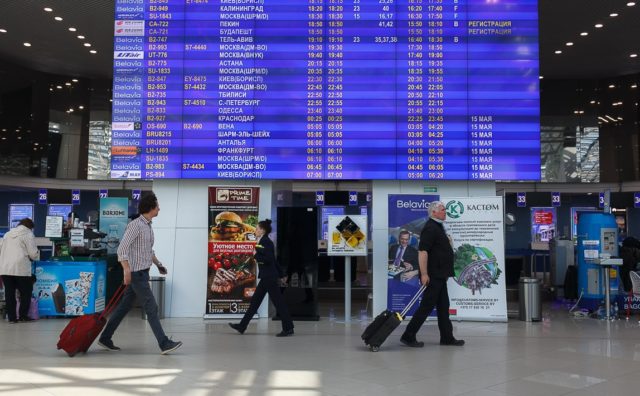 On July 24, the Belarusian government significantly increased the length of time that visitors from a list of 80 foreign countries could remain in Belarus visa-free. The period was extended from 5 to 30 days (Belta, July 24). The five-day timeframe was introduced in February 2017. And by some accounts, 100,000 or 20 percent more people visited Belarus over the subsequent 12-month interval, year-on-year (Deutsche Welle—Russian service, February 12). As under the previous five-day visa-free regime, travelers looking to take advantage of the 30-day visa-free stay must arrive in and leave Belarus through the same port of entry/exit—namely, Minsk International Airport.
It is uncertain whether this latest decision was cleared by Russia. The border between Russia and Belarus is transparent. But when Minsk announced its initial visa-free travel decision in February 2017, Moscow introduced border controls with Belarus for citizens of third countries traveling to Russia along major highways. Additionally, flights from Belarusian airports to Russia were reassigned to international terminals of Russian airports; previously, those travelers disembarked at domestic terminals. Interestingly, Belarus did not take reciprocal steps. When, in early summer, this author went to the security check for international departures with a boarding pass for a Minsk–St. Petersburg flight, a Belarusian airport clerk explicitly said, "You are flying to Russia, yes? But this is the security check for international flights." In any case, controls may only be selective: one may continue to cross the Belarusian-Russian border unfettered along secondary (including unpaved) roads via multiple modes of transport, including by bicycle and, of course, on foot.
One can hardly point to a more obvious sign of Belarus's desire to open up to the world than the introduction of the 30-day visa-free period. Moreover, the Ministry of Internal Affairs is busy working to extend the period one is allowed to reside in Belarus without registering with the authorities from five to ten days (Tut.by, July 25). This is particularly essential for those who stay with relatives and/or friends; in hotels, the management itself is responsible for registration of foreigners.
This new step in Belarus's opening to the world is occurring against the backdrop of Russia's sour relationship with the West. At the same time, Russian publications ever more frequently accuse Belarus of infidelity. Sometimes, the Belarusian media respond. Thus, Alexander Alesin, whose usual specialty is military analysis, recently offered a critical roundup of the Russian voices demanding the Kremlin cut back on philanthropy and conduct a pragmatic policy vis-à-vis Belarus (Naviny, July 15). One of these voices is Bogdan Bezpalko, a member of the Russian President's Council for Interethnic Relations. Another is Alexander Khramchikhin, the deputy director of the Institute for Political and Military Analysis. The latter, in particular, claims that Belarus has already become "Ukraine-light, with Russophobia being elevated to the level of state policy" that is expressing itself, among other ways, in deliveries of Belarusian equipment for the Ukrainian army. In yet another purported sign of Belarus's infidelity toward Russia, Khramchikhin alleges that "the worse relations [become] between the West and Moscow, the better they are between the West and Minsk." As such, he demands that Minsk stop playing games with its multi-directional foreign policy and more fully adopt Russian historical memory, including in school textbooks.
On the website of the Orthodox-aligned conservative Tsargrad TV channel, Russian journalist Alexander Toporov also strongly criticizes "incorrect" historical memory in Belarus. Specifically, he invokes the case of the removal of Alexander Pushkin's national-patriotic poem "To the Slanderers of Russia" from the monument dedicated to him, in the Belarusian city of Mogilev. In his essay, Toporov also disapproves of Kastus Kalinovsky, one of the leaders of the 1863–1864 Polish insurrection on modern-day Belarusian territory (whom Toporov labels a Polish separatist and a gangster), being recognized as a hero. He calls gatherings of Catholic hierarchs in Minsk scandalous, as they occur "within the canonical territory of the Moscow Patriarchy." Indeed, many other departures from the allegedly common Russian view of history also anger Toporov (Tsargrad TV, July 22).
Likewise, "From Allies to Traitors" is the title of Dmitry Tsybakov's article in Segodnia.ru. Tsybakov is a political science professor at the Russian Academy of Sciences, and his piece contains much vitriol regarding the developing contacts between the Belarusian military and the North Atlantic Treaty Organization (NATO). Even the fact that Belarusian cadets are taught English in the Belarusian Military Academy and sometimes at academic institutions in NATO member countries worries him (Segodnia.ru, July 23).
In mid-July, a channel on the instant messenger Telegram (which Russian authorities had previously tried but failed to block—see EDM, March 27), featured an article maligning Belarusian Foreign Minister Vladimir Makei. The litany of Makei's alleged sneaky deeds has become routine in the Russian media space: This former Soviet intelligence officer is regularly labeled a turncoat and an agent of Western influence; he is accused of wearing a shirt adorned with traditional Belarusian embroidery during diplomatic receptions; and he is suspected of pushing to unseat President Alyaksandr Lukashenka (Telegram, July 15). The latter insinuation, in particular, is designed to undermine Lukashenka's trust in his own foreign minister.
Perhaps the most dramatic recent example of Russian denunciations of Belarus's supposed disloyalty came from Modest Kolerov, the editor-in-chief of Regnum. Kolerov topped his musings about "[Soviet leader Joseph] Stalin nursing Ukraine and Belarus as nation-state killers of Poland" with a grave assertion that the Russian-Polish border once again runs near Smolensk—in other words, implying that Polish influence extends all the way east to Belarus's border with Russia. This is in part due to "adventurous Lukashenka leading Belarus to a union between a cynical bureaucracy and ethnic anti-Russian nationalism" and in part due to the supposed menace of a "galloping Ukrainization of Poland" by way of ongoing emigration of Ukrainians to that country (Regnum, July 25).
Finally, speculation is intense regarding Mikhail Babich, who is about to replace Alexander Sourikov as Russia's ambassador to Belarus (see Commentaries, July 20). Sourikov is 77 and has headed Russia's diplomatic mission to Minsk since 2006. Whereas, with his background in the military and in overseeing Chechnya and two potentially unruly republics of the Volga Federal District (Tatarstan and Bashkortostan), Babich is seen as someone who will be able to tame Lukashenka and keep Belarus reliably within Russia's orbit (Svaboda.org, July 24; Forbes.ru, July 25).
Belarus's opening up to the world is proceeding amidst exacerbation of Russia's "abandoned wife" syndrome. As such, the opening, the syndrome and their interplay are arguably worth monitoring closely.