Brief: Nigerian President Buhari's Term Ending with Boko Haram Not "Technically Defeated"
Publication: Terrorism Monitor Volume: 21 Issue: 3
By: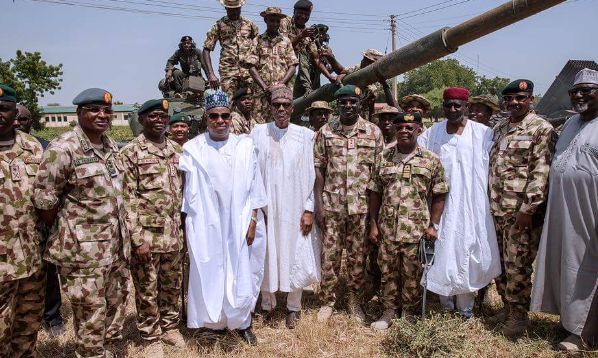 When Muhammadu Buhari was elected Nigerian president in 2015, he notoriously stated that Boko Haram was "technically defeated" (punchng.com, February 6, 2016). A former military general who has seen civil war, coups, and other internal and regional conflicts, Buhari expected that Boko Haram would be finished under his administration. He underestimated the group, however. Ahead of the 2015 elections that led to his presidential victory, he commented "[w]hat is Boko Haram?" (Youtube/Channel4News, February 7, 2015). Buhari shrugged off the group and indicated the Boko Haram's violent acts should not have been considered a factor in further delaying the elections.
The elections were eventually postponed for several weeks, but nevertheless were successfully held throughout the country (aljazeera.com, March 29, 2015). Only in several locations within Borno State—where Boko Haram still held sway—could the polls not open. Buhari's confidence about Boko Haram's impending defeat was further bolstered when Buhari's electoral opponent, the incumbent President Goodluck Jonathan, launched an offensive against Boko Haram that temporarily forced the group to withdraw from Borno State. This not only made Buhari believe Boko Haram was on its last legs, but also then-President Jonathan himself, who asserted that Boko Haram could be defeated "within a month" (france24.com, March 20, 2015).
After the coming February 25 elections select his successor, Buhari will leave behind a far more difficult situation than he himself faced in 2015. Although the military offensive in 2015 and subsequent ones pushed back Boko Haram, the group, and specifically the Islamic State in West Africa Province (ISWAP) faction, still controls rural territories in some areas. In lands controlled by Boko Haram and ISWAP, jihadists have been able to impose taxes, establish sharia patrols, and train and educate the local youth (Telegram, July 18, 2022). The military is not capable of conducting offensives deep into the ISWAP-controlled territories of northeastern Nigeria. This is largely because of ISWAP's history of ambushing military patrols that range beyond the main "supercamps" in Borno State, which protect population centers (saharareporters.com, July 19, 2022).
At the same time, Boko Haram is no longer a key electoral issue like it was in 2015, or during Buhari's election for a second term in 2019. Nigeria, at least politically, has come to accept the reality of Boko Haram and brash predictions of the group's imminent demise no longer woo voters, who know such guarantees are untrue. So long as ISWAP remains primarily confined to the far northeastern region of Nigeria and the military can defend the main towns in Borno with the "supercamp" fortresses surrounding them, the group is considered to "only" be a problem for Borno and its neighboring states (humanglemedia.com, May 3, 2021).
Nigerians can also afford to "ignore" Boko Haram because ISWAP and its rival factions, including the formerly Abubakar Shekau-led faction, have lived outside of Nigerian government control for so long—roughly ten years now—that they have completely disassociated themselves from Nigerian politics. Gone are the days when the late Shekau and other sub-commanders would issue videos and media statements to condemn Nigeria and its leaders for their secular government and the holding of elections (saharareporters.com, August 14, 2017). While the factions all technically still operate "in Nigeria," Shekau's declaration in 2014 that the group had established an "Islamic state" that is "not part of Nigeria anymore" has at least proven true in the factions' self-conceptions (Youtube/ChannelsTV, August 24, 2014).