Brussels's Virtue Signaling on Belarus May Prove Counterproductive
Publication: Eurasia Daily Monitor Volume: 18 Issue: 103
By: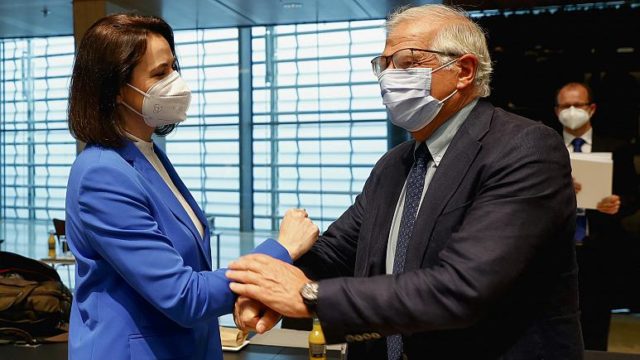 On June 24, the Council of the European Union introduced so-called sectoral sanctions against Minsk. According to the well-informed Russian business daily Kommersant, despite their formidable appearance, the actual strength of these European sanctions is likely to fall short of expectations. Thus, when it comes to Belarusian oil product exports, only bitumen, petroleum gases and paraffin were banned; while key goods gasoline and diesel fuel have so far escaped penalties. Similarly, the EU only introduced restrictions on technical potash with a potassium oxide (K2O) content of less than 40 percent and more than 62 percent (used in the chemical sector and metallurgy). Belarus's main export commodity—potash with a content of 40–60 percent K2O—was not sanctioned. Consequently, the punitive measures did not affect key goods—diesel fuel, gasoline, and potassium chloride used for fertilizers. According to the EU's press release, it is prohibited, directly or indirectly, to provide technical assistance, brokerage services, financing or insurance to Belarusian firms or entities related to the sanctioned products. The measures were passed in direct response to the Belarusian government's detention of opposition activist and NEXTA Telegram channel founder Roman Protasevich, whose Ryanair plane from Athens to Vilnius was forced to land in Minsk (Kommersant, June 25).
Meanwhile, Protasevich's—as well as his girlfriend, Sofia Sapega's—pre-trial detention has been replaced by house arrest. Both were pictured walking together in Minsk, and Sapega even dined in a restaurant with her parents (BBC—Russian service, June 25).
The efficacy and even expediency of the European sanctions are being hotly debated inside Belarus. According to political commentator Dmitry Bolkunets, "for some reason, Belarusian society, especially its protest part, sincerely believes that the sanctions will help shake the regime." In fact, the sanctions are tantamount to "information noise" (Lenta.ru, June 22). For several years, Bolkunets worked in Moscow, which he left for Warsaw (in April) after receiving a warning that Minsk was about to request his extradition for publications condemning the Belarusian government. Immediately before the introduction of economic restrictions, the EU issued its fourth package of personal travel and financial sanctions, imposed on 86 associates of President Alyaksandr Lukashenka's regime and of some Belarusian production units (TASS, June 21).
The Russian historian Alexander Dyukov alleged "amazing deafness on the part of the EU to context and symbolism" because the announcement of the package was made just one day before the 80th anniversary of Nazi Germany's attack on the Soviet Union, in 1941 (Facebook.com/alexander.dyukov.9, June 21). Lukashenka, on the other hand, put this symbolism to use in his passionate speech in Brest, on June 22 (YouTube, June 22). He called the purportedly Western-engineered protest movement following the August 9, 2020, elections a "colored blitzkrieg," reminiscent of the Wehrmacht's Blitzkrieg plans enacted in 1941. He particularly assigned blame to German officials, notably Foreign Minister Heiko Maas, whom he called an heir to Nazis for his supposed participation in aiding and abetting the "colored revolution" attempt in today's Belarus. He also warned that the expectation that Belarus would continue to apprehend illegal migrants streaming into the EU is nothing short of crazy under current conditions.
This sort of ideological exploitation of national memory impresses people on one side of the political divide but falls on deaf ears on the other. Nonetheless, the ideologization of foreign policy is a two-way street. Pavel Matsukevich, the former Belarusian charge d'affaires in Switzerland, who resigned his post in protest against repressions in Minsk, asserts in a recent article that EU sanctions hurt the credit rating of the country and inflict economic damage but are impotent in terms of undermining the political regime. Moreover, in Belarus's case, integration with Russia will be pushed to an unprecedented level. Even with respect to specific entities, like Belarusian national air carrier Belavia, the effect of the European sanctions will end up being counterproductive, with an increased frequency of flights to Russia to compensate: "The bottom line is the boycott of the Belarusian sky and Belavia. As a result, Belarusians are isolated [from Europe], and the fate of our airline is now in the hands of Russia" (New Belarus, June 25). Yet another former Belarusian diplomat, Igor Leshchenya, who resigned his ambassadorship to Slovakia for the same reason as Matsukevich, expressed an identical opinion (Svaboda.org, June 23). "No sanctions can force [Lukashenka] to make concessions to opponents if he does not feel secure enough," write analyst Artyom Shraibman with two coauthors in the just-released report funded by the Friedrich Ebert Foundation (Fes.de, June 2021). Likewise, the striking counter-productivity of sanctions is underscored by Denis Melyantsov, of the Minsk Dialogue (Nasha Niva, June 25).
Even the opinions of sanctions advocates, the way they are presented, raise doubts as to the utility of this foreign policy instrument. Arkady Moshes of the Finnish Institute of International Affairs thinks that economic sanctions are overdue. And yet he concedes that Russia will support and defend Minsk to the bitter end (Svaboda.org, June 24). Moshes does not see a contradiction between these observations despite the likely implications of Russia's increased support.
So, why are sanctions being imposed despite the objections of reputable analysts with genuine experience in Belarusian studies and with no sympathy to Lukashenka? According to Jamestown Foundation Senior Fellow Vladimir Socor, "The EU is notoriously incapable of thinking strategically… To this day, the EU and 'old Europe' countries have zero in-house expertise about Belarus. Instead, they have viewed Belarus [exclusively] through the prism of democratic theory, just as Soviet theorists used to view foreign countries through the prism of 'scientific socialism.' Only the Soviet-inspired 'socialist path' (then) or the Western-inspired 'democratic path' (now) is deemed legitimate and, moreover, predetermined" (Author's interview, June 23). To that, one might add that many champions of sanctions tend to see foreign policy as a morality play, in which vice is to be punished by agents of virtue regardless of the geostrategic implications of the punishment. In the meantime, however, the situation in Belarus is not developing according to Brussels's script. The "regime" is digging in its heels. And loyal supporters of the president aver that new presidential election will occur in 2025, not a day earlier (Facebook.com/people/Oleh-Gaudykevich, June 25).