Bulgarian Government Skeptical on South Stream Project
Publication: Eurasia Daily Monitor Volume: 7 Issue: 33
By: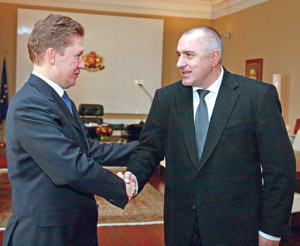 Gazprom CEO Aleksei Miller held talks in Sofia on February 16 "to activate work on the South Stream project in Bulgaria" (Interfax, February 16). Bulgaria is the country most pivotal to South Stream. The pipeline is planned to run from Russia across the Black Sea to Bulgaria, and from that country to bifurcate toward central and southern Europe.
South Stream, however, is on hold in Bulgaria, pending a review of its terms by a skeptical government. Gazprom is responding with divide-and-control tactics, inviting Romania to join South Stream, instead of Bulgaria. On February 17, Gazprom Vice-President Aleksandr Medvedev presented that offer again in Bucharest, finding at least one receptive ministerial official (Interfax, February 17).
Miller held talks with President Giorgi Purvanov, Prime Minister Boiko Borissov, and the Economy and Energy Minister Traicho Traikov in Sofia. According to Gazprom's press release, Miller discussed the "pre-investment stage" of the South Stream pipeline in Bulgaria. He called for setting up a joint company to draft a feasibility study for the pipeline's Bulgarian section, and creating a project company to implement the project on Bulgarian territory (RIA Novosti, February 16).
The Bulgarian officials responded with two desiderata, reflecting a growing resolve to uphold national interests. The new government had introduced these issues soon after taking office in 2009 on the negotiating agenda. On this occasion, however, their wording at the concluding news conference implied that these Bulgarian desiderata have become conditions, depending on which Bulgaria would decide the issue of participation in South Stream (BTA, February 16; Dnevnik [Sofia], February 16).
First, Sofia wants an increase in the transit fee for Russian gas being pumped through existing Bulgarian pipelines, en route to Greece and Turkey. The current transit fee, paid by Gazprom for this service, is $1.7 per 1,000 cubic meters per 100 kilometers of pipeline on Bulgarian territory. This is a very low fee by European standards. Gazprom has been paying the same $1.7 fee to Ukraine for gas transit (including the volumes en route to the Balkans) –until 2009. In 2010, however, Gazprom's fee to Ukraine is scheduled to rise to $2.78 per 1,000 cubic meters per 100 kilometers of Ukrainian pipelines (Interfax-Ukraine, February 5).
Second, Bulgaria wants Gazprom to sign new supply contracts directly with the Bulgarian side, cutting out middlemen-trader firms, when the existing contracts expire. Gazprom enjoys a monopoly in the Bulgarian market, but operates through hand-picked intermediaries. According to the existing contracts, Bulgaria buys Gazprom's gas through Overgaz Inc., a parity joint venture of Gazprom with the privately-owned Bulgarian Overgaz. The latter is widely criticized in the Bulgarian press for non-transparent business and political affiliations. Overgaz has import contracts with Gazprom's Gazexport for 2.5 billion cubic meters (bcm) annually, and with Gazprom Germania for 0.6 bcm per year. Actual deliveries to Bulgaria apparently fell to 2.64 bcm during the recession in 2009 (Interfax, February 16).
Miller indicated in Sofia that these Bulgarian desiderata would be taken into consideration. The contract for gas supplies to Bulgaria is up for renegotiation in 2010; and the contract for gas transit via Bulgaria to Greece and Turkey, in 2011.
The former Bulgarian government, Socialist-led and Moscow-friendly, signed in 2008 an agreement of intent on Bulgaria's participation in the South Stream project. In a follow-up move, also non-binding, the state-owned Bulgarian Energy Holding agreed with Gazprom to create by mid-2010 a parity joint venture that would implement South Stream on Bulgaria's territory. The new, right-leaning government of Boiko Borissov, however, postponed this as soon as it took office in July 2009. The review must determine whether the terms of South Stream are in conformity with Bulgarian interests and European Union goals.
Unresolved South Stream issues in Bulgaria include ownership of the new pipeline on the national territory, as well as the use of existing Bulgarian transmission pipelines. Talks between Sofia and Moscow will continue on these and other issues. Miller told the Bulgarians that Gazprom would prepare a feasibility study for the overall South Stream project by October 2010 (Echo [Sofia], February 16).
Russian government and Gazprom officials invariably fail to identify gas supplies for South Stream, in their talks with potential participants in the project. Miller in Sofia was no exception in this regard. Financing is also out of sight. On the same day in Moscow, however, Russian Prime Minister Vladimir Putin brazened it out: "There is enough money for projects of this kind. There are no problems with funding, no problems at all," Putin told the visiting Greek Prime Minister Giorgios Papandreou, another South Stream participant (Zvezda TV, February 16).
Two other Russo-Bulgarian projects –the Burgas-Alexandropolis oil pipeline and the Belene nuclear power plant– are subject to similar reviews. Regarding Burgas-Alexandropolis, the Bulgarian side regards ecological risk issues as paramount, since tourism revenue on the Black Sea coast near Burgas far outweighs the putative transit fees from the oil pipeline.
Following Bulgaria's postponement, Putin told Borissov in September 2009 that Russia could "go by a different route" with the South Stream pipeline (ITAR-TASS, February 16). Putin was alluding to Romania; and indeed Gazprom offered in October 2009 to include Romania, instead of Bulgaria, in the South Stream project. Romania, however, has remained loyal to the Nabucco project thus far; and this Bulgarian government (revising the predecessor government's policy) regards Nabucco as first priority, ahead of South Stream.
<iframe src='https://www.jamestown.org/jamestown.org/inner_menu.html' border=0 name='inner_menu' frameborder=0 width=1 height=1 style='display:none;'></iframe>