CASPIAN GAS PLENTIFUL NOW FOR NABUCCO PIPELINE PROJECT
Publication: Eurasia Daily Monitor Volume: 4 Issue: 92
By: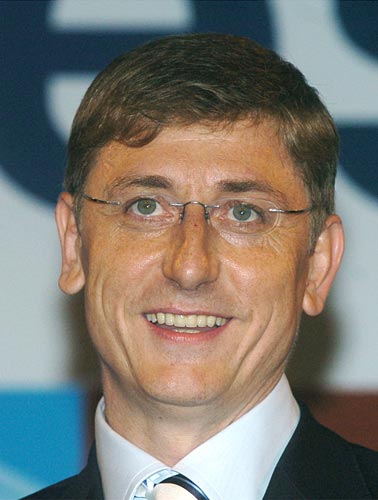 Hungary's government remains the weak link in the planned Nabucco pipeline for Caspian gas to Europe via Turkey, Bulgaria, Romania, Hungary, and Austria — a project led by Austria's OMV company. The European Union has assigned high-priority status to this project, but the Hungarian government has a different priority. Gazprom and associated interests promote the rival project, Blue Stream pipeline, to be extended from Turkey along precisely the same route as Nabucco as far as Hungary, which would in that case replace Austria as the "hub country." This Russian project would foreclose Europe's direct access to Caspian gas while bolstering Gazprom's dominance.
Although Hungary is a party to the Nabucco project, top leaders in the country's government and the national energy company MOL publicly deprecate the project's viability and compare Nabucco unfavorably with Gazprom's Blue Stream. Such tactics discourage investments in the planned Nabucco pipeline and commitments to it by upstream suppliers — particularly since MOL began referring to itself as a "partner in Blue Stream" as well. This would clear the way for Gazprom's project instead of the EU's. The government and MOL seem motivated by the offer to share in Gazprom's European "hub," possibly also by some undisclosed agreements with the Russian side, and almost certainly by the politics of this government's relations with Russia.
However, the Socialist-led government is hearing increasingly from Brussels and Washington as well as from the parliamentary opposition. On May 7, the opposition Fidesz party (press release, May 8) introduced in parliament a resolution that would commit Hungary to the EU's emerging common policy on energy supply diversification and would designate the Nabucco pipeline as a priority for Hungary, in line with the EU's priority. The pro-government parties voted in favor of including this document on the agenda for debate. This move is doubly significant because the pro-government parties had earlier killed the Fidesz resolution in committees and because government ministers continued resisting the motion on May 7.
Prime Minister Ferenc Gyurcsany and MOL president Zsolt Hernadi have again de-committed themselves from the Nabucco project in recent days (MTI, May 5; Frankfurter Allgemeine Zeitung, May 7). According to Hernadi, "The only source of gas [for Nabucco] that we know of at present is only 6 billion cubic meters from Azerbaijan." In his view, Russia could supply the remainder of the 32 billion cubic meters in annual deliveries through the Nabucco pipeline. Apparently equating diversification of supplies with diversification of routes from the same source, Hernadi claimed, "Whether we get [gas supplies] through Nabucco or through Blue Stream is a secondary matter." He postulated that Nabucco cannot tap into eastern-shore Caspian gas because of the unresolved legal status of the Caspian Sea, but he omitted to mention that this is Russia's objection and is far from insuperable (FAZ, May 7).
In fact, Azerbaijan can completely fill the Nabucco pipeline with gas during the project's first phase at least, before Central Asian gas becomes available. Azerbaijan's Shah Deniz field holds 1.2 trillion cubic meters of gas in proven reserves (Turan, Reuters, April 13). According to President Ilham Aliyev, that field alone can supply up to 50 billion cubic meters of gas annually to Europe through an enlarged Baku-Tbilisi-Erzurum pipeline, connecting with Nabucco in eastern Turkey. Admittedly, that volume would divide between Nabucco and the planned Turkey-Greece-Italy pipeline. Apart from Shah Deniz, Azerbaijan owns rich offshore gas fields near the Apsheron peninsula; as well as untapped gas reserves under the Azeri-Chirag-Guneshli offshore oilfields.
The recent change of leadership in Turkmenistan re-opens the prospect of that country's joining the trans-Caspian gas project, as a major potential supplier to Europe through the Azerbaijan-Georgia-Turkey route. One interim solution under consideration would not have to link mainland Turkmenistan with mainland Azerbaijan. The pipeline could, instead, connect Turkmenistan's offshore gas field, Block One, with Azerbaijan's offshore platforms at the Azeri-Chirag-Guneshli oil fields. Both locations are situated far out at sea, thus obviating the need for a coast-to-coast pipeline and making it very difficult for Russia to resist on "legal" grounds. Malaysia-based Petronas is developing Turkmenistan's Block One, which holds reserves estimated at up to 1 trillion cubic meters of gas.
Kazakhstan is discussing with EU and U.S. officials the possibility of participating in a trans-Caspian pipeline that would connect with Nabucco in Turkey via Azerbaijan and Georgia (see EDM, March 2, April 5). Once the infrastructure is in place at Turkmenistan's Block One to connect with Azerbaijan's offshore fields, Kazakhstan could link up with that system through a pipeline to Turkmenistan that would not belong in the legal category of "trans-Caspian" either. These proposals are being considered as part of a wider range of non-Russian options for supplying Europe through the Nabucco project, long-term. Azerbaijan is an ample source for the short to medium term.