CCP Provincial Committees' Reports Highlight Growing Wealth and Urban-Rural Inequality
Publication: China Brief Volume: 9 Issue: 2
By: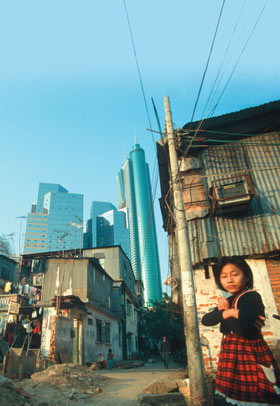 According to the provincial Chinese Communist Party's (CCP) second plenary committees' work report collected by Guangdong-based newspaper Nanfang Daily, the gap between the rich and poor is growing wider in many provinces of China.
Among China's 31 provinces (including municipalities and autonomous regions), 26 provinces have held the provincial party's second plenary meeting; party committees in Guangdong, Shandong, Jiangsu, Jiangshi and Yunnan have yet to hold their second plenary meeting.
According to a news report by Nanfang Daily: in 2008, Beijing, Fujian, Hubei and Hunan joined the ranks of the 'trillionaire club', which is a term the Chinese-media uses to group provinces whose GDP exceeds Renminbi (RMB) 1 trillion ($146 billion) (Nanfang Daily, January 20).
In December 2008 during the Central Economic Work Conference (China Brief, December 8, 2008), Zhongnanhai designated 8 percent as the target GDP growth rate for the national economy in 2009. According to the attitudes surveyed in a Nanfang Daily report, provincial leaders' were confident and in some cases bullish about attaining a GDP growth rate target of 8 percent (Nanfang Daily, January 20).
Guangdong, Shandong and Jiangsu are the three leading provinces in terms of GDP. In 2007, Guangdong's GDP was approximately RMB 3 trillion ($438 billion). At the State Council Information Office Press Conference on January 13, Huang Longyun, standing committee member and deputy provincial governor of Guangdong, stated that Guangdong's GDP grew by 10.1 percent in 2008, which brings its current GDP to RMB 3.4 trillion ($496.4 billion). In 2008, Shandong's GDP grew by 13 percent, and the province's GDP exceeded RMB 3 trillion, while Jiangsu's GDP reached RMB 2.5 trillion ($365 billion) in 2007 (Nanfang Daily, January 20).
In 2001, Guangdong became the first province to break the 'trillion GDP ceiling', Shandong and Jiangsu followed suit in 2002; Zhejiang joined the club in 2004, Henan and Hebei in 2005; Shanghai in 2006; and Liaoning and Sichuan in 2007. Then in 2008, Beijing, Fujian, Hubei and Hunan's GDP all surpassed the RMB trillionaire mark. There are reportedly four provinces that have GDP exceeding 2 trillion: Guangdong, Shandong, Jiangsu and Zhejiang (Nanfang Daily, January 20). Furthermore, in 2008, there were 13 provinces (and municipalities) whose GDP exceeded RMB 1 trillion in spite of the three crises: the severe January snowstorms, the Sichuan earthquake, and the international financial crisis.
Amid the expected slow down in GDP growth rate for 2009, according to the CCP's meeting reports of the 26 provinces that have held their second plenary, Inner Mongolia and Shaanxi have the highest GDP growth rate forecast of 13 percent; Sanxi and Guizhou have the lowest GDP growth forecast of 8 percent. According to data obtained by Nanfang Daily, there are nine provinces that forecast a GDP growth rate of 9 and 10 percent, and there are 16 provinces (including municipalities and autonomous regions) that have a forecast GDP growth rate of over 10 percent (Nanfang Daily, January 20).
Due, however, to the financial tsunami it is not likely that any new members will be inducted into the so-called 'trillionaire club' during 2009. In 2008, Heilongjiang province was closest to becoming a member of this so-called club with a GDP of RMB 785.6 billion, followed by Inner Mongolia with a GDP of RMB 760 billion, which despite an impressive growth rate of 11 percent and 13 percent, respectively, are both still a far cry from the one trillion mark (Nanfang Daily, January 20).
According to Nanfang Daily, the per capita income of Shanghai residents are the highest: urban and rural residents earn an income around RMB 26,690 ($3,901) and RMB 11,400 ($1,666), respectively, followed by Beijing, whose urban and rural residents have an income around RMB 24,725 ($3,614) and RMB 10,747 ($1,571), respectively. Based on data from available provincial party work reports, the province whose residents have the lowest income is Guizhou (Qinghai and Tibet have not made this data public), where urban and rural residents earn only around RMB 10,891 ($1,592) and RMB 2,484 ($363), respectively (Nanfang Daily, January 20).
The disparity between the rich and poor is becoming sharper; the CCP's provincial committees' work report indicate that on average urban residents earn about 3 times as much income as rural residents. The disparity is greatest in Guizhou where the urban to rural income ratio is 4.4 times, whereas in Beijing and Shanghai the difference in income is around 2 times (Nanfang Daily, January 20).