Central African Republic Mine Attack: Can China Protect its Overseas Nationals?
Publication: China Brief Volume: 23 Issue: 6
By: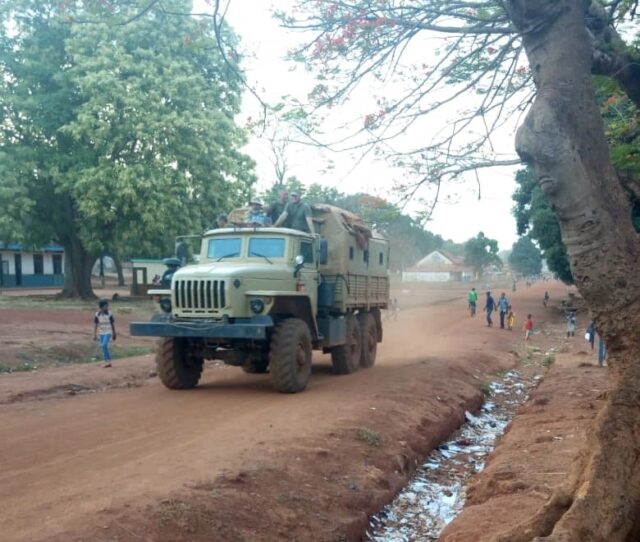 On March 19, gunmen stormed a gold mine near Bambari, in the heart of the Central African Republic (CAR), killing nine Chinese workers. The People's Republic of China (PRC) Embassy in the CAR issued successive warnings for Chinese nationals to evacuate all areas outside of Bangui, the capital. On the same day as the attack, the Embassy called on Chinese citizens in the CAR's external provinces to immediately evacuate themselves and report their whereabouts (PRC Embassy in CAR, March 19). A subsequent Embassy warning on March 22 went further, stressing that the situation in the CAR is now "red" or "extremely high risk," emphasizing that the March 19 attack demonstrated the "extreme necessity of evacuating Chinese companies and nationals" in areas outside the capital "as soon as possible" (PRC Embassy in CAR, March 22). Foreign Ministry spokesperson Wang Wenbin stressed that General Secretary Xi Jinping was closely monitoring the situation and had instructed that immediate action be taken to ensure the safety of Chinese nationals in the CAR and to "severely punish the murderers" (严惩凶手) (PRC Foreign Ministry [FMPRC], March 20). Exactly who perpetrated the attack remains, however, unclear.
The CAR government faulted the rebel alliance, the Coalition of Patriots for Change, for the gold mine attack. However, the rebel group blamed Russia's Wagner Group, which has been deployed in the country to protect the central government since 2018 (South China Morning Post [SCMP], March 20). The timing of the attack and subsequent allegations of Wagner's  involvement was inopportune for Xi as he prepared to travel to Moscow the following day for meetings with Russian leader Vladimir Putin, as Beijing sought to position itself as a mediator in the Russia-Ukraine War (Xinhuanet, March 21). In a blog post on the CAR attack, the well-known nationalist firebrand and former Global Times editor Hu Xijin observed that in "the chaotic situation in CAR anything can happen," but rejected Western media conjecture concerning the Wagner Group's involvement as an attempt to "undermine Sino-Russian relations" (Sohu, March 22). He even claimed that due to Wagner's cooperative relationship with the CAR government, its operators reportedly "helped the authorities deal with the aftermath of the situation and evacuate the bodies of the dead Chinese miners back to Bangui." Finally, Hu averred that in the "2020s anyone who kills a Chinese national will face severe punishment and retribution." A post on Tencent echoed these sentiments, stating: "the Central Africa Republic owes us nine lives" before castigating the U.S.-led West for treating Africa as a "modern colonial territory" and creating conditions for "vicious attacks" on Chinese companies to drive them out of emerging markets (Tencent, March 28). Putting aside the murkiness of the March 19 mine attack in the CAR, the incident highlights a growing problem for China, which is the sheer proliferation of state-owned and private businesses operating overseas, either in conflict zones or in areas with chronic political instability. The population's widespread expectation that the government will exact swift retribution against the perpetrators of attacks on Chinese nationals overseas also puts Xi in a difficult position, as popular assumptions about the People's Liberation Army's (PLA) ability to target armed groups in distant and difficult operational environments do not align with its actual capabilities.
Limited Options
Despite China's expansive global economic footprint and burgeoning military might, the PLA still has limited capacity to conduct complex, joint operations in regions far beyond East Asia. While China is by far the world's second largest military spender, increasing its budget by over seven percent again this year, the People's Liberation Army (PLA) and People's Armed Police (PAP) have a minimal overseas basing presence, with the only currently operational overseas PLA base in the small Horn of Africa nation of Djibouti (Ta Kung Pao, March 6; China Brief, January 12, 2021). In addition to lack of access, the PLA's ability to deploy forces far from China's borders is also held back by its limited, albeit improving, strategic sealift and airlift capabilities. [1]
Chinese businesses operating overseas usually rely on host nations to ensure a secure operating environment. When this fails, the main option for businesses to ensure their physical security is to employ Chinese Private Security Companies, who often work in conjunction with local security contractors (Jamestown Foundation, January 3). The Foreign Ministry also plays a role in extricating Chinese nationals from conflict zones. PRC diplomats interface with national and local authorities, while embassies and consulates serve as safe harbors and rallying points for nationals. The Foreign Ministry also sometimes makes arrangements, by chartering private  transportation, to evacuate Chinese nationals from war zones such as Ukraine in early 2022 and Libya in 2011 (People's Daily, March 25, 2022; China Brief, February 15, 2013). In some cases, large state-owned enterprises have directly organized the evacuation of their workers from high-risk areas. For example, during the breakdown of the peace agreement and resumption of civil war in South Sudan, China National Petroleum Corporation chartered planes to evacuate its workers to Sudan (Xinhuanet, July 15, 2016).
Several countries that are major recipients of Chinese investment through the Belt and Road Initiative (BRI) have created special contingents or directly assigned military units to protect Chinese projects. For example, in 2016, Pakistan established a Special Security Division made up of 9,000 army troops and 6,000 paramilitary personnel responsible for the protection of Chinese workers and projects under CPEC (Dawn, August 12, 2016). In Laos, which received a significant amount of Chinese investment, the military provides security for BRI projects against the threat from the Hmong army, a once widespread but now minor ethnic insurgent group (USIP, November 2018).
Over the past several years, a growing number of Chinese private security companies (PSCs) have begun operating aboard. The ranks of these PSCs, include soldiers and police officers, as well as unskilled recruits from various professional backgrounds. According to Sergey Sukhankin, although China may "boast the world`s largest PSC industry in terms of personnel employed, its level of preparedness and sophistication remains incomparably lower than that of its Western counterparts" (Jamestown Foundation, January 3).
In some difficult security environments, such as CAR, Chinese companies have even turned to hiring mercenaries. For example, the head of the local Chamber of Commerce in CAR, He Yaxian said that as the local security situation has deteriorated, private Chinese enterprises in the provinces (outside the capital of Bangui) have recently encountered many security incidents (Huanqiu, March 20). He said some of these companies have hired local mercenaries, but this has not worked out well (Global Times, March 20).
In addition to securing Chinese workers and projects in high-risk areas, the PRC has sought to enhance its ability to evacuate its nationals from conflict or disaster zones. This is one driver of the PLA's efforts to develop its sea and airlift capabilities. The PLA Navy's (PLAN) independently executed (not supplemented by foreign naval forces or chartered civilian craft) a non-combatant evacuation (NEO) of Chinese and foreign nationals from Yemen in 2015 (China Brief, February 25, 2022). The PLA Air Force's (PLAAF) increasing long-range transport capabilities have played a supplemental role in some NEOs and humanitarian and disaster relief (HADR) operations, but even purported successes reveal limitations. For example, two indigenously produced PLAAF Y-20 heavy transport planes were dispatched to provide aid to Tonga in January 2022 following a devastating earthquake. Although the Y-20s ultimately reached their destination, they had to stop three times to refuel on the roughly 10,000-kilometer journey from Guangzhou to the Pacific Island nation and delivered a modest 33 tons worth of provisions (CNA, February 16, 2022). This limited strategic airlift capability curbs the PLA's ability to operate abroad, particularly in inland regions or landlocked nations in Africa and Asia, e.g., CAR, South Sudan and Afghanistan, where Chinese nationals have recently been threatened.
A Growing Problem  
Over the past few years, Chinese nationals working in Pakistan and Afghanistan have increasingly been targeted by anti-government militant groups. In December, members of the Islamic State Khorasan Province (ISKP) attacked a Chinese-operated hotel in Kabul, injuring five PRC nationals (China Brief, January 19). In July 2021, a bus bombing by the Pakistani Taliban (TTP) in Khyber Pakhtunkhwa killed nine Chinese engineers working on the Dasu hydroelectric project, which is part of the Belt and Road Initiative's (BRI) China-Pakistan Economic Corridor (CPEC) (Xinhua, July 14, 2021; Dawn, July 14, 2021). In Pakistan's restive southwestern Baluchistan province, separatists have also increasingly targeted PRC interests and nationals, due to preferential treatment of Chinese businesses and Beijing's close ties to the central government in Islamabad (China Brief, January 28 2022). Last April, a female Baluch Liberation Army suicide bomber attacked a Confucius institute in Karachi, killing three Chinese nationals and their local driver (Terrorism Monitor, May 20, 2022).
Several countries in Africa, including South Sudan, Somalia and CAR, have also been recurring trouble spots for Chinese enterprises involved in natural resource extraction. In July 2021, a Chinese national and an accompanying government were killed along a major roadway traversing South Sudan (The Citizen, May 27, 2021).
In late 2020, as violence surrounding the elections in CAR increased, the PRC Embassy issued a notice that eight vehicles and other property belonging to Chinese mining companies were looted during fighting between the government and rebel forces in Yaloke in the western part of the country (Huanqiu, December 22, 2020). That same year, two PRC nationals died in a local uprising against a Chinese-operated mine in Sosso Nakombo in the southwestern region of the country. In 2018, three Chinese workers were killed and one severely injured in Southwestern CAR when a boat accident resulted in the death of a community leader escorting them to a mining site, which sparked an altercation with a group of angry locals (Africa News, March 20). In response, the PRC Embassy in Bangui lodged "stern representations" with the CAR government and the Chinese Ambassador spoke with President Toudera and his lead ministers, urging them to "bring justice and protect the personal safety and other legitimate rights and interests of Chinese citizens" in CAR (Xinhua, October 6, 2018). The PRC Embassy arranged for the severely injured Chinese worker to receive treatment at the local UN hospital.
Conclusion
The killing of nine Chinese miners in CAR on March 19 highlights a major challenge facing the PRC, which is the widening gap between its expansive economic interests and its minimal overseas security presence. The PRC's relative inability to safeguard the growing number of Chinese workers and businesses operating abroad is also a major potential domestic audience cost for the Xi Jinping leadership. The public, heavily influenced by officially cultivated patriotic nationalism, is increasingly under the mistaken impression that China is capable of striking back against threats anywhere. In reality, tracking down militant groups, whether in the mountains of Afghanistan or the hills of the Central African Republic, is sure to prove easier said than done.
John S. Van Oudenaren is Editor-in-Chief of China Brief. For any comments, queries, or submissions, please reach out to him at: cbeditor@jamestown.org.
Notes
[1] See Joel Wuthnow, Phillip C. Saunders, and Ian Burns McCaslin, "PLA Overseas Operations in 2035: Inching Toward a Global Combat Capability," INSS NDU Strategic Forum 309, May 17, 2021.