Change at the Top Exposes the Politics of Donetsk-Luhansk 'People's Republics' (Part One)
Publication: Eurasia Daily Monitor Volume: 15 Issue: 127
By: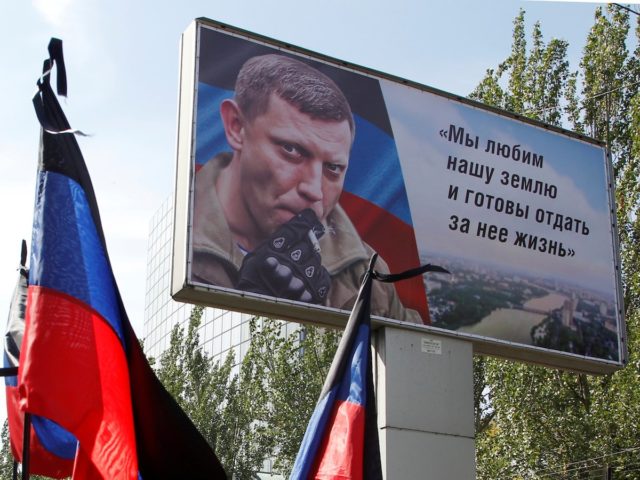 The leader of the "Donetsk People's Republic" (DPR), Aleksandr Zakharchenko, was assassinated by a bomb blast on August 31, after almost four years of continuous service to the Russian occupation in three capacities simultaneously: "head of the republic" ("glava respubliki"), head of the "council of ministers" (government), and commander-in-chief of the DPR forces with a titular rank of general. Zakharchenko was an impulsive, sometimes reckless figure, with an organized-crime background (fight club business and thugs-for-hire). While a civilian, he joined the Donetsk paramilitary forces from their first hour in March 2014.
Zakharchenko is the latest and most prominent casualty in a long series of internecine assassinations among political and paramilitary leaders in the Donetsk and Luhansk "People's Republics" (DPR, LPR). Local authorities and Moscow never elucidated those assassinations. Instead they blame Kyiv rhetorically, without bringing evidence, and invariably relegate the investigations to quick oblivion. These high-profile killings are often traced (also by a resigned local populace) to personal and business rivalries among local leaders, within the milieu of crime and lawlessness from which they emerged and from which Moscow recruited them.
The Kremlin has reacted to Zakharchenko's death by ordering elections to be held, in both DPR and LPR, for the posts of head of the republic and for the respective "people's councils" (would-be parliaments). On September 7, the two people's councils synchronically scheduled both types of elections for November 11. This date corresponds with DPR-LPR's four-year "electoral" cycle inaugurated in November 2014. Moscow also considered the option of prolonging the incumbent authorities' term of office by another year, so as to avoid diplomatic complications in the "Minsk process" (TASS, August 22, 2018). But the Kremlin discarded this option after Zakharchenko's death. Still, it cannot entirely be ruled out that Moscow would revert to the one-year prolongation option, in exchange for concessions to the DPR-LPR at Ukraine's expense in the Minsk negotiation process (see  Tw Two).
Meanwhile, Moscow has picked Denis Pushilin as interim head of the DPR, pending the elections. His early background is also in organized crime (the MMM financial fraud). Pushilin is currently the chairperson of the DPR people's council, as well as chief representative to the Minsk Contact Group. The Kremlin first announced its choice of Pushilin on September 5, and the DPR people's council "appointed" him (a technicality, different from electing) as interim head of DPR on September 7 (Donestkoye Agentstvo Novostey, September 7, 8).
The neighboring LPR's head, Leonid Pasechnik, also has an interim status. Pasechnik, formerly "state security minister," overthrew the LPR's "elected" head Igor Plotnitsky in November 2017 through a Moscow-backed military coup. The people's council then technically appointed Pasechnik as head of the LPR. He has not been formally elected since then (Luganskii Informatsionnyi Tsentr, November 24, 2017; September 7, 8, 2018).
Meanwhile, the terms of office are due to expire in November 2018 for the DPR's and LPR's respective heads, as well as for the two people's councils. All these authorities were "elected" in November 2014 (see EDM, November 5, 10, 2014) for four-year terms. Russia alone has recognized the validity of those "elections."
The Kremlin's overseer of the DPR-LPR, presidential aide Vladislav Surkov, has publicized the rationale for new elections through his associate, Aleksei Chesnakov (formally head of the Institute on Current Political Affairs, informally deemed to be Surkov's public voice on Donbas and Ukraine). Although Surkov undoubtedly communicates detailed instructions to the Donetsk and Luhansk leaders through direct channels, it was evidently deemed necessary to have these explanations publicized by Surkov's reputed proxy, via the official TASS news agency, for the local factions to heed and follow the new line.
The scheduled elections aim, in part, to strengthen the hands of Moscow and DPR-LPR vis-a-vis Kyiv and the West in upcoming negotiations. The "republics" should pretend to observe at least some formal electoral procedures, so as to embellish their claims to a special status under the Minsk armistice. The grounds for calling new elections are set forth in Chesnakov's statements with reference to both local and international factors (TASS, September 5, 10).
The new elections are meant to confirm the DPR-LPR's new heads post factum, after Moscow has already chosen them. Surkov cabled assurances of the Kremlin's "full support" to Pushilin (DAN, September 5, 8). Surkov also issued an "address" on the occasion of Zakharchenko's funeral, addressing him as "Sasha, my brother," and signing it as "Slava" (friendly diminutive from Vladislav) (DAN, September 2). The Kremlin must bestow internal legitimacy on Pushilin and Pasechnik through popular election for full terms, as distinct from unelected, technically "appointed" interim heads, which is Pasechnik's and Pushilin's current status.
From Moscow via TASS, on September 5, Chesnakov prescribed the electoral scenario in four steps: Moscow chooses Pushilin as DPR interim head, he must as such receive a formal investiture from the people's council, he must then be confirmed by popular vote, and that vote must be scheduled in November to coincide with the "election" of the people's council to another four-year term (DAN, September 8; see Part Two).