CHECHENS AMONG RUSSIAN "PEACEKEEPERS" DURING INCIDENT IN GEORGIA
Publication: Eurasia Daily Monitor Volume: 4 Issue: 203
By: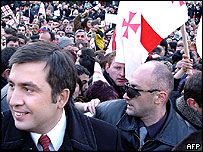 On October 30 an APC-borne Russian "peacekeeping" unit attempted to take control of the Ganmukhuri youth camp, situated within Georgian-controlled territory near the Georgian-Abkhaz demarcation line. Firing warning shots the Russian soldiers disarmed, bound, and beat bloody the three Georgian policemen who guarded the youth camp. A female Georgian journalist videotaped the incident and defended the tape in a violent scuffle with Russian soldiers (the tape has been airing since October 30). The Russians desisted and left after Georgian President Mikheil Saakashvili flew in by helicopter and personally confronted the "peacekeepers."
Georgia had earlier this year opened the Ganmukhuri vacation camp for youth from throughout the country, thousands of whom have vacationed there. Saakashvili visited with them more than once. Moscow objected all along that the site was too close to the demarcation line for Russian comfort. Georgia plans to enlarge the vacation camp next year.
The Russian solders who staged the October 30 raid claimed to have been insulted verbally by a Georgian patrol they had encountered en route, whereupon the Russians raided the youth camp. If so, their disproportionate reaction reflected the Russian "peacekeepers" are unsuitable for the mission, unless they staged the raid on orders from their command. Saakashvili blamed the incident on the command and declared Major General Sergei Chaban, the "peacekeeping" commander, persona non grata on Georgian territory, "which includes Sukhumi."
The incident revealed publicly for the first time the presence of Chechen soldiers among Russian "peacekeepers" in Abkhazia. Intelligence had reported this fact recently, but now a few Chechen "peacekeepers" appeared on television when Saakashvili confronted the Russian unit. While expressing indignation about the raid, Saakashvili spoke engagingly to these Chechens in front of television cameras. He assured them of Georgian "respect" for Chechens and other North Caucasus peoples, asked the Chechens not to create problems in the region, and voiced hope that Chechens would not repeat their mistake of 1992-93, (when the Russian military used Chechen fighters against Georgia in Abkhazia). Speaking to the National Security Council in Tbilisi that evening, the president termed Russia's use of Chechens as peacekeepers "incorrect and strange, with the smell of a provocation" and called for "good relations with Chechens, we do not want confrontation and problems."
Moscow's recent decision to employ Chechens as "peacekeepers" in Abkhazia adds a somewhat sinister note to Russian policies in the region. It is a move to play tribal politics on either side of the Caucasus Range, calculating to set Georgians and Chechens against each other again, and possibly preparing to stage-manage a 1992-93-style "response from the peoples of the North Caucasus" to incidents involving Chechens in Russian service in the Georgian-Abkhaz theater.
Presumably these Chechen "peacekeepers" are recruited from among Kadyrovtsy, paramilitary troops in service to the Kremlin-installed leader in Grozny, Ramzan Kadyrov. This year, Kadyrov has offered to send his Chechens as peacekeepers with a Russian unit in Lebanon and has threatened to send Chechen volunteers against Georgia in South Ossetia. Such potentially dangerous use of Chechens by a recidivist Moscow in the South Caucasus further disqualifies Russia as peacekeeper.
On October 30 Georgia's National Security Council approved a set of decisions to initiate the removal and replacement of Russian "peacekeepers" from Abkhazia. Parliament Chairwoman Nino Burjanadze noted during the NSC meeting, "We have had a lot of such incidents from the 'peacekeepers' in Georgia, but it has often been difficult for our [Western] friends to believe our grievances." The NSC authorized the Ministry of Foreign Affairs to redouble efforts toward internationalizing this operation. Saakashvili had initiated this process at the United Nations in his September 26 speech to the General Assembly, in which he called for a thoroughly critical analysis of existing "peacekeeping" operations on Georgia's territory.
A closed-door meeting of cabinet ministers and parliamentary leaders on October 31 adopted a decision on next steps. Under this decision, Georgia would demand the "peacekeepers"' withdrawal on the basis of national sovereignty, set a timeframe for withdrawal, coordinate the actual dateline in consultation with Georgia's partners and international organizations, and devise a new, international peacekeeping format.
The existing format, moreover, reduces the United Nations to irrelevance and sometimes to embarrassment. The United Nations Observer Mission in Georgia (UNOMIG) was wholly passive in this incident. UNOMIG depends on the Russian "peacekeepers" for movement authorizations, logistics, and security.
The U.N. accepts Moscow's pretense that these "peacekeepers" are authorized by a Commonwealth of Independent States mandate. In the wake of the Ganmukhuri incident Russia's Ministry of Foreign Affairs and Lieutenant General Valery Yevnevich, Russian ground forces' deputy commander-in-chief responsible for peacekeeping, repeated this pretense, referring to the latest CIS summit, held in Dushanbe on October 4-5. However, at that summit, Georgia refused to approve Chaban as commander, lest such consent be interpreted as legitimizing the "peacekeeping" operation.
The Georgian parliament had adopted a presidentially approved resolution in July 2006 on withdrawal of Russian "peacekeepers" and transformation of that operation. However, Western chancelleries, citing risks of destabilization, dissuaded Georgia from implementing that resolution. Such an argument fails to recognize that Russia is the overall destabilizing factor and its "peacekeeping" a contributory factor.
(Civil Georgia, Messenger, Imedi TV, Rustavi-2 TV, October 30-November 1)