China Claims Uyghur Militants Are Seeking a Syrian Battlefield
Publication: Terrorism Monitor Volume: 10 Issue: 22
By: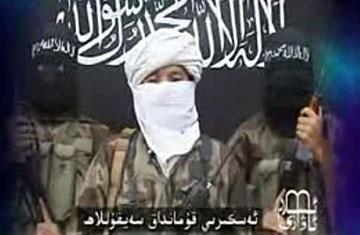 Chinese security officials informed reporters in late October that members of the East Turkistan Islamic Party (ETIM, a name used frequently by Chinese officials to refer to the Turkistan Islamic Party – TIP) and the East Turkistan Educational and Solidarity Association (ETESA) had slipped into Syria to join anti-government forces operating there (Global Times [Beijing], October 29). The report came at the end of a month in which the TIP released a number of videos and magazines on jihadist web forums showing their forces training at camps, calling for more support and generally highlighting the group's ongoing struggle. However, neither the videos nor reports from Syria were supported by any visible action or evidence to support the claims. Questions also continue to be raised about the group's ability to launch effective attacks in China, Syria or elsewhere.
According to the newspaper, which is owned by the Communist Party of China, the ETIM or ETESA members slipped across the border from Turkey into Syria from May onwards. Officials talking anonymously to the Global Times indicated that people had been recruited amongst those who had fled from the western Chinese province of Xinjiang, had been trained and then re-directed by "al-Qaeda" to the frontlines in Syria. The actual number of recruits was believed to be relatively small. The story was given an official imprimatur the next day when it was mentioned during the regular press briefing at the Ministry of Foreign Affairs, where emphasis was placed on the close connection between ETIM and "international terrorist organizations [that] not only seriously harm China's national security, but also pose a threat to the peace and stability of other countries." [1] The remarks highlighted the alleged connection between militants belonging to China's Turkic and Muslim minority and the international terrorist threat of al-Qaeda as it is currently expressing itself in Syria; towards the end of the Global Times report, mention was made of the recent video in which al-Qaeda leader Dr. Ayman al Zawahiri called for fighters to go to Syria.
What was striking about the report was the specific mention of the East Turkistan Educational and Solidarity Association (ETESA). This is the first time Chinese officials have spoken openly about the group, suggesting it is a terrorist organization along the lines of TIP/ETIM. Based in Istanbul, the group's site proclaims that its intention is "to educate and bring up Turkistani Muslims….meeting their Islamic, social, cultural, spiritual and earthly needs" as well as to "fundamentally end the ignorance in Eastern Turkistan." [2] The group strenuously denied the claims by the Chinese government, publishing a statement on their site in English and Turkish that rubbished the Chinese claims and accused the Chinese government of casting blame on them in an attempt to distract from Beijing's support for the Assad regime. [3] The Turkish government also rejected claims that ETIM forces were operating outside Turkish territory and declared that it was "comprehensively" cooperating with the Chinese in handling terrorism threats (Global Times, October 29). Certainly, the broader Sino-Turkish relationship has been going relatively well of late with a successful visit by Turkish Prime Minister Recep Tayyip Erdogan to Urumqi (provincial capital of Xinjiang) and Beijing in April (Hurriyet, April 9). This was followed in September by a meeting between Turkish Deputy Prime Minister Ali Babacan and former Chinese leader Wen Jiabao in Urumqi on the fringes of the 2nd China-Eurasia Expo (Xinhua, September 2). China has actively encouraged Turkish investment in Xinjiang – the province dissident Uyghurs refer to as East Turkistan – including the establishment of a joint trade park just outside Urumqi. It would therefore seem counter-productive for Turkey to be actively supporting violent groups like the TIP.
What seems more likely is that the ETESA is falling under the same Chinese brush as the World Uyghur Congress (WUC), a U.S.-based dissident group that China has in the past accused of being behind trouble in Xinjiang, including the July 2009 riots in Urumqi that claimed some 200 lives (Xinhua, July 7, 2009). Both the WUC and ETESA use bases abroad to further political efforts to "liberate" Xinjiang. So far there have been no independent links made between ETESA or the WUC and the violent terrorist groups TIP or ETIM.
Far clearer than Beijing's Syrian-related claims is the continuing presence of fighters claiming affiliation to TIP in the lawless tribal regions of northwest Pakistan along the border with Afghanistan. From this base, the group released from the middle of October onwards a series of videos displaying the group's ongoing exploits and providing advice for other militant groups. For example, in a video released on October 17 they offered advice to their "Muslim brothers in East Turkistan," and in an October 21 video they offered advice "for our Muslim brothers in Turkey." [4]
What is notable is that while these videos demonstrate the group's ongoing intent and existence, they do not seem to advance the cause in a practical way. While there continue to be sporadic incidents of violence in Xinjiang, the link to the TIP is increasingly underplayed officially and the group itself has not claimed any recent operations. An example of Beijing's new approach is found in a report published on the fringes of early November's 18th Party Congress that quoted both Xinjiang Communist Party chief Zhang Chunxian and chairman Nur Bekri that touched upon a number of incidents that have taken place in the province that have elsewhere been linked to the TIP/ETIM, but were cited in the report without reference to either group (China Daily, November 10). There was also no reporting in the mainland Chinese press of an alleged October 23 incident in the Xinjiang city of Korla in which a group of Uyghurs reportedly attacked police or a separate incident in Yecheng County in which a Uyghur man was claimed to have driven his motorcycle into a border post (Radio Free Asia, October 23; October 12). No independent confirmation of what took place is available in either case and neither Chinese officials nor TIP/ETIM chose to acknowledge them. Given the low level of the attacks, however, it seems unlikely that these incidents were directed by the TIP.
It seems clear that the TIP/ETIM continues to exist, that it is a concern to Chinese security officials, and that Xinjiang continues to be an ethnically troubled province that provides a motivating narrative for the group. At the same time, however, the ongoing lack of public evidence of TIP/ETIM attacks in China raises questions about what exactly they are doing. The movement does appear to be active in Waziristan, where their videos are presumably shot and where their cadres are periodically reported to have been killed in drone strikes. So far the movement has not released a video specifically praising the Syrian insurgency or encouraging their units to go there, though given their affiliation with the global jihadist movement, it would not be entirely surprising if some members had elected to join the Syrian jihad. However, in terms of advancing their core agenda of attacking China, the latest round of videos and activity does not seem to provide much evidence that the movement is moving in this direction in any effective way.
Notes:
1. Ministry of Foreign Affairs of the People's Republic of China, "Foreign Ministry Spokesperson Hong Lei's Regular Press Conference on October 29, 2012," October 30, 2012, https://www.fmprc.gov.cn/eng/xwfw/s2510/t983693.htm.
2. ETESA, "Brief Introduction to the Eastern Turkistan Education and Solidarity Association and Its Mission," 2012, https://maarip.org/en/?p=131#more-131.
3. ETESA, "Statement of ETESA on Fake Chinese Blames," November 1, 2012, https://maarip.org/en/?p=192.
4. Hizb al-Islami al-Turkistani, "Advice to Our Muslim Brothers in Eastern Turkistan," Sawt al-Islam, October 17, 2012
https://alfidaa.info/vb/showthread.php?t=49344; Hizb al-Islami al-Turkistani, "Advice to Our Muslim Brothers in Turkey," Sawt al-Islam, October 21, 2012, https://www.shamikh1.info/vb/showthread.php?t=181814