China Seeks to Strengthen Mongolian Trade Links During August Trilateral Summit
Publication: China Brief Volume: 14 Issue: 14
By: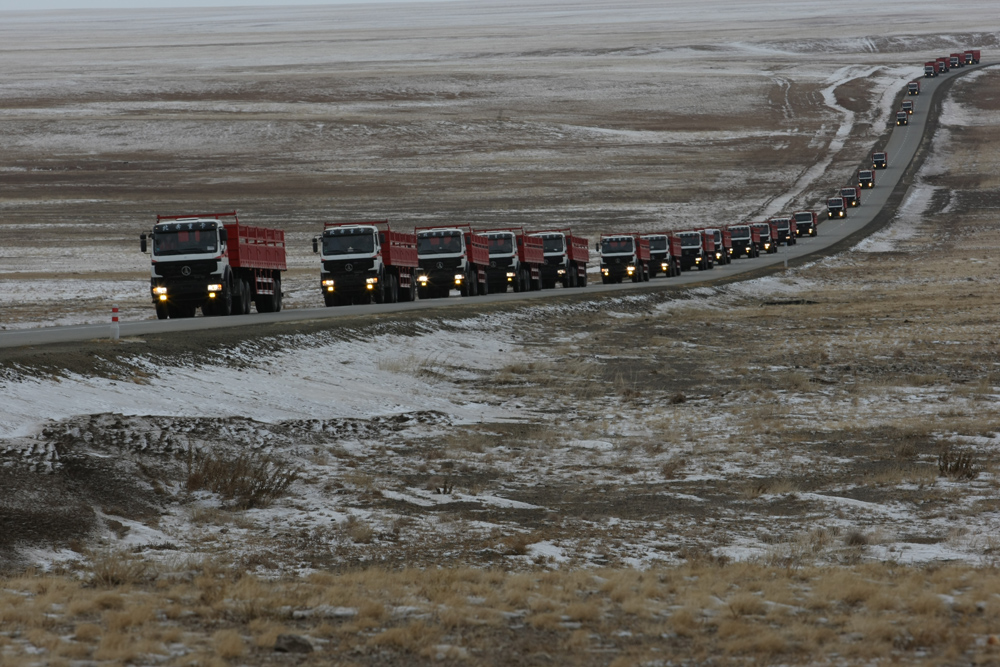 This year Sino-Mongolian relations have been buffeted by a series of challenging interruptions: the Mongolian government's standoff with Rio Tinto over expanding underground mining operations at Oyu Tolgoi (OT) which will disrupt development of shipments of copper concentrate supplies to China, another Mongolian postponement in the repayment of $130 million worth of coal owed by Mongolia's state-owned Erdenes Tavan Tolgoi JSC since 2011 to Chalco (China Aluminum International Trading Co., Ltd), and the news that the former chairman of Mongolia's Petroleum Authority, Djashzeveg Amarsaikhan, who was a suspect in a money laundering conspiracy with Petro China Daqing Tamsag, suddenly died in prison ("Transparent Mining" press conference of April 30, 2014 reported by mad-intelligence.com, May 2, 2014; english.news.mn, May 14, 2014). Nonetheless, the Chinese have not allowed such factors to negatively impact the relationship during the China-Mongolia Friendship and Exchange Year.
This spring saw a spate of high-level Sino-Mongolian meetings in China which now appear to be steps that have led to a new wave of economic cooperation agreements. In late April, Chinese Vice President Li Yuanchao hosted a delegation from the opposition Mongolian People's Party and stated that "the Communist Party of China (CPC) and the Chinese government always deal with China-Mongolia ties strategically and with a long-term perspective" (Global Times, english.news.mn, April 26). On May 19 in Shanghai, Mongolian President Tsakhia Elbegdorj had met Xi prior to the Fourth Conference on Interaction and Confidence Building Measures in Asia (CICA) to discuss mining, infrastructure and financial cooperation. At that time Xi promised to support Mongolia's bid to enter APEC and emphasized China's desire to strengthen bilateral energy and mineral development (The Mongol Messenger, May 23).
China's Silk Road Economic Belt and Asian Infrastructure Investment Bank initiatives have also contributed to newly concluded agreements governing transport, finance, and construction cooperation concluded as part of the celebrations marking the 65th anniversary of the establishment of bilateral diplomatic relations and the 20th anniversary of the Treaty on Friendly Relations and Cooperation. Chinese President Xi Jinping has agreed to make a state visit to Mongolia in the latter part of August, at the same time as Russia's Vladimir Putin is in Mongolia to celebrate the 75th anniversary of the Soviet-Mongolian victory over the Japanese at Khalkhin Gol. Mongolian officials proudly labeled this a "Trilateral Summit" (announced at Ulaanbaatar Dialogue on Northeast Asian Security meeting, June 17). PRC Minister of Foreign Affairs, Wang Yi, then paid an official visit to Mongolia on June 24–26 to complete trip logistics (Mongolian Ministry of Foreign Affairs, www.mfa.gov.mn, June 25).
Coal continues to dominate Sino-Mongolian trade relations, despite the steep decline in coal prices on the world market. Mongolian coal exports to China from April 2013 to March 2014 grew 8.4 percent by volume, although their value fell by 1 percent, according to Mongolia's National Statistical Office. Agreement to export another 450,000 tons of coal to China was concluded between Mongolia and China's Shenhua Bayannaoer Energy Co. on April 17, 2014. Price per ton of coal was set at $48.50, with the stipulation that $17.4 million or 80 percent of the total estimated $21.8 million should first be transferred into Mongolia's account (infomongolia, May 2). However, the greatest potential growth for Sino-Mongolian trade will be in copper as the country moves toward a "copper economy" (Mongolian Investment Banking Group, "Economy—Mongolia Transitions into a Copper Economy," carried in mad-investment.com, May 5). Mongolia's copper concentrate export volumes increased 53 percent during the 2013–2014 period, which accounted for 35 percent of total mineral export earnings with sales totaling $349 million—a 67 percent increase. This was due to production from Rio Tinto's $6.5 billion Oyu Tolgoi mining investment. Mongolia's March 2014 overall trade turnover with China grew 9 percent over March 2013, even though the country's total trade turnover fell 1.6 percent (Reuters, April 23).
Financial Cooperation and the Asian Infrastructure Investment Bank
In late March, Mongolian Minister of Finance Chultem Ulaan and Shi Yaobin, the PRC Vice Minister of Finance, signed a Memorandum of Understanding agreement on cooperation in Ulaanbaatar. Shi also proposed that Mongolia become a founding member in the establishment of the PRC-initiated Asian Infrastructure Investment Bank, which seeks the participation of 15 Asian countries (montsame.gov.mn, March 28). During the subsequent April 28–29 visit of Chinese Finance Minister Lu Jiwei, Mongolian Prime Minister Norov Altankhuyag announced that due to the exceptional importance of infrastructure development to his landlocked country, the Government of Mongolia had agreed to become a bank founder (english.news.mn, April 28; montsame.gov.mn, April 29). While Lu was in Ulaanbaatar, a second meeting was held in Beijing of Chinese and Mongolian MFA officials from their respective Treaty and Law Departments to review the terms and relevancy of the 426 bilateral contracts and treaties which were established between 1949 and late 2012 (montsame.gov.mn, April 29).
The Chinese renminbi is now Mongolia's second most actively traded currency as bilateral ties in trade, economy and investment have become closer (Xinhua, May 6). The Bank of Mongolia said that in May it was extending for three years a bilateral local currency-swap line with the People's Bank of China and double its size to 20 billion yuan to increase confidence in the foreign-exchange market and strengthen the "off-balance" reserves buffer. The latest such swap was made in early July (The Mongolian Messenger, July 10). Because Mongolian foreign reserves have fallen amid lower export prices for copper and coal, its currency holdings stood at $2.44 billion at the end of January, 40 per cent lower than a year earlier. Mongolia's tugrik has declined 20 percent in the past 12 months, the sixth worst performance among more than 100 exchange rates tracked by Bloomberg. This decline is despite the fact that in the first two months of 2014 Mongolia's exports rose almost 18 percent to $594.6 million, while imports fell about 24 percent to $613.9 million—making the trade deficit of $19.3 million 94 per cent lower than in 2013 (National Statistics Office as reported in english.news.mn, March 20).
Sino-Mongol Rail Ties
Mongolia plans to spend $5.2 billion to expand its railway network (Reuters, April 9). In early May, the Mongolian Government submitted a resolution to the Parliament to allow for a mix of Chinese and Russian-gauge rails in Mongolia—a change from previous Mongolian rail policy requiring the use of Russia's wider gauge standard. This has the potential to dramatically change the way Sino-Mongolian trade is handled and grows, because it will permit for the first time the building of international-standard (1,435 mm) narrow-gauge railroad spurs across the Mongolian border with China for transporting raw minerals. Effective April 7, the Mongolian state-owned giant coal company of Erdenes Tavan Tolgoi (ETT), in consortium with privately-held Mongolian Mining Corporation, will invest with Chinese companies led by state-owned mining group Shenhua to establish a joint venture to build and operate a 20 km border railway linking the huge coal field of Tavan Tolgoi (TT) in the South Gobi region via the Mongolian Gashuun Sukhait port. The Shenhua group reportedly will take a 49 percent stake in this joint venture. This project initially will build a 13 km standard gauge cross-border line from the nearest Chinese railhead north of Baotou (Gants Mod) to a transloading terminal in southern Mongolia where coal will be trucked from the mines by road. A second phase would extend the cross-border link with Russian-style broad-gauge (1,534 mm) a further 27 km to meet the 217 km broad-gauge coal railway from the Ukhaa Khudag coking coal mine, which is being built by South Korea's Samsung C&T under a $483 million contract. Shenhua in October 2013 signed an agreement to buy one billion tons of coal from Mongolia over 20 years, which is now delivered by costly trucks (Xinhua, March 22; railwaygazette.com, April 11). There are additional plans for the Chinese gauge between Tavan Tolgoi and Gashuun Sukhait, Sainshand and Zamiin Uud, and Khuut and Bichigt to be used for direct rails to China. Mongolia and China hope that establishing narrow gauge railways will make coal export stages easier and costs cheaper so Mongolian coal will be more competitive and thus boost exports (english.news.mn, April 8). However, the fact that new northbound rail spurs to Russia using the Russian wide gauge also will be constructed between Tavan Tolgoi and Sainshand, Huut and Choibalsan, and Erdenet and Mogoin Gol indicates that Mongolia still is committed to creating the rail infrastructure to link its minerals to a 'northern corridor' via the Trans-Siberian Railways to deliver to new customers in the Asia Pacific (Udriin Sonin, May 7).
Intensified Construction Projects
On May 10, the Mongolian cabinet finally decided to allocate $193 million from a Chinese soft loan worth $500 million, which was promised in 2011 when the two nations announced their strategic partnership, to finance the construction of a hi-speed road along the Tuul River in Ulaanbaatar. This "Street Project" will be supervised by Mongolia's Economic Development Ministry (Montsame, May 13). Construction projects are now beginning operations in the power sector through a concession agreement executed by the Mongolian Ministry of Energy with China Machinery Engineering Corporation (CMEC) in 2013. The most significant project is the 348MW Amgalan Thermal Power Project (TPP). Mongolian partner companies and the Energy Development Center are building earth works, flood facilities, and a draining system. According to Ch. Tsogtsaikhan of Amgalan TPP Pre-Service Administration, there are a total of some 1000 Mongols and 800 Chinese now working on the project. Although there have been delays on the Mongol side, it is expected that CMEC will put the heating furnace into operation by October 15. The Amgalan TPP will be constructed at a cost of $75.9 million and will supply heating to some 50,000 households—one-fourth of the total 1300MW needs of Ulaanbaatar (The Mongol Messenger, May 16; infomongolia.com, February 4).
Conclusion
Meanwhile, the United States remains silent on Mongolia's ever-growing strong economic relationship with China. A bipartisan congressional delegation mission from the House Subcommittee on National Security led by Congressman Steve Chabot (R-OH), Chairman of the House Foreign Affairs Subcommittee on Asia and the Pacific, and Congressman Stephen Lynch (D-MA) visited Mongolia May 15–16 on a larger trip encompassing China and Ukraine. The stated purpose of the trip was "to conduct official discussions with high-ranking government leaders regarding political, economic and security issues affecting bilateral and regional relationships," but the only public statement emerging was a U.S. Embassy Ulaanbaatar press release that highlighted U.S.-Mongolian strategic relations and military cooperation (lynch.house.gov/press-release, May 15; U.S. Embassy in Ulaanbaatar, May 18).