China to Build Hongdu Light Attack Aircraft in Ukraine Next Year
Publication: Eurasia Daily Monitor Volume: 12 Issue: 224
By: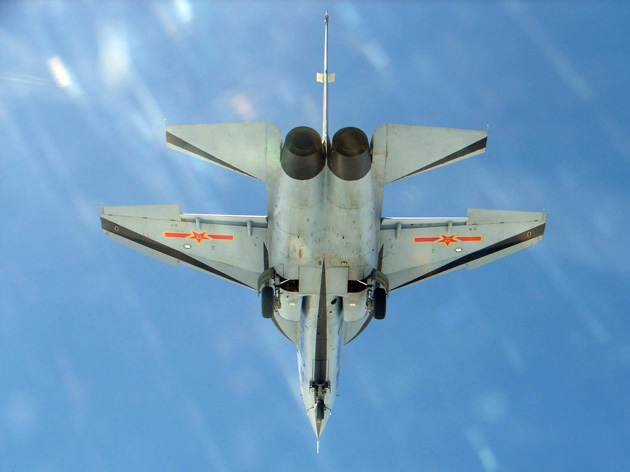 When the Union of Soviet Socialist Republics (USSR) collapsed in December 1991, its integrated military-industrial complex was shattered and split up among 15 newly independent countries. Ukraine received many significant assets, including top-notch fighter and aircraft plants as well as the USSR's most advanced shipyards at Mykolaiv, where the Soviet Union's aircraft carriers were built. Now China is seeking to begin construction of light attack aircraft at a Ukrainian defense industry facility, the first time that China has engaged a significant portion of the former Soviet military-industrial complex.
Ukraine plans to launch the assembly of Chinese Hongdu L-15 light attack aircraft at an Odesa-based facility in 2016, a Ukrainian weekly has reported; discussions on the project are in their final stages. The manufacturing will be performed at Odesa's Odesaviaremservis, a subdivision of the state's Ukroboronprom defense complex (Delovaa Stolitsa, November 23). The L-15 is a licensed copy of the latest Russian combat trainer, the Yak-130.
The new aircraft will be equipped with Ukrainian AI-222-25F jet engines produced by Zaporozhye's Motor-Sich factory, which used to be supplied for Russia's Yak-130 combat trainer project, suspended after Ukraine embargoed exports of the engines to Russia following the latter country's March 2014 annexation of Crimea (Lenta, August 8).
China's interest in Ukraine's military-industrial complex predates the Hongdu light attack aircraft contract. In 1998, China purchased the incomplete Soviet aircraft carrier Varyag, an Admiral Kuznetsov–class heavy aircraft cruiser built at Ukraine's Mykolaiv shipyards. The Varyag was laid down by the Soviet Navy in 1988, transferred incomplete to Ukraine in 1992, and six years later sold to China, where, after extensive refitting, the ship was commissioned as the Liaoning, in 2012 (Lenta, September 25, 2012).
To produce the L-15 plane at Odesa's Odesaviaremservis aviation plant, China assisted in increasing the factory's capacity. No details on the cost of the contract or the number of aircraft have been released to date (Censor.net.ua, November 16).
The loss of Ukrainian-built AI-222-25 engines for the Yak-130 combat training aircraft forced the Russian aircraft industry to look for alternatives to Ukrainian production. The effort was sufficiently successful that an AI-222-25 engine built with Russian components was exhibited at the MAKS Aviation Salon, held on August 25–30, in Zhukovsky, outside Moscow. The new AI-222-25 Yak-130 combat trainer engines were built at Moscow's Saliute plant. Saliute general director Aleksandr Artiukhov told exhibition visitors that "the replacement of foreign-built engines is one of the major challenges facing corporations today, and involves the development of the entire assembly product line, as well as a major upgrade of experienced and mass production facilities" (RIA Novosti, August 25).
Having managed to replace Ukrainian components, the Russian Saliute plant is now touting its engine variants for export, noting that while the original AI-222-25 turbofan jet engine was designed for installation on the Yak-130, the plant has "developed several modifications to the engine, including the AI-222-25F, which has an afterburner"; when deployed, this version gives a 50 percent boost in speed (Salut.ru, accessed December 14). Another variant, the AI-222-28, "can be equipped with thrust vector control systems. Depending on the design of the aircraft, the system can provide all-aspect deviation of the jet up to 20 degrees from the axis of the engine, along with other options," which would allow its incorporation into short take-off and landing (STOL) airframes, enabling these aircraft to utilize short runways.
Meanwhile, Ukraine sees products and armaments of its Soviet-era heavy industry military-industrial complex as increasingly important to its exports. According to the Stockholm International Peace Research Institute (SIPRI), by 2012, Ukraine had become the world's fourth-largest arms exporter, selling $1.344 billion in armaments, exceeded only by the United States ($8.76 billion), Russia ($8 billion) and China ($1.78 billion) (Interfax-Ukraine, March 18, 2013).
An integral element in this arms trade is Ukrinmash, which, along with Ukroboronservice and Prohres enterprise, is a leading Ukrainian state-owned company dealing with the arms trade, among other items in its portfolio. Ukrinmash has exported armaments to a number of countries, including Russia, Mongolia, China, Sri Lanka and Cuba. However, Ukrinmash's sales have sometimes been morally questionable, as in the past it supplied armaments to Sudan, Syria and Yemen. And more recently, after the conflict with Russia had begun, Ukrinmash was harshly criticized for selling on the internal market a significant volume of weapons that were supposed to be delivered to the Ukrainian army but many of which ended up in the hands of separatists (Nowa Europa Wschodnia, March 4).
It remains to be seen whether the China-Ukraine Hongdu light attack aircraft contract is the precursor of deeper Chinese-Ukrainian armaments relations. Nevertheless, this deal represents a first in that China is not only developing joint production of weaponry in the post-Soviet space, but it is explicitly dealing with a country in Russia's self-proclaimed "sphere of privileged interest" with which Russia has poor relations. As a major supplier of energy to China, Russia has some cards to play if it starts to see China's relationship with Ukraine as a threat. But utilizing those pressure points could come at a substantive economic cost to Russia at a time of record low global energy prices, combined with the European Union's efforts to diversify away from Russian energy imports.
Accordingly, it seems likely that Russia will, for the moment at least, grudgingly tolerate the Hongdu contract while carefully monitoring any deepening development of Ukrainian-Chinese joint armaments production.