China's Interests in North Korean Denuclearization: Reducing the Northeast Asian Security Dilemma
Publication: China Brief Volume: 23 Issue: 2
By: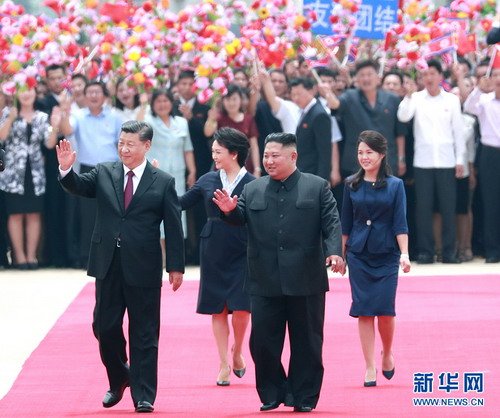 Introduction
The existential North Korean nuclear and missile threats negatively impact the Asia-Pacific security environment for the United States, South Korea, Japan and Australia. In response, these countries have taken countermeasures to defend themselves against the growing danger from North Korea. As a result, North Korea's nuclear and missile capabilities indirectly worsen China's "security dilemma" by spurring the U.S. and its allies to devote greater resources to maintaining a strong security presence in Northeast Asia. This situation is illustrated by Beijing's consistent criticism of Seoul for allowing the deployment of the U.S. Terminal High Altitude Area Defense (THAAD) anti-ballistic missile defense system in South Korea since 2017. Although South Korea has sought to reassure China that the system is aimed at counteracting the threat from North Korea, Beijing has maintained that the presence of the U.S. THAAD in Korea "clearly undermines China's strategic security interests" (PRC Ministry Foreign Affairs [FMPRC], August 10, 2022).
Although China has been accused of not putting enough effort into the denuclearization process, achieving success in eliminating nuclear weapons from the Korean peninsula would serve China's security interests in several ways, including by removing a powerful justification for the U.S. and China's neighbors to devote resources to regional security. In part due to North Korea's growing missile capabilities, South Korea, Japan and Australia have all recent strengthened their respective missile development programs. In 2021, the United States also lifted the restrictions it had imposed on South Korea limiting the range and payload of its ballistic missiles. According to previous South Korea president Moon Jae, this has removed "security shackles"—allowing South Korea to regain its missile autonomy (Korea Herald, May 22, 2021).
New Approaches in Japan, South Korea
In 2022, with new leadership under President Yoon Suk Yeol, Seoul has supported steps to expand and "normalize" THAAD operations in South Korea, making technical upgrades and allowing an additional eight acres of land to house the system (South China Morning Post, August 12, 2022). The PRC has criticized the move for contravening the "three noes," which had become an operating principle for China-South Korea relations advanced by previous President Moon Jae-in: no further THAAD deployments; no joining U.S.-led missile defense networks; and no participation in a trilateral military alliance with the U.S. and Japan (Korea Herald, July 28, 2022). The Moon administration had previously used the Three Noes to reassure China, which helped stabilize relations in late 2017, following a diplomatic fracas triggered by China's economic retaliation against South Korea following the initial deployment of the U.S. THAAD earlier that year to counter the threat from North Korea (China Brief, March 31, 2017).
Not only has South Korea changed its approach to security of late, but Japan has also moved to augment its military might. In November 2022, the ruling Liberal Democratic Party, along with its junior coalition partner, Komeito, reached a consensus that Japan should seek to acquire counter-strike capabilities in order to address the rapidly worsening regional security environment (Kyodo News, December 2, 2022). While China's military modernization has played a key role in this deteriorating regional security environment, so too have North Korea's nuclear development and activities. In fact, a real possibility exists that Tokyo will even purchase Raytheon-made Tomahawk cruise missiles (The Defense Post, November 30, 2022). Australia, too, has sought to focus on developing its cruise missile capabilities (Australian Defense Magazine, September 29, 2022).
Would China Change Course?
Recent developments concerning North Korea pose both traditional and non-traditional security challenges to China. While North Korea's recalcitrance leaves China with neighbors strengthening their militaries, the continuing North Korean nuclear crisis presents other challenges as well. The most pressing issue is that as North Korea's economy struggles under the weight of international sanctions, imposed for its nuclear and ballistic missile development activities, a growing number of people will seek to flee north to China in search of a better life. Again, dealing with a nuclear North Korea that has aggressive and unpredictable tendencies is a concern for China as its largest trading partner and main economic supporter.
Amidst these concerns, China could seek to play a more active and central role in promoting denuclearization of the Korean peninsula (Permanent Mission of the PRC to the UN, June 8, 2022). This is because, at this moment, only China and Russia are close enough to North Korea to have leverage with Pyongyang concerning the nuclear conundrum. The new leadership in South Korea is at loggerheads with Pyongyang, as opposed to the previous Moon government, which had a more cordial relationship with Kim Jong Un.
Hence, China has both the motivation and the ability to take a leading role in inspiring a change of course by North Korea. Also, China has an incentive to ensure that the sanctions on North Korea imposed by the United Nations Security Council (UNSC) are slowly lifted so that the North Korean economy does not implode further, which would have spillover effects on China (Xinhua, May 12, 2022).
China's role in the North Korean nuclear crisis has become more prominent as Pyongyang has called off the self-imposed moratorium on testing nuclear weapons and long-range missiles it had observed since late 2017 and has resumed intercontinental ballistic missile (ICBM) tests (Yonhap News Agency, November 18, 2022). China's role in the nuclear issue has also gained more prominence as doubts are cast on Beijing's intentions to ensure a nuclear weapons-free North Korea that would result in a nuclear weapons-free zone (NWFZ) on the Korean peninsula. Some observers believe that North Korea will conduct a seventh nuclear weapons test this year, which would be its first since 2017 (CTBO, September 3, 2017).
For China, the first North Korean nuclear test in over half-a-decade could mean efforts by the U.S. to strengthen extended nuclear deterrence to protect its allies, Japan and South Korea (Huanqiu, November 22, 2022). In December 2022, Anthony Carullo, director of plans and policy at the U.S. Strategic Command, reaffirmed the U.S. commitment to South Korea regarding its extended deterrence that comprises both conventional and nuclear capabilities (VOV World, December 6, 2022).
U.S. National Security Adviser Jake Sullivan also reaffirmed this commitment stating that "[w]e are working within our alliances, with both the Republic of Korea and Japan, to develop an effective mix of tangible measures to this end and specific practical steps to take to strengthen the extended deterrence commitment" (The Korea Times, December 1, 2022). This implies a strengthened nuclear environment in China's immediate neighborhood that Beijing would have to deal with.
These developments are not positive signs for Taiwan's own security, especially as Taiwan faces territorial disputes both in East China and South China Seas. While Senkaku/Diaoyu Island disputes remains an issue in the East China Sea, Taiwan claims sovereignty over all the islands in the South China Sea. In recent years, Taiwan has strengthened its military capabilities, including cruise missiles as well as holding live artillery drills. Hence, any military developments in the region will have a domino effect on Taiwan (India Today, August 9, 2022).
Conclusion
All these developments add to not just military pressures but also diplomatic pressures on China. Hence, China should play a more positive role in the North Korean denuclearization process by acting as a mediator.
Some of the steps that could be adopted are:
Educate North Korean leader Kim Jong Un on the advantages of sanctions being removed.
Make the case to North Korea on the technological advantages of being a Non-Proliferation Treaty (NPT) member.
Persuade Pyongyang to return to its self-imposed moratorium on nuclear and missile testing; also convince South Korea not to engage in any military drills to provoke tensions. This two-way process can instill confidence in both Korean counterparts.
These measures could be discussed and analyzed by China, which could sketch out the impact these measures would have on North Korea and the Korean peninsula over the long run. The intersection of strategic competition between China and the U.S. and its allies and North Korea's growing nuclear capabilities underscores that Pyongyang's pursuit of its nuclear ambitions has security implications that reverberate not just on the Korean peninsula, but globally as well.
Debalina Ghoshal is a Non Resident Fellow with the Council on International Policy, Canada. She works on issues on nuclear, missiles, missile defense, artillery and space.