Early Warning Brief – China's NPC and CPPCC: Xi Defies the West by Boosting Technological Self-Sufficiency And Crushing Hong Kong's Freedoms
Publication: China Brief Volume: 21 Issue: 5
By: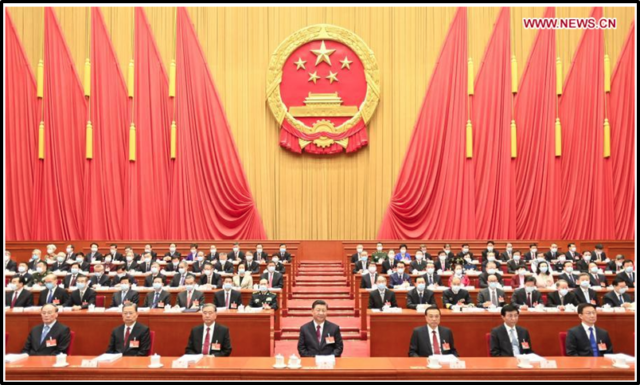 (Editor's note: This article was updated on March 15.)
Introduction
President Xi Jinping has boosted China's ability to defy foreign threats by promoting technological self-sufficiency and tightening freedoms previously granted to Hong Kong. Projections of major domestic and diplomatic initiatives up to the year 2035 were made in early March during the annual sessions of China's legislature, the National People's Congress (NPC), and the Chinese People's Political Consultative Conference (CPPCC), a top advisory body. Taking advantage of the fact that China was the world's only major country to have achieved positive growth last year during the pandemic, the Chinese Communist Party (CCP) has stoked the flames of nationalism and augmented the authority of Xi, who is also CCP General Secretary and Chairman of the Central Military Commission (CMC), by releasing upbeat messages on economic and foreign-policy issues.
In his annual Government Work Report (GWR) (政府工作报告, zhengfu gongzuo baogao) to the NPC, delivered on March 5, Premier Li Keqiang signaled his confidence over the Chinese economy's future by setting a minimum benchmark of 6 percent Gross Domestic Product (GDP) growth this year. Li also vowed to add 11 million new urban jobs, cutting the urban unemployment rate to 5.5 percent. And despite the fact that economic expansion in China is now mostly predicated upon government investments, Li indicated that the budget deficit would be cut from 3.6 percent of GDP in 2020 to 3.2 percent this year. Li also unveiled the "14th Five Year Plan (FYP) (2021 to 2025) and the Long-range Objectives Through 2035" (国民经济和社会发展第十四个五年规划和2035年远景目标纲要, guomin jingji he shehui fazhan di shisi ge wunian guihua he 2035 nian yuanjing mubiao gangyao). China expects to double its 2020 GDP by 2035. This would require an annual GDP expansion rate of between 4.7 percent to 5 percent over the next 15 years. The economy, which is recovering from the pandemic at a relatively fast rate, is expected to follow a path of "innovation-driven development so as to speed up the realization of a modern production system" (Gov.cn, March 5). Li, who is No. 2 in the CCP hierarchy, attributed China's achievements to closely abiding by "Xi Jinping Thought on Socialism with Chinese Characteristics for a New Era" (China News Service, March 5; Global Times, March 5).
Seeking Technological Self-Sufficiency
A major thrust of the GWR is what President Xi calls "high-quality growth," which prioritizes technological self-sufficiency "during an uncertain international situation." The Chinese leadership is still smarting from decisions taken by both the previous and current U.S. administrations to drastically curtail Chinese technology firms' ability to procure core components such as micro-chips from the U.S. and its allies. Most recently, the Joseph Biden administration has created a new initiative to establish a common supply-chain strategy with allies—including major EU countries, Japan, Taiwan, India and Australia—with the intention of reining in the advance of Chinese technology (Asia Nikkei, February 24).
China's spending on scientific research and development is targeted to grow at 7 percent annually. "Basic research is the wellspring of scientific and technological innovation," Li said in the GWR. "So we will ensure the stable functioning of funding mechanisms for basic research and boost spending in this area by a considerable sum." "We will enhance the capacity of enterprises to make technological innovation, unlock the creativity of talent, and improve the systems and mechanisms for making scientific and technological innovation," the premier added. Senior CPPCC member and former Minister of Industry and Information Technology Miao Wei added context, noting that China needed 30 years to become a "strong industrialized country." Miao said that even though China's manufacturing base was huge, it lagged behind advanced countries in areas including "innovative ability and innovative standards as well as product quality" (China News Service, March 7).
According to a draft version of the 14th FYP, seven technology areas including AI; quantum computing; integrated circuits; brain sciences; biotech; health care and deep earth, sea, space and polar explorations will get priority funding for research and development. Li and other top leaders have reiterated that technological self-sufficiency is at the core of China's strategy to "develop new advantages" in the face of increased hostility and pressures to decouple from major Western countries (SCMP, March 6; HK01.com, March 5). Breakthroughs in many of the aforementioned areas ranging from AI and integrated circuits to space exploration will also have far-reaching consequences for military modernization (Sohu.com, December 31, 2019).
Foreign and Military Policies
As in previous years, the main themes of the NPC were internal economic and social developments. However, economic concerns and foreign and defense policies have become increasingly intertwined under Xi. In his GWR, Li said that China was anxious to enhance multilateral, bilateral and regional economic cooperation with other nations and would continue to uphold the multilateral international trade regime. "China stands ready to work with other countries to achieve mutual benefits on the basis of greater mutual opening," Li said, making no explicit reference to the United States. However, other top cadres emphasized that China was not afraid of taking on the U.S. or a U.S.-led coalition. In an NPC-sponsored press briefing, Foreign Minister Wang Yi said that Beijing would stick to "Xi Jinping Thought on Foreign Affairs" in dealing with rival countries. Wang, who is also State Councilor, warned the U.S. not to intervene with Beijing's policies on Hong Kong, Xinjiang and Taiwan, criticizing Washington for "wilfully interfering in other countries' internal affairs in the name of democracy and human rights." American policies, Wang added, were responsible for creating "lots of trouble in the world and, in some cases, turbulence and conflict" (Xinhua, March 7; Straits Times, March 7).
Premier Li took an aggressive stance on the need for the People's Liberation Army (PLA) to seek "new, major achievements." The PLA's budget this year is projected at 1.36 trillion yuan ($206.16 billion), a 6.8 percent increase over last year. While this was only slightly more than the similar increase of 6.6 percent in 2020, it is well known that the published budget does not cover costs for the development of new weapons (Deutsche Welle Chinese, March 5). Li stressed that army building must follow "Xi Jinping Thought on Strengthening the Army." Pointing out that the military in the new century must abide by a "CMC chairman responsibility system," Li underscored the imperative of "building up the army through [stressing] politics, and strengthening the forces through reform, technology and talents." "We must comprehensively strengthen training and preparation for warfare," Li added. "We must coordinate the strategic ability to [handle] risks to [national] safety in all directions and all arenas" (China News Service, March 5). Li was repeating recent talking points made by Xi. For example, the CMC chairman indicated in a speech to military officers in January that the PLA must "boost its ability to fight and to win wars" (Xinhua, January 4).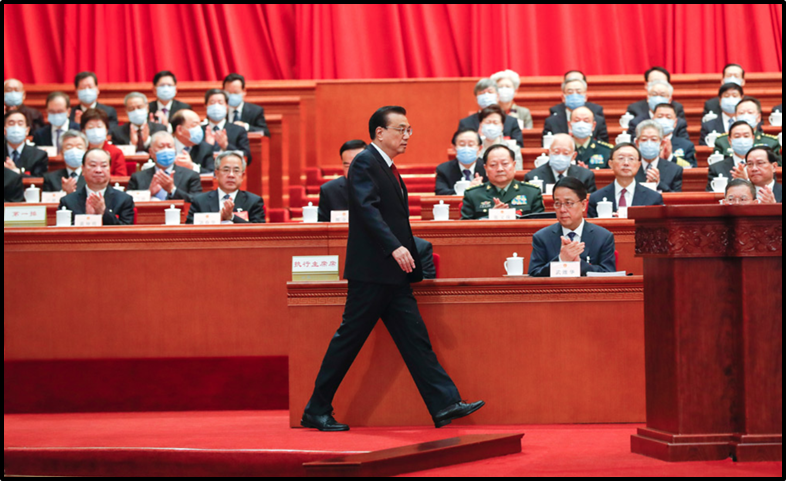 New Harsh Policies Toward Hong Kong
The NPC and CPPCC sessions also struck a pose of defiance amid Western countries' mounting criticisms of Beijing's human rights violations in the Xinjiang Uyghur Autonomous Region (XUAR) and the Hong Kong Special Administration Region (HKSAR). One of the highlights of the NPC was the introduction of a new electoral system for picking the SAR's Chief Executive (CE) and members of its Legislative Council (LegCo). The rationale for the changes comes from Xi's earlier instructions that only bona fide "patriots" could lead Hong Kong's executive, legislative and judicial departments. As a result, the "Decision to Improve the Hong Kong Electoral System" (全国人民代表大会关于完善香港特别行政区选举制度的决定, quanguo renmin daibiao dahui guanyu wanshan xianggang tebie xinzhengqu xuanju zhidu de jueding), which was passed on March 11, noted that "existing loopholes and deficiencies" must be tackled to prevent "anti-China, destabilizing elements" – who often act in collusion with the West – from gaining seats in the HKSAR's organs of power (Global Times, March 5; Hong Kong Free Press, March 5).
Take, for example, the Hong Kong Electoral Committee which selects the CE – who is then appointed by the State Council or central government. The 1,200-member Electoral Committee used to include a small percentage of District Councilors, most of whom were directly elected by universal suffrage. Pro-democratic politicians overwhelmingly dominated the last round of direct elections for District Councilors in 2019. The 117 seats in the Electoral Committee previously reserved for District Councilors will now be scrapped and given to CPPCC members handpicked by Beijing. The Electoral Committee will also be expanded to 1,500, with the goal that more "patriots"—including mainlanders who migrated to Hong Kong after 1997—will be given the chance to select the CE. As NPC Vice-Chairman Wang Chen noted, the electoral system in the SAR must "fully reflect the political principles and criteria of Hong Kong people administering Hong Kong, with patriots as the main body" (Xinhua, March 5; NPC.gov.cn, March 5).
LegCo membership will be expanded from 70 to 90. However, the proportion of legislators to be returned by one-person-one-vote "geographical constituencies" will be diminished. More seats will be given to Hong Kong-based NPC and CPPCC members as well as CCP-favored representatives of business and professional bodies. At least one-third of the LegCo seats may be reserved for members of the Electoral Committee selecting the CE. Equally important is that a Candidate Qualification Review Committee of the HKSAR will be set up. Largely consisting of Electoral Committee members as well as deputies to the NPC and the CPPCC, this vetting organization will ensure that politicians and activists who want to run for the CE as well as members of LegCo and the Election Committee itself must be "patriotic" citizens, who are expected to profess allegiance to the central and HKSAR governments and who will not run afoul of the National Security Law for the SAR introduced last year (Ming Pao, March 12; Xinhua, March 11).
Reactions from Western countries to Beijing's apparent attempt to undermine the "One Country, Two System" formula for running the HKSAR were swift and condemnatory. U.S. State Department spokesman Ned Price said the move was "a direct attack on Hong Kong's autonomy, Hong Kong's freedoms and the democratic processes." Price added that Washington was working with allies "galvanizing collective action" against alleged Chinese human rights abuses in Xinjiang and "repression" in Hong Kong. Similar statements were made by the U.K. and EU authorities (Takungpao.com, March 7; Rthk.hk, March 6). Lord Chris Patten, the last British governor of Hong Kong, said the CCP had "taken the biggest step so far to obliterate Hong Kong's freedoms and aspirations for greater democracy under the rule of law" (Radio French International, March 6).
Conclusion: Xi's Status Has Been Enhanced by the NPC and the CPPCC
At a recent Politburo speech devoted to laying the foundation for the party's upcoming centenary celebrations in July, Xi said, "while we must be full of confidence, we must at the same time be mindful of dangers in the midst of stability" (Ming Pao, January 8). In a January talk at the Central Party School, Xi noted that while China and the world were facing turbulent times, "time and momentum are on our side." "The opportunities and challenges are unprecedentedly large, yet on the whole the opportunities are greater than the challenges," he added (Xinhua, January 11). Li's NPC report has fully reflected the priorities of Xi, in particular his call for all Chinese to work with dedication and patriotism to deflect the challenges from the West.
While the annual NPC and CPPCC sessions are usually dominated by leaders such as the premier and the chairmen of the legislature and consultative conference, respectively Li Keqiang, Li Zhanshu and Wang Yang, it is evident that the supreme leader Xi has plotted the country's new directions until 2035. In the reports tabled at the two sessions as well as in publicized discussions among NPC and CPPCC delegates, Xi's instructions on various vital issues are billed as providing valuable guidance to the party, government and military. The media has gone into overdrive eulogizing "Xi Jinping Thought on Socialism with Chinese Characteristics for a New Era." The CCP General Secretary is credited to have come up with "Xi Jinping Thought on the Economy," "Xi Jinping Thought on Foreign Affairs," "Xi Jinping Thought on Strengthening the Army," and even more dicta on subjects including party construction, social construction, and ecological civilization (Ming Pao, November 18, 2020). Given the increasingly well-supported assumption that the 68-year-old Xi wants to serve beyond the customary tenure of ten years, this year's NPC and CPPCC have laid a solid foundation for the Chinese president to retain power until the 22nd Party Congress in 2032 and beyond.
Dr. Willy Wo-Lap Lam is a Senior Fellow at The Jamestown Foundation and a regular contributor to China Brief. He is an Adjunct Professor at the Center for China Studies, the History Department, and the Master's Program in Global Political Economy at the Chinese University of Hong Kong. He is the author of five books on China, including Chinese Politics in the Era of Xi Jinping (2015). His latest book, The Fight for China's Future, was released by Routledge Publishing in July 2019.