China's Quest For Food Security by 2020, Chinese Submarines Step Up Patrols in the Indian Ocean
Publication: China Brief Volume: 16 Issue: 5
By: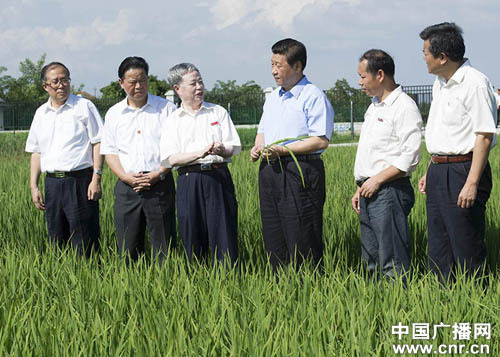 China's Quest For Food Security by 2020
Chinese President Xi Jinping, visiting Hunan province has emphasized food production and achieving food security in a speech this week (Xinhua, March 9). Among the many economic challenges facing China's leaders, food security, though often overlooked, is an important indicator of China's broader assessment of its domestic and foreign security, making it a high priority for the central leadership in recent years.
China has both an immense population and a restricted amount of arable land due to its hilly geography. Furthermore, this total has shrunk in recent years due to the rapid growth of urban areas, and in an overlapping concern with food safety, increasing amounts of pollution accumulating in arable land. This makes building domestic grain production abroad a priority. The 13th Part of the "Guideline for the 13th Five-Year Plan" (2016–2020), for example, included a push for land-cultivation capacity to boost food security (Xinhua, November 3, 2015).
Similarly, "Central Document Number 1" (中央一号文件), China's annual statement concerning agricultural policy, further highlights this issue, setting 2020 as a goal to "achieve national food security and ensure effective protection of important food production" (Xinhua, January 27). The date coincides with the end of the 13th Five-Year Plan and other ambitious security goals, including completion of a reorganization of the Chinese military.
In the same manner as China's energy demand is viewed as a key strategic vulnerability for China, due to the immense distance connecting oil in the Persian Gulf, China's demand for imported food represents a lifeline that could be cut. As recent sanctions against Russia have highlighted, countries that import a significant proportion of their total food supply can be punished by the international community through economic sanctions that cut these lifelines. During the Cold War for example, U.S. Presidents Jimmy Carter and Ronald Reagan were able to use grain exports to the Soviet Union to encourage shifts in its involvement in Afghanistan and nuclear posture. These lessons are not lost on the Chinese Communist Party, and just as China has diversified its energy sources, and the Chinese military has developed weapons to deny easy access of foreign nations to its borders, China is increasingly moving to enhance its overseas food security.
Diversification is one way that China has attempted to address its food security. Chinese firms have bought up large swathes of land for farming, particularly throughout Africa (China Brief, May 27, 2009). Closer to China, a series of agreements with Russia signed in December 2015 ensures both local supplies and provides its "strategic partner" with needed cash (SCMP, December 18, 2015).
Externally, demand for food products is driving Chinese competition for resources. In the South China Sea, for example, a contributing factor to tensions is the fact that the areas most hotly contested are prime fishing areas. China's seafood consumption is already the world's highest—Chinese eat 38 percent of the world's fish—and Chinese fishing fleets plough the seas far from home due to competition for local stocks (gdcct.net, November 5, 2013; World Bank, February 6, 2014).
China's security must take these non-traditional aspects into account just as the People's Liberation Army adjusts to a changing strategic environment. Particularly because of its links to important domestic factors, including the large rural population, food security will continue to rate highly among China's strategic priorities.
***
Chinese Submarines Step Up Patrols in the Indian Ocean
China's deployment of surface-to-air missiles to Woody Island (永兴岛) continued to attract attention in Western media. A different sort of a military operation on the other side of the Indochinese peninsula, however, gives important insight into China's long-term plans. Indian media sources have reported that Chinese submarines were spotted in the Bay of Bengal, south of Myanmar and is home to India's Andaman Islands earlier this year (The Telegraph [India], January 19). New Delhi views the Andaman's as a platform for exerting control over the western exit of the Strait of Malacca, the narrow passage formed by Singapore and Indonesia, which sees almost one fourth of global trade and is the primary route from the South China Sea to the Indian Ocean.
Roughly 400 miles to the northwest of Woody Island is the large island province of Hainan, home to one of China's largest submarine bases, as well as three large, hardened air bases (including Ledong airbase, home to a large underground facility). Most significant, however, is the hardened submarine pen near Hainan's capital Sanya. The base hosts China's growing ballistic missile submarine capability (SSBN) as well as a variety of nuclear- and conventionally powered submarines. As such, Hainan serves as an important stepping stone for submarines operating beyond China's shores and remote territorial claims. In recent years, Chinese submarines have been pushing out to operate in the Indian Ocean to the southwest and east beyond Japan. [1]
These deployments not only follow Chinese long-distance anti-piracy patrol visits to the Indian Ocean, but also likely have roots in the need to both protect Chinese Sea Lines of Communication (SLOCs) and to confront emerging threats. Regional rival India, for example, is expected this week to test its "K-4" submarine launched ballistic missile, an important step on its way to creating a ballistic missile submarine deterrent (NewIndianExpress, March 4). China's own force of SSBNs has been deploying to Sanya since June 2012, first as a single submarine, and now apparently as a permanent force of three Jin-class SSBNs. [2] This would match unconfirmed reports that China has already begun conducting nuclear deterrence patrols.
As the submarine force's attack and nuclear deterrent components gain significance for China's military posture, they are likely to gain additional patronage from the highest ranks of China's navy. Chinese Deputy Chief of the General Staff Department, Admiral Sun Jianguo, has been tapped to be the head of the Chinese Navy after Admiral Wu Shengli (b. 1945) retires. Sun, (b. 1952) has a background as a submariner, serving as captain of a Type 091 Han-class nuclear submarine, (403艇) breaking records for long-distance operations (Baidu [accessed March 3]; Tiexue, January 16, 2009).
As China's submarine forces grow and expand their patrols, it is likely that tensions over flights in the area by U.S. Electronic Intelligence (ELINT) gathering aircraft (the Boeing P-8, which is also used in a more direct submarine-hunting role) will grow. A P-8 surveillance aircraft flying in international airspace roughly 300 kilometers from Sanya, and 150 kilometers from Woody Island, for example, was challenged by J-11 fighters with a full complement of air-to-air missiles in August 2014.
Chinese submarine operations in the Bay of Bengal have also prompted India to purchase several of the Boeing aircraft to enhance its Anti-Submarine Warfare capability, and Indian P-8s were involved in tracking operations after the sighting in January. Chinese Rear Admiral and prolific military commentator Yin Zhuo also commented that India plans to deploy carriers to the region to help monitor the western exit of the Strait of Malacca (People's Daily Online, January 22).
Going forward, China's deployment of submarines, both within the South China Sea as part of China's nuclear deterrent and beyond as a complement to China's power projection, will surely be a driving cause of Chinese attempts to further secure the South China Sea.
Notes:
1. The original report is no longer available on ONI's website, but a searchable copy is hosted on Andrew Erickson's website here: The PLA Navy, New Capabilities and Missions for the 21st Century, Office of Naval Intelligence, 2015. <https://www.andrewerickson.com/wp-content/uploads/2016/02/ONI_PLAN_2015_Report_Interactive_Searchable.pdf>.
2. Google Earth, Digital Globe; 18°12'38.99"N, 109°41'11.04"E; June 26, 2012. With a few exceptions, a complement of three Type 094 Jin-Class SSBNs are present after February 13, 2015.