China's "Server Sinification" Campaign for Import Substitution: Strategy and Snowden (Part 1)
Publication: China Brief Volume: 14 Issue: 24
By: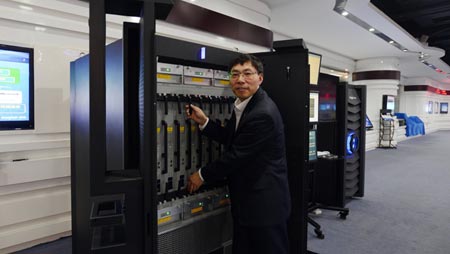 On January 22, 2013, Guangming Daily reported the market launch of China's first independently developed high-end computer server, the Tiansuo K1, and touted the homemade server's leading role in "breaking a long-term import situation" (Guangming Daily, January 22, 2013). [1] The Tiansuo K1 represents the culmination of a long-term effort by the Chinese government to end China's dependence on U.S. information technology (IT) companies by pursuing a policy of "server sinifcation" (fuwuqi guochanhua) in conjunction with state-owned enterprises (SOEs).
China's reliance on foreign imported IT products has long been a cause of concern for the Chinese government, which claims that over-reliance on U.S. imports in server technology jeopardizes the country's information security (People's Daily, July 4). According to Chinese Ministry of Science and Technology (MOST) Bureau Chief Yang Xianwu, the Tiansuo K1's launch "broke the situation of being under the [foreign] yoke in IT network equipment" (Science and Technology Daily, June 5). Chinese state media also purport that foreign domination of the server market has led to increased costs for Chinese companies, maintaining that the average server selling price in China is 2.4 times that in the United States, seriously hindering the country's economic competitiveness and drive to equip the nation with the most modern IT infrastructure" (Xinhua, January 22, 2013).
China's concerted government-sponsored import substitution campaign for server products is explicitly intended, and will likely succeed, in reducing U.S. IT companies' market share in China and in supporting its fledgling domestic industry. This campaign will likely have serious deleterious consequences for U.S. manufacturers in China, including International Business Machines (IBM), Oracle and Hewlett Packard (HP). These companies currently control more than 90 percent of China's server market, and Chinese spending on server technology is estimated to grow by 8.4 percent annually through 2017, compared with 2.2 percent globally—meaning a big blow to U.S. corporate IT profits in China (Bloomberg, May 27). Moreover, China's activities in this sphere likely qualify as "innovation mercantilism," exacerbating the relative loss of U.S. competitiveness in advanced technology goods with China, a sector where the annual trade deficit has risen from $11.8 billion in 2002 to $117 billion in 2013 (U.S.-China Commission, August 13, 2012; U.S.-China Commission, February 6). [2]
History of China's Server Sinification Program
The spearhead of China's server sinification effort is the Tiansuo K1 server. The K1 was jointly developed by Inspur Group, a Chinese SOE IT company, and MOST as part of China's 11th Five-Year Plan, under the "high-end and fault-tolerant computer" program. [3] The server campaign also received substantial support from the Chinese government's national high-technology development plan (also known as the 863 Program), which invested 750 million RMB ($122 million) in the program (Guangming Daily, January 22, 2013). [4]
Since development of the Tiansuo K1 began in 2009, the project has advanced with astonishing rapidity, in large part due to assistance from the Chinese government and multiple SOEs. According to K1 chief designer Wang Endong, the first K1 server prototype began online testing in a Xinjiang branch of the state-owned China Construction Bank (CCB) in August 2010. Account transaction processing was initiated in July 2011, whereupon all services were transferred from IBM to Inspur servers (People's Daily, July 4). In order to assuage reliability concerns, Inspur regularly invited technicians from the CCB to its research and development (R&D) laboratories to act as "special overseers." Wang told the People's Daily that, "unlike college or research institute R&D, we [Inspur] invited in our users to let them participate in the whole manufacturing process. This was done to build user confidence in the product and better address their requirements" (People's Daily, July 4).
The Tiansuo K1 is now being used widely, or considered for adoption, by other Chinese SOEs, particularly in the banking sector, in an orchestrated effort to spur sales by the Chinese government. The K1 is used extensively by the CCB in 14 second tier bank branches, nearly 200 trading websites, more than 3,000 bank tellers, 20,000 self-service and electronic equipment supply services, as well as in financial transaction communications. CCB IT supervisory department manager Lin Leiming has also claimed that preparations are underway for greater wide-scale adoption (People's Daily, July 4). In 2012, Inspur beat IBM and HP to win a server contract tendered by the China Import-Export Bank and the K1 has displaced small Oracle servers from the Shengli oil field in Shandong as well as small IBM servers in the Ministry of Agriculture (Xinhua, January 22, 2013; People's Daily, July 4). MOST officials and the Chinese Banking Regulatory Commission also indicated that in the next phase of server sinification, the government will approve demonstration projects as well as prioritize procurement and support for Chinese-made server products to promote the K1 in finance, telecommunications, government and other key industries (Xinhua, January 22, 2013).
Inspur has moved quickly to ensure that Chinese companies are able to transition to its Tiansuo K1 server. This January, Science and Technology Daily reported that Inspur, in conjunction with Chinese software and integrated systems companies, is exploring methods of facilitating the smooth transition of business services from foreign equipment to the K1 (Science and Technology Daily, January 22). Also in January, Inspur launched the K1 adoption program under which databases, middleware and other applied systems would be transferred from IBM, Oracle and HP to K1 servers "thereby challenging America's market dominance and assisting the development of Chinese supply chains" (Beijing Times , January 17). This April, Inspur invited more than 700 cooperation partners to its head office to discuss K1 adoption (People's Daily, July 4).
The official launch of the K1 adoption program followed the inauguration of the China Server System Industry Alliance (CSSIA) in Beijing on September 27, 2013. The CSSIA is intended to encourage cooperation amongst Chinese corporations in advancing import substitution in the IT sector under the direction of the Ministry of Industry and Information technology (People's Daily, July 4). The alliance's goal is the creation of an independent Chinese IT supply chain in server operating systems, hardware and middleware. Initially founded with Inspur and 15 other Chinese hardware and software companies, by this October the alliance had grown to 58 members (Guangming Daily, October 24).
Interestingly, IBM may also be unwittingly assisting the development of a serious market rival. Yunnan Nantian Electronics Information Corporation (Nantian) R&D Manager Wang Wei confirmed in January 2013 that Nantian and Inspur are cooperating on a high-level project to transfer commercial banking core service systems to independently controlled hardware and software installations (Guangming Daily, January 22, 2013). The next month, Nantian won an IBM Partner of Choice Beacon award for Outstanding Optimized Systems Solution on Enterprise Servers (System z) at the 2013 IBM PartnerWorld Leadership Conference (Bloomberg, March 1, 2013). [5] Nantian's award was given for its Core-banking Intelligence Transaction Architecture on System z (zCITA). According to Nantian, the zCITA is built on more than 30 years of banking information systems integration and development experience, which "fully comprehends the demands of large Chinese nationalized banks and newer banking entities drawing on the latest business thinking of commercial banks, the most modern computer and network technologies and cooperating with IBM to develop a successful new generation of comprehensive commercial banking business systems" (Nantian, March 11, 2013).
Political-Industrial Partnership
China's actions in executing a national IT import substitution program have been facilitated by the government's control of large sections of its national economy and the close relationships between the country's business and political elite. Inspur's chairman, Sun Pishu, who appears to be the project's political champion, is using his seat on the National People's Congress (NPC) and the 863 Program Expert Committee to advance his cause. [6] For several years at NPC annual meetings, Sun had proposed the acceleration of IT import substitution and the imposition of mandatory security approval requirements for the suppliers of "critical information infrastructure" in telecommunications, finance, energy and transportation. However, despite interest from various government departments, these proposals have made little headway, although this might change in the wake of revelations by former National Security Agency contractor Edward Snowden (China.com, March 11).
The state capitalist nature of Chinese politics and industrial strategy is also evidenced by the comments made by the K1's chief designer, Wang. He claimed that the elimination of international giants from the Chinese server market would require earnest cooperation amongst China's domestic industry to break closed operating systems such as databases, middleware, and software tools that run on foreign equipment. Wang said, "foreign business competition is not only one company and one product but competition from a complete set of companies… Due to massive commercial interests, building an independent ecosystem cannot depend on foreign enterprises but must rely on the mutual efforts of an alliance of domestic industries" (People's Daily, July 4). To this end, Inspur has benefitted enormously from the mobilization of various Chinese SOEs and government-backed organizations, such as the CSSIA, which is directed by the Ministry of Industry and Information Technology.
Implications
Currently, China's server sinification campaign appears focused on the Chinese domestic market. However, the "going out" precedent set by Chinese SOEs in other sectors, such as the civilian nuclear industry and high speed rail, suggest that Chinese IT companies will attempt to compete internationally against U.S. server manufacturers after consolidating their home market (China Brief, April 23; China Brief, July 3). These developments may further erode U.S. competitiveness in high technology goods and thus have a serious detrimental impact on the future profitability of U.S. IT companies in China and worldwide.
This is the first of a two-part series covering the development of China's server sinification program. The second part will evaluate the impact of ongoing espionage disputes between the United States and China, especially the revelations of Edward Snowden, which the Chinese government is using in order to accelerate and justify its import substitution campaign in the IT sector.
Notes
High-end servers support many modern business IT systems, such as in banking and telecommunications, which require the ability to process large numbers of simultaneous calculations and operating programs.
The U.S.-China Commission defines advanced technology as: biotechnology, life sciences, optoelectronics, information communication technology (ICT), electronics, flexible manufacturing, advanced materials, aerospace, weapons and nuclear technology.
Inspur is a Shandong-based information technology SOE known in China as Langchao Group.
Promulgated in March 1986 by the then Chinese Paramount Leader Deng Xiaoping, the 863 Project is focused on strengthening China's competitiveness in the global economy.
Beacon prizes are awarded to IBM business partners as recognition for technical excellence, industry expertise, and innovative solutions for IBM products and services.
Of note, the 863 Program Expert Committee developed the world's fastest supercomputer, the Tianhe-2, in collaboration with the China's National University of Defense Technology.