China's Strategic Advantage in Nepal
Publication: China Brief Volume: 11 Issue: 11
By: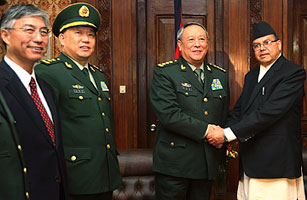 The ongoing political paralysis in Nepal—caused by the small Himalayan nation's inability to draft a Constitution—coupled with the rise of Maoists as a major political force in Nepal's mainstream politics have created the ideal conditions for Beijing to increase its leverage and influence over Nepal. New Delhi is wary of the pace with which Beijing has been able to apply pressure on the Nepalese leadership, make inroads into the political, economic and strategic dynamics of Nepal's development and control the activities of nearly 20,000 Tibetan refugees living in exile in Nepal. This concern precipitated a string of visits by high-level delegations from India to shore up the relationship, and the appointment of a senior diplomat as Ambassador to Nepal (The Hindu, January 21; Reviewnepal.com, June 7). New Delhi is desperately trying to limit Chinese influence to prevent Nepal from becoming China's backyard. Indeed, greater access to Kathmandu could enhance China's ability to probe the geographical and historical buffer that Nepal has offered India.
Geopolitical Shifts
Nepal is conscious of the growing competition between China and India, and, according to an observation made by Nepalese King Prithvi Narayan Shah made way back in the 18th century, Nepal is a "delicate yam between two boulders" [1]. Kathmandu is experiencing the pulls and pushes of the two Asian giants who are jostling for politico-strategic influence over Nepal. In the past, the Nepalese monarchy had cleverly used the 'China card' (Ft.com, December 14, 2005) by leaning toward China, but the current political leadership appears to be drawing advantages from both China and India.
Historically, any newly elected Prime Minister of Nepal makes India his first destination for diplomatic calls after taking office. Yet, in recent years there have been two exceptions. In 2008, Prime Minister Pushpa Kamal Dahal Prachanda, the charismatic Maoist leader with strong pro-China leanings, chose to visit China after assuming office (Hindustan Times, December 1, 2009). Then soon after his election in February 2011, Prime Minister Jhala Nath Khanal had stated: "My government will deepen and strengthen the relationship with both [India and China] … I haven't decided yet" which country to visit first (Los Angeles Times, February 20). Instead, Khanal proceeded to Turkey to attend a key meeting of Least Developed Countries (LDCs) (Nepal24hours.com, April 30). There is a strong possibility that Prime Minister Khanal may visit China and the Madhesi Janadhikar Forum (MJF)-Nepal has observed that "Khanal will follow Dahal's footsteps," clearly showcasing the priority given to China by the current Nepalese leadership (Telegraphnepal.com, June 10).
Chinese Military Engagement in Nepal
The Chinese and the Nepalese Army have established a proactive military exchange program including supply of hardware, training, infrastructure development and exchange of high level delegations despite the latter's historical linkages and pro-India leanings. The Chinese initiatives to supply military hardware came in the wake of India's refusal in 2005 to supply arms to the Nepalese army soon after King Gyanendra seized power and dismissed the government (Indian Express, February 22, 2005).
In the recent past, Nepal's Army has received a variety of military hardware from China, including non-lethal equipment such as construction and engineering machinery. In 2005, the Nepalese Army chief during his visit to China secured military aid (The Kathmandu Post, March 13). Interestingly, in 2005, Nepal also "voiced for the inclusion of China into SAARC [South Asian Association for Regional Cooperation] irrespective of the fact that India had expressed its reservations" [2]. In 2008, Lieutenant General Ma Xiaotian, the deputy commander of the PLA, announced $2.6 million in non-lethal military aid to Nepal (Zenews.com, December 8, 2008), and in 2009 China pledged military aid worth $3 million for a hospital and training for the Nepal Army (Tibetsun.com, December 16, 2008). During his recent visit to Kathmandu in March, General Chen Bingde, chief of general staff of the PLA, met with President Ram Baran Yadav, Prime Minister Khanal, Nepal's army Chief Chatra Man Singh Gurung (The Kathmandu Post, March 13). General Chen Bingde announced an additional military assistance package worth $20 million and assured that more would be on the way. Although the military aid package is little by Chinese standards, it is both symbolic and significant from India's perspective.
Infrastructure Developments
China possesses significant technological capability to develop high altitude connectivity related infrastructure particularly in the Himalayas. Indeed, it has built rail, road and air networks that link a number of Chinese autonomous regions and provinces such as Tibet, Qinghai, Sichuan, Xinjiang and Yunnan (Chinatravel.com, June 24, 2008). These networks have facilitated and supported the economic development of the hinterland. The transportation network has also enhanced the PLA's tactical mobility and strategic deployments in the Himalayas for the movement of troops and logistics, forward deployment of aircraft, establishment of missile sites and building advanced reconnaissance and surveillance facilities. Interestingly, the infrastructure had also helped the PLA to mobilize "troops into Tibet to quell unrest, provide supplies to soldiers deployed there and consolidate its control over Tibet" [3].
In 2008, China and Nepal announced plans to connect the Tibet Autonomous Region (TAR) with Nepal through a 770 kilometers long rail link between Lhasa and the Nepalese border town Khasa, which is about 80 kilometers north of Kathmandu. The project is expected to be completed by 2013. The Chinese ambassador to Nepal Qiu Guohong noted: "The extension of the Qinghai-Tibet railway to the China-Nepal border will have a positive influence on establishing new China-Nepal road links…" (Nepalitimes.com, August 11, 2009). It was also noted that a dry port near Tatopani on the Nepali side could be developed as well (Nepalitimes.com, April 24, 2009). China is also exploring the possibility of linking six additional highways with Nepal and developing cross-border energy pipelines [4]. In 2008, China set up an advanced optical fiber cable network between Zhangmu and Kathmandu (Xinhua News Agency, August 30, 2008).
The Lhasa-Khasa rail network will help Nepal take advantage of the geography and reduce Nepal's dependence on India for its regional and international trade [5]. Nepal faces several bottlenecks in its trade and energy supply chains due to poor connectivity in Nepal and the poor efficiency of Indian ports, which add to delays and higher costs for imported goods and delays in exports.
Yet, the southern expansion of China's rail networks has caused concern in India, particularly in the security circles who argue that Chinese infrastructure projects serve dual purposes, meaning both civilian and military [6]. The Indian government is also aware of the Chinese infrastructure projects in Nepal and has sanctioned railroad connectivity projects in the Terai region along the India-Nepal border, including an 80 kilometer long rail link connecting Birganj in India to Kathmandu. There are at least five more road networks (Nautanwa-Bhairahawa, Nepalgunj Road-Nepalgunj, Jogbani-Biratnagar, New Jalpaiguri-Kakarbhitta and Jayanagar- Bardibas) for which technical study has been concluded (Telegraphindia.com, April 20, 2008).
Tibetan Refugees in Nepal
Nepal and the Tibet Autonomous Region (TAR) share a common border of over 1,400 kilometers and there are 34 major mountain passes along this border that provide connectivity through treacherous terrain for trade and the movement of people. Tibetan refugees transit through Nepal to visit Dharamshala in India to pay homage to their spiritual leader, the Dalai Lama. In the past, the Nepalese police and government officials had worked closely with the UNHCR and agreed to abide by a 'Gentlemen's Agreement,' "an informal compact established in 1989 with the UNHCR thus ensuring a safe transit for Tibetan refugees through Nepal and onward to India" [7]. This arrangement had worked well before the Nepalese Maoist and Communist parties gained political ascendency in 2008. Since then, there has been a sharp decline in the number of Tibetan refugees registering at reception centers in Kathmandu.
A former Nepalese ambassador to China has noted that, "China's concerns over Nepal are growing" and that "the visit [of General Chen Bingde, chief of general staff of the PLA] shows that China wants the support of our army to control anti-Chinese activities following the resignation of the Dalai Lama" (Thetibetpost.com, March 28). It is also reported that China may be secretly giving financial incentives and paying Nepalese officials to arrest and deport Tibetans in Nepal (Indian Express, December 20, 2010). On March 10, the Nepalese police arrested 34 protesters after thousands of Tibetan refugees marched through the streets of Kathmandu to commemorate the Chinese invasion of Tibet of 1951 (Asia-news.us, March 18). The next day, Nepalese police prevented a prayer meeting at the Buddhist temple in Kathmandu, and two days later on February 13, the police stormed into polling stations and seized ballots and other electoral material for Tibetan community internal elections to vote for a new Tibetan Government in Exile (Thetibetpost.com, March 28). The Nepalese government has been under great pressure to control Tibetan refugees in Nepal, and the chief district officer of Sindhupalchowk was quoted as saying "They [the Chinese] urged us not to allow anti-Chinese activities [on] our soil' (TIME, March 29). It is quite evident that China has been able to prevail upon the Nepalese government to ensure that anti-China activities by the Tibetan refugees are sternly dealt with.
Projecting Soft Power
Nepal—once referred to as the only Hindu Kingdom—has strong social, cultural and religious ties with India. In fact, Indian influence is so predominant that an Indian priest performs the daily prayers at the Pasupatinath temple in Kathmandu (Mainstreamweekly.net, July 24, 2010). Besides, a large number of Nepalese have their kith and kin in India, and thousands of Nepalese serve in the Indian Army in the Gurkha Battalions. China is conscious of the deep rooted Indian cultural influence and has attempted to dilute it by setting up a number of China Study Centres (CSC) to promote culture and language exchanges among the Nepalese people. Apparently, "33 CSCs have been established in southern Nepal adjoining the Indian border" [8]. Likewise, in 2007, China set up the Confucius Institute at Kathmandu University, where nearly 1,000 Nepalese students are learning the Chinese language. (Peopledaily.com.cn, June 14)
On another level, China and Nepal's tourism ministries are working closely to enhance tourism in Nepal by waiving visa fees for Chinese tourists. Furthermore, the Chinese Yuan has been made convertible for tourists and businessmen [9]. In June 2010, China Radio International (CRI) established a branch in Kathamandu and started a Nepali Service to teach the Chinese language (Xinhua News Agency, June 30, 2010).
These developments are viewed in India as attempts by China to offset Indian influence (The Telegraph [Kolkata], January 28). There are concerns that China will use the CSCs as 'spy centers' to monitor Indian activities in Nepal (Telegraphnepal.com, October 16, 2009). In January 2011, Sashastra Seema Bal (SSB), a paramilitary force deployed along Indian northern borders, arrested three Chinese nationals who had entered Indian territory illegally. During interrogation the Chinese nationals stated that they were engineers working in Nepal, and according to a SSB official, "prima facie it seemed that they had come here as spies" (Times of India, January 18).
Strategic Advantage: China
China is courting Nepal and has used both hard and soft power to extract a number of strategic advantages. First, Beijing has obtained assurances from the Nepalese leadership that the territory would not be used by the Tibetan refugees living in Nepal for anti-China activities. This issue is particularly significant when there is a 'Free Tibet' movement spreading across the globe and China has been under international scrutiny over human rights issues, particularly against the Tibetans. Second, China has attempted to erode the traditional Indian influence in Nepal through infrastructure development projects, bringing economic dividends to the Nepalese living in the heartland. This has helped China accrue immense strategic and economic advantages, and provided opportunities to bring Nepal into its fold. Third, Chinese-built infrastructure projects in Nepal are additional pressure points against India and add to Indian anxieties. It will now be possible for the PLA to rapidly deploy its forces in the event of a conflict with India. Finally, China has been able to wean Nepal away from Indian influence despite its historical, social, cultural and religious ties.
Notes:
1. Jainendra Jeevan, "Tribute to Prithvi Narayan Shah", available at https://www.gorkhalionline.com/literature.php?cid=260.
2. B R Deepak, "China in Nepal: India-China need to work together", available at https://isikkim.com/china-in-nepal-india-china-need-to-work-together/.
3. Sudha Ramachandran, Nepal to get China rail link, Asia Times Online, 15 May, 2008, available at https://www.atimes.com/atimes/South_Asia/JE15Df01.html Nidhi Bhardwaj,
4. Amit Kumar, "The danger from China's border infrastructure 4 March 2010, available at https://www.observerindia.com/cms/export/orfonline/modules/analysis/attachments/The_danger_from_China_border_infrastructure_1267876993069.pdf.
5. Nishchal N. Pandey, "Developing infrastructure connectivity between India and China through Nepal", available at https://www.nepalnews.com/archive/2011/others/guestcolumn/jan/guest_columns_01.php.
6. Author's discussions with retired Indian Army officers.
7. "Nepal deporting Tibetans to China secretly", Indian Defence Review, April 15, 2011, available at https://www.indiandefencereview.com/geopolitics/Nepal-deporting-Tibetans-to-China-secretly.html.
8. Abanti Bhattacharya, "China's Inroads into Nepal: India's Concerns", available at https://www.idsa.in/node/756/117.
9. Saurabh, "Emerging Dynamics of China –Bangladesh-Nepal Relations in South Asia", World Focus. Vol.XXXI, No 9, September, 2010.
[The views expressed in the above article are the author's own and do not reflect the policy or position of the Indian Council of World Affairs.]