Chinese PSCs in Sub-Saharan Africa: The Cases of Francophone and Lusophone Africa
By: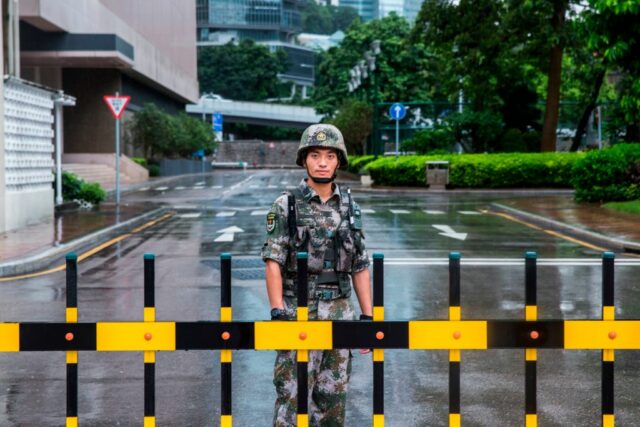 Executive Summary
Due to their wealth of critical natural resources (primarily rare earth minerals), rapidly growing populations (labor and consumer markets) and strategic geographic location, many Francophone and Lusophone countries in Africa occupy strategic roles for China and its large businesses operating in, among others, the electronics and high-tech industries. Given Beijing's ambitious plans in strengthening its most innovation-pinned industries—which draws on the need for access to rare earths and other commodities—the importance of some of these countries will grow for China.
Despite their impressive wealth in commodities, some Francophone and Lusophone countries face a broad array of security threats (e.g., political instability and terrorism), which discourage foreign businesses—including Chinese entities—from investing or doing business in these countries.
Chinese private security companies (PSCs) are gradually increasing their presence in Sub-Saharan Africa's Francophone and Lusophone countries. This process is incremental; yet, it is becoming much more visible. The main countries that attract the attention of Chinese PSCs are the Democratic Republic of the Congo (DRC) and Mozambique.
A visible trend is moving toward greater sophistication and diversification of Chinese PSCs' activities in the DRC and Mozambique: in addition to typical tasks performed by such entities, these Chinese actors are also engaged in building intra-African logistical ties and networks, whereby expanding Beijing's presence on the continent.
Following the collapse of the USSR in 1991 and Western countries weakening their presence in Africa, the People's Republic of China (PRC) has managed to drastically strengthen its positions on this strategically important and resource-rich continent. This paper will take a closer look at activities of Chinese private security contractors (PSCs) in Francophone (French-speaking) and Lusophone (Portuguese-speaking) countries in Africa. To do this, the study will discuss the following themes. First, the scope of wealth and main areas where Chinese businesses have expanded their presence in Francophone and Lusophone countries. Second, the nature of threats and challenges faced by the Chinese side (mainly, its businesses) when conducting activities in Francophone and Lusophone African countries. Third, specific cases demonstrating activities of Chinese PSCs in the Democratic Republic of Congo, or DRC (Francophone Africa), and Mozambique (Lusophone Africa). The paper benefits from a broad range of secondary data in English, Mandarin, French, Portuguese and Russian.
Francophone and Lusophone Africa: The Scope of Chinese Presence at a Glance
Francophone Africa
Currently, 21 African countries are considered to be Francophone[1]—the highest French-speaking populations include the DRC (77 million people), Madagascar (24 million), and Cameroon (23 million).[2] By 2050, up to 85 percent of all French speakers worldwide could reside on the African continent, which represents nearly 50 percent of the French-speaking world (434 million people). From a macroeconomic point of view, Francophone Africa is characterized by brisk, albeit uneven, economic growth; a rapidly growing consumer market (current size, 160 million); increased development of both the primary (mining and agriculture) and tertiary business sectors (services including banking and insurances); growing demand for up-to-date infrastructure and national production integration to boost the poor secondary sector; a rapidly growing and young workforce; and an abundance of natural resources.[3] These factors position many Francophone countries as China`s regional priority in developing business and commercial ties.
The Scope of Wealth and Chinese Involvemen
In terms of economic and business opportunities, the DRC, Niger, Guinea and Cameroon[4] are of the greatest significance to China. The following will provide a brief description of these countries' wealth (mainly natural resources) and the extent of Chinese involvement.
(1) The DRC—This African republic possesses some of Africa's richest deposits of mineral resources. With an estimated value around $24 trillion,[5] these deposits include copper, zinc, cobalt, diamond, gold and tin. Most importantly, the DRC has approximately 70 percent of the world`s coltan[6] and, along with Rwanda, tantalum deposits.[7] Starting in 2007–2008, when an infrastructure-for-minerals deal was signed[8]—Chinese involvement in the DRC's natural resources sector has skyrocketed.[9] This trend strengthened after the adoption of the "Made in China 2025" (中国制造2025) strategy,[10] which envisages building Chinese manufacturing capabilities in ten high-tech sectors (including the production of electric vehicles) and is inseparable from maintaining access to rare earth minerals.[11]
China's involvement in the DRC goes beyond purely trade and economic ties: Military assistance is one of the tools Beijing uses to secure its access to the DRC's natural resources.[12] For instance, in 2023, a Chinese delegation—consisting of representatives from China National Aero-Technology Import & Export Corporation (中航技进出口有限责任公司) and the People's Liberation Army (PLA)—visited the DRC to "persuade the president of the Democratic Republic of the Congo to procure several JF-17 Thunder multi-role combat aircraft—to replace the Congolese Air Force's Soviet-era Sukhoi Su-25 fighter jets—jointly designed and developed by China and Pakistan."[13] Other sources claimed that China Aerospace Science and Technology Corporation (中国航天科技集团公司) plans to supply a total of nine Caihong 4 (CH-4) attack drones to the DRC military to fight the Rwanda-backed rebels.[14]
(2) Niger—This country is one the world`s poorest[15] with a challenging security environment. Yet, it is handsomely endowed with strategic natural resources such as uranium, coal, cement and gold. Since 2000, marked by the creation of the Forum on China-African Cooperation, Sino-Nigerien ties have strengthened dramatically with experts believing China to be able to completely phase out France as Niger's primary trade partner.[16] In addition to massive investments in the country's uranium-producing sector, Beijing has also invested in oil[17] and local infrastructure.[18] Interestingly, in terms of infrastructure projects, such as a 1,980-kilometer pipeline (to be completed by 2024) that will carry crude from the Agadem Rift Basin fields in Niger to Benin's Atlantic oil terminal (Sèmè-Kraké port)—China is prioritizing Niger over its long-term strategic regional partner Nigeria.[19]
The key challenge for business activities of any type in Niger is its highly complex security environment and aggravating threat of terrorism. During a meeting between Chinese President Xi Jinping and Nigerien President Mahamadou Issoufou in 2019, the Chinese leader stressed Beijing's willingness to provide counterterrorism support to Niger and maintain regional stability through bilateral and multilateral channels.[20]
(3) Republic of Guinea—Overall, Guinea is home to the world's largest bauxite reserves[21]; significant gold, diamond and oil resources; as well as cement, salt, graphite, limestone, manganese, nickel and uranium deposits. This country became strategically important to Chinese interests during the Cold War, when the Soviet Union was primarily responsible for security assistance and China for construction and infrastructure projects. After 1991, following Soviet withdrawal, Beijing boosted its presence in the country, with a genuine breakthrough occurring in 2009 when China Investment Corporation (中国投资有限责任公司) and Sonangol signed an agreement to invest $2.2 billion in public infrastructure (water and power generation, public housing, public transport, a fishing port, agriculture and tourism).[22] Later, China pledged to loan Guinea $20 billion over 20 years in exchange for concessions on bauxite extraction.[23] In 2020, China Railway Construction Corporation (中国铁建股份有限公司), acting through its subsidiary, started construction of the 112.3-kilometer Dapilon-Santou project—Guinea's first modern railroad—which will connect the Santou mining zone and the Port of Dapilon.[24]
Following the military coup in 2021, some experts argued that local authorities should take a somewhat tougher stance on the Chinese (and other foreign companies) in terms of concessions in the mining industry.[25] Yet, the Chinese authorities did not seem to have been greatly disturbed by such sentiments.[26] In effect, Chinese companies are planning to start the exploration of Simandou—home to the richest, untapped high-grade iron ore deposit in the world—which might decrease China's strategic dependence on Australia.[27]
(4) Cameroon—Finally, this African nation on the Atlantic coast boasts not only critical mineral (ore) and hydrocarbon resources (oil and natural gas) but also a strong agricultural sector (coffee, maize, cotton and cassava). The inception of Chinese business investments in Cameroon goes back to 1973, when the Lagdo hydroelectric dam and the Yaounde Conference Centre were constructed.[28] By 2021, China had issued over $6.2 billion in loans to Cameroon, the majority of which went into the infrastructure and energy sectors.[29] In 2022, the Chinese side invested heavily (more than $700 million) in the country's iron ore sector.[30]
Sino-Cameroonian cooperation goes well beyond investments and trade, spreading to security cooperation (beginning in the 1970s) as well.[31] However, it was only in 2001 that a high-level PLA delegation paid a visit to Cameroon.[32] Nevertheless, Sino-Cameroonian military and defense cooperation has increased drastically in terms of depth and sophistication: What started as a simple sale of small arms and weapons, now, China provides military training and education through the PLA National Defence University in Beijing; 中国人民解放军国防大学)[33] as well as sophisticated weaponry and munitions, including surface-to-air missiles, fire-controlled radars, patrol craft and multiple types of infantry fighting vehicles. Importantly, the two countries have held joint anti-piracy drills.[34]
Lusophone Africa
In Africa, Portuguese is the official language in Angola, Cape Verde, Guinea-Bissau, Mozambique, São Tomé and Príncipe and Equatorial Guinea.[35] While Chinese involvement with Cape Verde[36] and São Tomé and Príncipe has remained at a relatively low level, other actors play key roles in China`s geo-economic calculations. Beijing's strategic interests in the Lusophone world is said to be premised on two main pillars[37]: (1) energy security, in which Lusophone countries are seen as sources of diversification for oil and gas supplies; (2) large and still growing consumer markets (approximately 260 million, with over 14 million living in Africa); and (3) geopolitical and diplomatic reasons. Below is an overview of some of the African Lusophone countries that play crucial roles for China.
(1) Angola—This country is the second-largest producer of oil in Sub-Saharan Africa[38]; is one of the richest African nations regarding mineral resources; and has growing potential in agriculture and bio-marine resources (diamonds, iron ore, phosphates, copper, feldspar, gold, bauxite and uranium),[39] which is one of the top priorities for China.[40] Despite Angola being the second-largest recipient of Chinese investment in Africa with booming economic and business ties[41] as well as conspicuously friendly official rhetoric,[42] bilateral relations do have some challenging moments that became visible after 2017 when João Lourenço became president.
Following Lourenço's ascension to power, he pledged to root out corruption, triggering investigations against some companies, which cast a shadow on some Chinese actors working in the country. As a result, public and political opinion started to turn against China and it became quite clear that "the relationship is not what it once was. … The honeymoon period is over and both countries are acutely aware of this."[43] In 2019, Lourenço openly admitted that the previous model of Sino-Angolan relations (based on oil-backed loans) was not working.[44]
Akin to some Francophone African countries, Angola also maintains security ties with China, which have been actively developed since 2013.[45] In 2019, the Angolan side announced that priority areas for cooperation with Beijing (in the realms of defense and security) included: the supply and maintenance of defense industry products, technical assistance, training of specialists and the construction of infrastructure for the Angolan army.[46] In 2021, Lourenço authorized the purchase of $85 million-worth of Chinese military equipment.[47] While between 2013 and 2020, Russia, China, Lithuania, Belarus and Italy were the top suppliers of military equipment to Angola,[48] since 2020, Luanda has demonstrated its willingness to move away from Russian military equipment in favor of US-manufactured products. And, in light of the Russo-Ukrainian war, this trend will perhaps become even more pronounced.
(2) Guinea-Bissau—Diplomatic relations between the PRC and Guinea-Bissau were established on March 15, 1974, but were followed by a period of instability that came to a close in 1998. Guinea-Bissau is of interest to the Chinese for several reasons, with the most important one being its rich and diverse bio-marine resources.[49] In 2021, the country signed an agreement with Beijing to join the Belt and Road Initiative (BRI),[50] which prompted the Chinese side to pledge to invest in local infrastructure (e.g., a 14-kilometer highway linking the city of Bissau and its suburb Safim)[51] and the agricultural sector.[52] That said, however, at the moment, the level of Chinese engagement in the country's economy is rather modest.
(3) Mozambique—This African nation wields a strategic geographic location and is rich in natural resources (aluminium, limestone, cement, marble, gemstones, coal, iron, gold, oil, gas and ore), which has attracted the attention of many foreign countries, including China. In fact, throughout the first two decades of the 21st century, China and Brazil have remained the two prime investors in the Mozambican economy.[53] As noted by the Chinese ambassador to Mozambique, Wang Hejun, by 2020, more than 100 Chinese companies working in infrastructure, energy, mining, agriculture, manufacturing, tourism, telecommunications and digital television were registered in Mozambique.[54] While Chinese foreign direct investment in the Mozambican economy has generally been on the decline since 2013,[55] such sectors as energy (liquefied natural gas in particular) and timber[56] have not lost their strategic significance for China. Importantly, according to recent studies, the PRC's popularity—though some challenges still exist—in Mozambique has exceeded that of the United States and any European country (except for Portugal).[57]
China and Mozambique also maintain strong ties in defense and security: Between 2000 and 2018, Mozambique received more than 90 percent of its arms transfers from China.[58] Yet, despite growing security cooperation, China has been acting rather cautiously with regards to involvement in Mozambique`s extremely complex domestic security environment, learning from the moves of other foreign actors such as the EU, US (providing training to Mozambique's military but not engaging directly), Rwanda[59] and Russia (with its failed attempt to enter the country through the use of Wagner Group mercenaries in Cabo Delgado province).
(4) Equatorial Guinea—For its part, this African country joined the BRI initiative in 2019[60] and boasts over 1 billion barrels of proven crude oil reserves.[61] Aside from oil, China is also interested in investing in local infrastructure. For instance, China's biggest lender by assets, the Industrial and Commercial Bank of China (中国工商银行), signed an infrastructure pact (worth $2 billion) with Equatorial Guinea, which provides for "financial support" to the local government as well as Chinese enterprises there.[62]
Equatorial Guinea and the PRC also share long-term—officially established in 1970s[63]—yet in many ways still somewhat limited ties in defense and security. According to recent US intelligence reports, China was looking to build its first permanent military base in a West African country on the Atlantic coast, and Equatorial Guinea was named as a potential host.[64] Even so, it has been argued that, due to its strong ties with the US, "the government privileges relations with both powers and cannot afford to frustrate either one."[65]
Security Challenges in Lusophone and Francophone Africa
The nature of the challenges China faces in Francophone and Lusophone Africa is somewhat similar to the situation already discussed in Anglophone Africa.[66] To some extent, given the even greater institutional weakness and, in some cases, lower living standards in the Francophone and Lusophone countries, the risks may be even higher. For example, according to the most recent Global Terrorism Index (2022), out of the 20 countries with the highest level of terrorist threats, seven come from Francophone or Lusophone Africa.[67] Thus, security risks and political instability are the key concerns for China here, as emphasized by Ambassador Zhang Jun, China's permanent representative to the United Nations, at the Security Council High-Level Debate on "Counterterrorism in Africa."[68]
Security Threats in Francophone Africa
In the countries that comprise Francophone Africa, China is facing four main types of challenges. First, political instability associated with the danger of military coups—Africa leads the world in this dimension[69]—have remained an integral part of Africa`s political history since the 1950s. In just the past two years, numerous African countries (Burkina Faso, Chad, Guinea, Mali, Sudan, Niger and Guinea-Bissau) have experienced military coups. While China (i.e., Chinese investors) is unlikely to be evicted from the countries currently subjected to this type of political risk (due to the lack of alternative investors), the operational milieu and overall security environment could seriously worsen, which would likely result in an uptick of requests to allocate additional funding for security issues.
Second, Sinophobia is a growing issue and has been caused by, among other considerations, the exploitative nature of Chinese operations in Africa. One of the most recent cases in Francophone Africa occurred in 2016, when tensions between Cameroonian workers and Chinese companies led to strikes on two Chinese-led road projects.[70] Instances of Sinophobia have also occurred due to illegal fishing,[71] wildlife poaching and mining activities[72] conducted by the Chinese side.
Third, the threat of terrorism, organized crime, as well as police and military brutality pose risks to Chinese involvement on the continent. Importantly—and this is most visible in Mali, Niger and Burkina Faso—on many occasions, local armed forces, acting in overtly brutal way, are viewed as part of the problem rather than a solution. As has been argued in one study, endemic corruption, systemic injustice and the brutality of local militias and armed forces "have done more to expand jihadism than the military strength of Islamist groups such as Al-Qaeda in the Islamic Maghreb, the Islamic State in the Greater Sahara, Ansarul Islam, or the Movement for Oneness and Jihad in West Africa" than any other factor.[73] Indeed, terrorism and organized crime pose a serious challenge to Chinese investors and businesses operating in Sub-Saharan Africa. The table below displays some examples of the most recent incidents that involved Chinese nationals.
Recent Violent Incidents With Chinese Nationals in Sub-Saharan Africa
| | | | |
| --- | --- | --- | --- |
| Country | Year | Event | Location  |
| Central African Republic (CAR) | 2020 | Two Chinese Nationals Killed | Sosso-Nakombo |
| DRC | 2021 | Five Chinese Nationals Kidnapped | Mukera Village (South Kivu Province) |
| DRC | 2021 | Two Chinese Nationals Killed | Djugu (Ituri Province) |
| Niger | 2021 | Two Chinese Nationals Kidnapped | Tillabéri Region |
| Mali | 2021 | Three Chinese Nationals Kidnapped | Near Kwala |
| CAR | 2023 | Three Chinese Nationals Kidnapped | Near Border With Cameroon |
| CAR | 2023 | Nine Chinese Nationals Killed | Near Bambari |
Source: Author.
Fourth, the intersection of economic and geopolitical interests with other actors interested in developing their networks on the African continent also complicates matters. The most recent example of this occurred in the CAR—a war-torn, politically destabilized "pariah state," which, nevertheless, remains of certain economic interest due to its natural resources and geographic location—where nine Chinese nationals working in the mining industry were killed. According to French[74] and Russian[75] sources, the killings were reportedly carried out by members of the Russian Wagner Group PMC, which has been deployed in the country since 2018. That said, however, the incident has not deterred Beijing form expanding its presence in the CAR.[76]
Security Threats in Lusophone Africa
Compared to the Francophone countries, Lusophone Africa seemingly contains fewer security threats. Aside from the civil war in Angola (1975–2002), early on, this part of the continent did not seem to face any large-scale immediate security challenges. The trend, however, discontinued in 2017 with the outbreak of hostilities in Cabo Delgado (Mozambique) where militant Islamists and jihadists known as al-Shabaab (not to be confused with al-Shabaab in Somalia) attempted to establish an Islamic state there.[77] Despite the involvement of multiples players and security providers, the situation on the ground continues to deteriorate.[78] Aside from the humanitarian aspect, the ongoing crisis seriously affects economic activities and the commercial exploitation of vast local natural gas deposits.[79] The situation was aggravated further in 2021, when hundreds of heavily armed extremists took over the town of Palma,[80] which caused major foreign energy corporations to either withdraw or suspend their operations in the province.[81] These security concerns could also jeopardize Chinese businesses operating in the timber industry. Today, more than 90 percent of Mozambican timber exports are destined for China[82]—with Cabo Delgado playing a central role.
Somewhat similarly—though in a smaller proportion than in Francophone Africa—Chinese businesses are facing the threat of Sinophobia in Lusophone Africa that sometimes takes on violent forms. One of the most notable cases occurred in Equatorial Guinea, when two Chinese nationals were killed and four injured when a labor dispute turned violent.[83]
Chinese PSC Activity in Francophone and Lusophone Africa
Given the scope of wealth and strategic importance yet wide range of security challenges, the growing presence of Chinese businesses in Francophone and Lusophone Africa will require the Chinese side to protect its assets and personnel. Due to internal structural challenges and weaknesses,[84] Beijing's overall cautious approach toward the use of force abroad and the overall negative reaction of the African community to the idea of a foreign security and military presence, such as the involvement of Chinese PSCs, has been rather limited and is developing as an incremental process. As a result, few Chinese PSCs have been spotted operating in these parts of Africa. Some specialize in joint naval escorts as was the case with Overseas Security Guardians (海卫队) in 2016. (See figure below.)
Oversea Security Guardians Naval Operations, 2016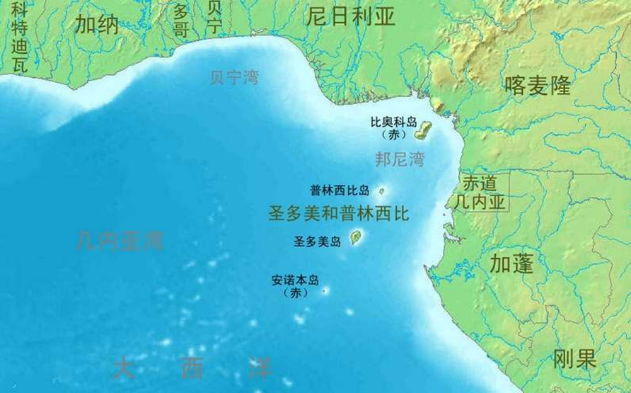 Source: Osgjh.com.
Other security providers known to work in the area, including Zhongjun Junhong Security Service (中 军军 弘 安 保 集团),[85] have reportedly operated in several Francophone and Lusophone African countries, though the specific nature of their activities has not been fully disclosed. (See figure below.)
Zhongjun Junhong Security Service Operations in Francophone and Lusophone Countries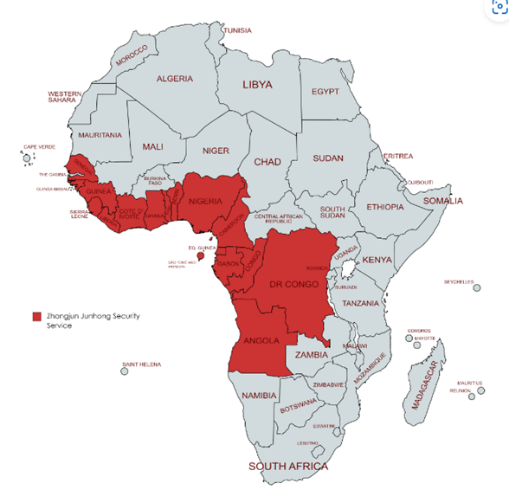 Source: Investigative Journalism Reportika.
Case Study #1: China Security Technology Group in Lusophone Africa
China Security Technology Group (中国安保技术集团有限公司; CSTG) heavily focuses on providing a broad range of tasks in countries along the BRI, including Africa`s Lusophone countries. (See below.[86]) According to its own information (published before 2020), CSTG has established several overseas branches in Pakistan, Sri Lanka, Kampuchea, Kenya, Algeria, Iraq, Mozambique and Angola.[87]
CSTG Operations in Africa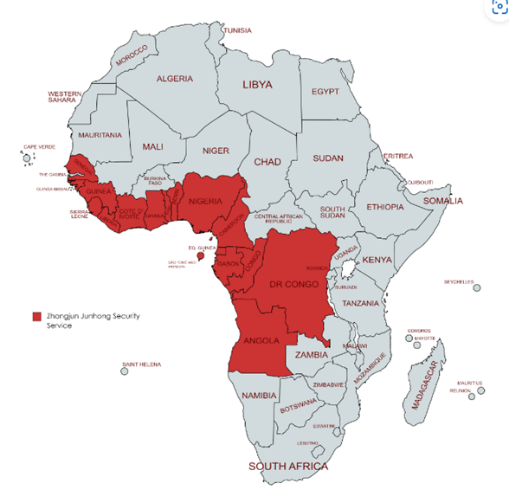 Source: Investigative Journalism Reportika.
Specifically, the group has declared that its main functions include:
Providing security services and support for major Chinese investment projects, employees and assets;
Rendering physical and technological protection;
Protecting high-level officials;
Offering land or maritime (armed) escort;
Engaging in risk assessment and consultation, as well as safety training;
Renting and selling equipment;
Training and educating Chinese personnel on matters related to local etiquette, culture, religion and other related considerations.
One interesting aspect of CSTG activity in Africa—which completes the image of the firm's operational scope and activities—are the products that are sold and advertised by the company, including CCTV systems, intruder alarm systems, transportation safety systems, security check systems, access control systems, riot control equipment and other specialized goods.[88] Following the pattern of its actions in Central Asia—where, in addition to selling similar products, China is also involved in developing so-called "smart city" projects[89]—Beijing could expand these activities in Africa as well.
Starting in 2018, CSTG began focusing on activities in Mozambique. Thus far, the company has been reportedly performing two main functions. First, CSTG operatives collaborate with representatives of the Chinese police services reportedly present in the country. Specifically, it was reported that a meeting between CSTG representatives and Zhang Ziyan, director of the Mozambique Chinese police[90] and People Cooperation Center, and Chen Fuzhou, director of the Chinese police and People Cooperation Center in Mpumalanga Province, South Africa, took place. Following the event, the CSTG website proclaimed its willingness to strengthen its work and actions to ensure the security of Chinese-funded enterprises and Chinese nationals in Mozambique.[91] In 2019, a similar meeting involved CSTG and members of the Chinese Embassy in Mozambique. Reportedly, issues related to crisis management and the creation of a rapid crisis response mechanism were discussed. In addition, leaders of the Overseas Chinese Affairs Office (also present at the meeting) and members of the Chinese Embassy in Mozambique expressed their interest in strengthening ties between CSTG and the local Police-Civilian Cooperation Center.[92] Although not reported to have been mentioned during the meeting, in the future, CSTG—acting via the Mozambique-based Police-Civilian Cooperation Center—could establish connections with the Pretoria Chinese Police and Civilian Cooperation Center, which was reportedly inaugurated in August 2022.[93]
Second, at least on two occasions—September 24, 2019, the celebration of the 70th anniversary of the PRC's founding,[94] and December 18, 2019, the 20th anniversary of Macao's so-called "return to the motherland"[95]—CSTG was involved in protecting the Chinese embassy in Mozambique.
Case Study #2: Frontier Services Group in the DRC
Another Hong Kong-based PSC, Frontier Services Group (FSG)—which used to be run by private security firm Blackwater's founder Erik Prince—began to play a more active role in Francophone Africa starting in at least 2018,[96] when it registered a subsidiary in the DRC. According to the DRC's official business registry, the Frontier Services Group Congo intends to perform activities associated with "the exploration and commercialisation of minerals," forest logging, security, transport, construction and "all financial, investment and project financing operations, both public and private."[97] While information on the subject remains quite scarce, available sources allow analysts to identify three main lines of activities performed by the FSG in the DRC.
(1) Providing Security Services—In November 2020, the FSG concluded an agreement with La Sino-Congolaise des Mines (SICOMINES)—a joint venture between Chinese and Congolese companies, which were developing a large cobalt project near Kolwezi (Lualaba Province)[98]—to "provide comprehensive security services to SICOMINES including security officers, special tasks team, patrolling canines and patrolling vehicles."[99]
(2) Expanding and Securing Logistical Ties and Networks—For example, in January 2021, FSG signed a logistics cooperation agreement with CNMC New Bridge Logistics & Trading ("CNMC New Bridge") on the DRC-Angola Logistics Channel, which, among other aspects, envisages "providing comprehensive services including security, logistics and insurance." FSG presented the deal as "a historic opportunity" to build "a westbound logistics channel in Central Africa that connects the DRC mining area in Kolwezi and the Port of Lobito in Angola. The road-rail-sea intermodal could achieve a safer, more economical and efficient transportation of DRC mineral products and related materials, which provides assurances to international mining developers and investors."[100]
Another example of this strategy occurred in December 2022, when Frontier Logistics South Africa—wholly owned by FSG—signed a door-to-door logistics service contract with Mineral and Metals Group[101] for the Kinsevere Mine Expansion Project (open-pit copper and cobalt mining extraction)[102] in the DRC.[103]
(3) Providing Training for and Raising Awareness Among Chinese Companies Operating in the DRC—Following the attack on a mining company in the South Kivu Province (November 21, 2021) and the kidnapping of five Chinese nationals, it was reported that Chinese companies operating in the DRC (73 in total) were invited to take part in virtual security training—organized by the Chinese Enterprises Association and FSG—that, among other topics, covered such areas as "delivering professional information and sharing in various aspects such as safety awareness, emergency drills and emergency response."[104] One last episode that involved FSG occurred in 2023, when during an event organized by the Chinese Embassy in the DRC and FSG, more than 50 Chinese companies operating in the country were briefed about the national security situation there.[105]
Conclusion
China`s growing investments in Francophone (primarily, the DRC) and Lusophone (Mozambique and Angola) African countries—handsomely endowed with strategic commodities and natural resources indispensable for Chinese businesses—face a number of security-related challenges. The two case studies described in this paper demonstrate that Chinese PSCs have been spotted operating in these region; yet, akin to the Anglophone African countries, the scope and extent of these entities' involvement have been rather meager. Moreover, in terms of tasks performed by the Chinese PSCs primarily concentrated on consulting, insurance and other largely civilian service–related activities. Given the nature of security challenges in countries such as the DRC or Mozambique—even battle-hardened and (relatively) well-equipped Wagner mercenaries suffered setbacks and had to withdraw from Mozambique[106]—it is unlikely that the presence of Chinese PSCs would become game-changers for Chinese nationals working therein.
While in the future China might increase its reliance on PSCs in the described countries (Francophone and Lusophone Africa) to a certain extent, it is doubtful that this tool will acquire strategic meaning in the short or medium term.
Notes
[1]The French language covers 31 countries of Africa including the Maghreb region. Typically, reference to "Francophone Africa" implies Sub-Saharan French-speaking countries that are members of the OIF (Organisation Internationale de la Francophonie).
[2]Tim Dajin, "List Of All Francophone Countries in Africa," https://weafrique.com/francophone-countries-in-africa/.
[3]Francophone Africa, accessed on April 26, 2023, https://www.francophoneafrica.com/.
[4]African Exponent, "Top 15 African Countries Richest in Natural Resources," May 20, 2022, https://www.africanexponent.com/post/18188-top-15-african-countries-richest-in-natural-resources.
[5]Global Edge, "Democratic Republic of the Congo: Economy," accessed on April 15, 2023, https://globaledge.msu.edu/countries/democratic-republic-of-the-congo/economy.
[6]Oluwole Ojewale, "What Coltan Cining in the DRC Costs People and the Environment," The Conversation, May 29, 2022, https://theconversation.com/what-coltan-mining-in-the-drc-costs-people-and-the-environment-183159#SnippetTab.
[7]Investing News, "Top 5 Tantalum-Mining Countries," March 16, 2022, https://investingnews.com/daily/resource-investing/critical-metals-investing/tantalum-investing/2013-top-tantalum-producers-rwanda-brazil-drc-canada/.
[8]Gbreports, "The Chinese Power Grab in the DRC," June 28, 2019, https://www.gbreports.com/article/the-chinese-power-grab-in-the-drc.
[9]OilPrice.com, "Chinese Miner to Invest $2.5 Billion Into DRC Cobalt Project," August 16, 2021, https://oilprice.com/Latest-Energy-News/World-News/Chinese-Miner-To-Invest-25-Billion-Into-DRC-Cobalt-Project.html.
[10]People's Republic of China, "'Made in China' 2025 Plan Issued", May 19, 2015, http://english.www.gov.cn/policies/latest_releases/2015/05/19/content_281475110703534.htm.
[11]Foreign Brief, "China and the DRC: The Geoeconomics of Cobalt and Electric Vehicles", February 17, 2022 https://foreignbrief.com/analysis/china-and-the-drc/.
[12]Robert Bociaga, "Minerals and China's Military Assistance in the DR Congo," The Diplomat, October 31, 2022, https://thediplomat.com/2022/10/minerals-and-chinas-military-assistance-in-the-dr-congo/.
[13]Ashish Dangwal, "China Pitches Its JF-17, J-10 Fighter Jets to Congo; Looks to Further Boost Its Economic & Security Ties With Africa," Eurasian Times, March 21, 2023, https://eurasiantimes.com/china-pitches-its-jf-17-j-10-fighter-jets-to-congo-looks/.
[14]Robert Bociaga, "China Sends Military Drones to DRC Amid Fears of Regional War," The Diplomat, March 20, 2023, https://thediplomat.com/2023/03/china-sends-military-drones-to-drc-amid-fears-of-regional-war/.
[15]"The World Bank in Niger," accessed on April 2, 2023, https://www.worldbank.org/en/country/niger/overview.
[16]Global Security, "Niger – China Relations," accessed on March 1, 2023, https://www.globalsecurity.org/military/world/africa/ne-forrel-prc.htm.
[17]Armin Rosen, "An Oil Dispute in Niger Is Exposing Big Problems With Chinese Investment in Africa," Business Insider, September 30, 2015, https://www.businessinsider.com/niger-oil-and-chinese-investment-in-africa-2015-9
[18]Rosen, "An Oil Dispute in Niger Is Exposing Big Problems With Chinese Investment in Africa."
[19]All Africa, "Nigeria: China Builds 1,980km Oil Pipeline From Niger to Benin Republic," July 18, 2021, https://allafrica.com/stories/202107190128.html.
[20]"Xi: China, Niger Are Good Friends and Partners," May 29, 2019, https://news.cgtn.com/news/3d3d674e7959544f34457a6333566d54/index.html.
[21]Statista, "Countries With the Largest Bauxite Reserves Worldwide as of 2022," accessed on March 13, 2023, https://www.statista.com/statistics/271671/countries-with-largest-bauxite-reserves/.
[22]Global Security, "Guinea – China Relations," accessed on February 21, 2023, https://www.globalsecurity.org/military/world/africa/gn-forrel-prc.htm
[23]Saliou Samb, "China to Loan Guinea $20 Billion to Secure Aluminum Ore," Reuters, September 6, 2017, https://www.reuters.com/article/us-guinea-mining-china-idUSKCN1BH1YT.
[24]Zhong Nan, "Construction Work Begins on CRCC18 Guinea Rail Project," China Daily, November 20, 2020, https://www.chinadaily.com.cn/a/202011/20/WS5fb716cba31024ad0ba9552c.html.
[25]Jevans Nyabiage, "Guinea's Military Rulers Pressure Chinese and Other Foreign Companies to Pay More Mining Royalties," South China Morning Post, April 18, 2022, https://www.scmp.com/news/china/diplomacy/article/3174571/guineas-military-rulers-pressure-chinese-and-other-foreign.
[26]Ovigwe Eguegu, "Does Guinea's Coup Matter to China?," The Diplomat, September 21, 2021, https://thediplomat.com/2021/09/does-guineas-coup-matter-to-china/.
[27]Su-Lin Tan, "China Is One Small Step Closer to Getting Alternative Iron Ore Supply From Simandou," CNBC, July 29, 2022, https://www.cnbc.com/2022/07/29/china-inches-closer-to-getting-alternative-iron-ore-supply-from-simandou-.html.
[28]Asongne Ngufor Benis, "Impact of Chinese Investment in Cameroon," International Journal of Humanities and Social Sciences, 7, no. 2 (February 2017).
[29]Boston University, "Chinese Loans to Africa Database," accessed on April 18, 2023 https://www.bu.edu/gdp/chinese-loans-to-africa-database/.
[30]"China's Sinosteel Cam S.A. Inks Iron Ore Deal in Cameroon," May 8, 2022, https://newsaf.cgtn.com/news/2022-05-08/China-s-Sinosteel-Cam-S-A-inks-iron-ore-deal-in-Cameroon-19QJD019itG/index.html.
[31]R. Maxwell Bone, "China and Cameroon's Evolving Political and Military Cooperation," The Diplomat, October 24, 2020, https://thediplomat.com/2020/10/china-and-cameroons-evolving-political-and-military-cooperation/.
[32]"Une délégation de l'armée chinoise dans nos murs," June 27, 2001, https://www.cameroon-info.net/article/une-delegation-de-larmee-chinoise-dans-nos-murs-66468.html.
[33]Global Security, "Cameroon – China Relations," accessed on April 26, 2023,  https://www.globalsecurity.org/military/world/africa/cm-forrel-prc.htm
[34]Hang Zhou and Katharina Seibel, "Maritime Insecurity in the Gulf of Guinea: A Greater Role for China?," China Brief ,vol. 15, no. 1, January 9, 2015,, https://jamestown.org/program/maritime-insecurity-in-the-gulf-of-guinea-a-greater-role-for-china/.
[35]There are three official languages in the country: Spanish, French and Portuguese. Portuguese was adopted as an official language in 2010.
[36]China established relations with Cape Verde in April 1976. Yet, Beijing has not had any major economic interests in this country due to lack of strategic natural resources.
[37]Ana Cristina Alves, "China's Economic Diplomacy in Africa: The Lusophone Strategy," in Chris Alden, Daniel Large and Ricardo Soares de Oliveira, ed., China Returns to Africa: A Continent and a Superpower Embrace (London: C. Hurst and Co.), 2008 https://ciaotest.cc.columbia.edu/book/cup/0005392/f_0005392_4692.pdf.
[38]Jevans Nyabiage, "Why Angola Struggles to Shake Off Its Economic Dependence on China," South China Morning Post, November 8, 2021, https://www.scmp.com/news/china/diplomacy/article/3155193/why-angola-struggles-shake-its-economic-dependence-china.
[39]Central Intelligence Agency, "Angola. CIA Factbook," April 14, 2023, https://www.cia.gov/the-world-factbook/countries/angola/.
[40]"Angola-China Relations," accessed on April 15, 2023, https://www.cacs.org.za/angola-china-relations/.
[41]Yuan Shenggao, "China and Angola to Scale Up Trade and Investment," China Daily, January 12, 2023 https://www.chinadaily.com.cn/a/202301/12/WS63bf612ba31057c47eba91f3.html.
[42]"Angolan President João Lourenço Meets with Qin Gang," January 14, 2023, http://se.china-embassy.gov.cn/eng/zgxw_0/202301/t20230114_11007469.htm.
[43]Cláudio Silva, "How Angola's Honeymoon With China Came to an End," Africa Report, May 10, 2022, https://www.theafricareport.com/202465/how-angolas-honeymoon-with-china-came-to-an-end/.
[44]"Chinese Quit Angola as Economic Relations Shift Between Beijing and Luanda," Macao News, July 4, 2022, https://macaonews.org/portuguese-speaking-countries/chinese-quit-angola-as-economic-relations-shift-between-beijing-and-luanda/.
[45]Global Times, "China, Angola Strengthen Military Ties," October 22, 2013,  https://www.globaltimes.cn/content/819550.shtml.
[46]Chen Zhuo, "Angola wants to strengthen military cooperation with China", June 25, 2019 http://eng.chinamil.com.cn/CHINA_209163/TopStories_209189/9538110.html
[47]"Angola one step closer to buying equipment from China to strengthen national defence strategy", July 19, 2021 https://www.forumchinaplp.org.mo/angola-one-step-closer-to-buying-equipment-from-china-to-strengthen-national-defence-strategy/
[48]"Why Angola is looking to dump Russia as its arms supplier and opt for the US", December 21, 2022 https://www.news24.com/news24/africa/news/why-angola-is-looking-to-dump-russia-as-its-arms-supplier-and-opt-for-the-us-20221221
[49]"Guinea-Bissau: China ambassador calls for more bilateral ties, industrial park", January 5, 2022 https://www.macaubusiness.com/guinea-bissau-china-ambassador-calls-for-more-bilateral-ties-industrial-park/
[50]Chris Devonshire-Ellis, "Guinea-Bissau Joins The Belt And Road Initiative", November 28, 2021 https://www.silkroadbriefing.com/news/2021/11/28/guinea-bissau-joins-the-belt-and-road-initiative/
[51]Otiato Opali, "Highway joins list of China-Guinea Bissau projects", January 25, 2021 https://global.chinadaily.com.cn/a/202101/25/WS600ec19ba31024ad0baa4f3b.html
[52]"Chinese company conducted site visit in Guinea-Bissau", January 20, 2023 https://www.forumchinaplp.org.mo/chinese-company-conducted-site-visit-in-guinea-bissau/
[53]Francisco Proença Garcia, "China's economic presence in Mozambique", Estudos Internacionais: Revista de Relações Internacionais da PUC Minas 8, 2020.
[54]Wang Hejun, "China-Mozambique cooperation yields numerous benefits", November 12, 2020 https://www.globaltimes.cn/content/1206694.shtml
[55]"The State Of Foreign Direct Investment In Mozambique", August 11, 2021 https://theexchange.africa/countries/the-state-of-foreign-direct-investment-in-mozambique/
[56]Ekman, S.-M.S; Wenbin, H.; Langa, E., "Chinese trade and investment in the Mozambican timber industry: a case study from Cabo Delgado Province", 2013 https://www.cifor.org/knowledge/publication/4323/
[57] Ari Rickman, "Can Mozambique Learn to Love China?", February 28, 2020 https://thediplomat.com/2020/02/can-mozambique-learn-to-love-china/
[58]Cullen S. Hendrix, "Arms and influence? Chinese arms transfers to Africa in context", July 15, 2020 https://www.piie.com/blogs/realtime-economic-issues-watch/arms-and-influence-chinese-arms-transfers-africa-context
[59]"China to supply military hardware to SADC's forces in Mozambique", February 4, 2022 https://www.zitamar.com/china-to-supply-military-hardware-to-sadcs-forces-in-mozambique/
[60]"Equatorial Guinea into China's 'arms'", June 5, 2019 https://www.clbrief.com/equatorial-guinea-into-chinas-arms/
[61]"Statistical Review of World Energy 2020" https://www.bp.com/content/dam/bp/business-sites/en/global/corporate/pdfs/energy-economics/statistical-review/bp-stats-review-2020-full-report.pdf
[62]"China agrees $2-billion infrastructure deal with Equatorial Guinea", April 29, 2015 https://www.reuters.com/article/us-china-equatorial-idUSKBN0NK16I20150429
[63]"Equatorial Guinea", Chinese Foreign Ministry October 10, 2006 http://www.china.org.cn/english/features/focac/183538.htm
[64]Michael M. Phillips, "China Seeks First Military Base on Africa's Atlantic Coast, U.S. Intelligence Finds", December 5, 2021 https://www.wsj.com/articles/china-seeks-first-military-base-on-africas-atlantic-coast-u-s-intelligence-finds-11638726327
[65]Bonny Lin , Jude Blanchette , Joseph S. Bermudez Jr. , and Mvemba Phezo Dizolele, "Is China Building a New String of Pearls in the Atlantic Ocean?", December 20, 2021 https://www.csis.org/analysis/china-building-new-string-pearls-atlantic-ocean
[66]For more information see: Sergey Sukhankin, "Chinese PSCs in Sub-Saharan Africa: The Case of Anglophone Africa", May 19, 2023 https://jamestown.org/program/chinese-pscs-in-sub-saharan-africa-the-case-of-anglophone-africa/
[67]"2022 Global Terrorism Index", Accessed on March 1, 2023 https://www.visionofhumanity.org/maps/global-terrorism-index/#/
[68]"Remarks by Ambassador Zhang Jun, China's Permanent Representative to the UN, at the Security Council High-Level Debate on 'Counter Terrorism In Africa'", November 10, 2022 https://www.fmprc.gov.cn/mfa_eng/wjb_663304/zwjg_665342/zwbd_665378/202211/t20221112_10973113.html
[69]Megan Duzor, Brian Williamson, "Coups in Africa", February 2, 2022 https://projects.voanews.com/african-coups/
[70]Moki Edwin Kindzeka, "Tensions Rise Between Cameroon Workers, Chinese Companies", November 04, 2016 https://www.voanews.com/a/tensions-rise-between-cameroon-workers-and-chinese-companies/3581117.html
[71]"Cameroon – China Relations", Accessed on April 10, 2023.
[72]Jenni Marsh, "China just quietly wrote off a chunk of Cameroon's debt. Why the secrecy?", February 5, 2019 https://www.cnn.com/2019/02/04/china/cameroon-china-debt-relief-intl/index.html
[73]"Terrorism in Africa", September 18, 2021 https://www.gfatf.org/archives/terrorism-in-africa/
[74]"Centrafrique: 9 Chinois tués dans l'attaque d'un site minier près de Bambari", March 19, 2023 https://www.rfi.fr/fr/afrique/20230319-centrafrique-9-chinois-tu%C3%A9s-dans-l-attaque-d-un-site-minier-pr%C3%A8s-de-bambari
[75]"Mondafrique: K ubijstwu kitajskih rabochih w CAR prichastny naemniki ChVK Wagnera", April 24, 2023 https://theins.ru/news/261229
[76]Cobus van Staden, "Groundbreaking for Confucius Institute in Central African Republic Just Weeks After Massacre of Chinese Miners", April 27, 2023 https://chinaglobalsouth.com/2023/04/27/groundbreaking-for-confucius-institute-in-central-african-republic-just-weeks-after-massacre-of-chinese-miners/
[77]Nuno Rogeiro, "O cabo do medo: o Daesh em Moçambique (2019-2020)", 2020 https://catalogue.leidenuniv.nl/primo-explore/search?vid=UBL_V1&search_scope=lib_asc&query=any,contains,9940187077902711
[78]"Mozambique. Factsheet", March 7, 2023 https://civil-protection-humanitarian-aid.ec.europa.eu/where/africa/mozambique_en
[79]Carole Nakhle, "East Africa's natural gas outlook", September 1, 2022  https://www.gisreportsonline.com/r/east-africa-natural-gas/
[80]Tim Lister, "The March 2021 Palma Attack and the Evolving Jihadi Terror Threat to Mozambique", April/May 2021https://ctc.westpoint.edu/the-march-2021-palma-attack-and-the-evolving-jihadi-terror-threat-to-mozambique/
[81] "TotalEnergies adia para 2026 produção de gás em Moçambique", September 29, 2021 https://www.dw.com/pt-002/totalenergies-adia-para-2026-produ%C3%A7%C3%A3o-de-g%C3%A1s-no-norte-de-mo%C3%A7ambique/a-59357038
[82]Ekman, S.-M.S; Wenbin, H.; Langa, E., "Chinese trade and investment in the Mozambican timber industry: a case study from Cabo Delgado Province", 2013 https://www.cifor.org/knowledge/publication/4323/
[83]"Two killed as Chinese workers riot in Eq. Guinea", March 31, 2008 https://www.reuters.com/article/equatorial-china-idUKL316427320080331
[84]Sergey Sukhankin, "The Contemporary Global 'Security for Hire' Industry: An Overview", October 14, 2022 https://jamestown.org/program/the-contemporary-global-security-for-hire-industry-an-overview/
[85]"Escort Service Coverage", Accessed on April 15, 2023 https://www.zjjhgroup.com/en/
[86]The image does not seem to represent the entire operational scope of the company.
[87]"Company profile", Accessed on April 14, 2023 http://www.cstghk.com/en/profile.html
[88]"Tan Feng, President of China Security Technology Group Co., Ltd., and his entourage visited CLP Technology International Trade Co., Ltd. to observe and learn" [中国安保技术集团有限公司总裁谭锋一行赴中电科技国际贸易有限公司拜访及观摩学习], August 8, 2022 http://www.cstghk.com/group/2240.html
[89]Sergey Sukhankin, "Tracking the Digital Component of the BRI in Central Asia, Part One: Exporting "Safe Cities" to Uzbekistan", China Brief Volume: 21 Issue: 3, February 11, 2021 https://jamestown.org/program/tracking-the-digital-component-of-the-bri-in-central-asia-part-one-exporting-safe-cities-to-uzbekistan/
[90]Most media reports about Sino-African police, public security and law-enforcement cooperation focus on sensational stories such as the public uproar that forced Zambia's police to decommission eight Chinese nationals it had recruited in December 2017. This led to rumors that China was opening police stations in Zambia, which were not true. For more information, see: "Political front lines China's Pursuit of Influence in Africa", NBR special report #100, June 2022 https://www.nbr.org/wp-content/uploads/pdfs/publications/sr100_politicalfrontlines_june2022.pdf
[91]"Leaders from the Mozambique Chinese police and people cooperation center visited CSTG", October 9, 2018 http://www.cstghk.com/en/group/1489.html
[92]"The Overseas Chinese Affairs Office visited the CSTG Mozambique subsidiary", July 4, 2019 http://www.cstghk.com/en/group/2197.html
[93]"The Chinese Police-civilian Cooperation Center in Pretoria, South Africa was officially established", August 22, 2022 https://www.tellerreport.com/news/2022-08-23-the-chinese-police-civilian-cooperation-center-in-pretoria–south-africa-was-officially-established.SJDbIyMJs.html
[94]"CSTG Mozambique subsidiary has successfully completed the security task of 'the 20th anniversary of Macao's return to the motherland'", December 20, 2019 http://www.cstghk.com/en/group/2217.html
[95]"CSTG Mozambique subsidiary was responsible for the security of the celebration of the 70th anniversary of the founding of the People's Republic of China", October 8, 2019 http://www.cstghk.com/en/group/2209.html
[96]Although back in 2015 the company owned a small trucking company, Cheetah Logistics, in the DRC.
[97]Aaron Ross, "Blackwater founder expands operations in Congo", June 13, 2019 https://www.reuters.com/article/congo-mining-idUSL8N23K3ST
[98]"Sicomines to use Outotec's copper solvent extraction technology", June 2, 2020  https://www.mining-technology.com/news/sicomines-use-outotec-copper-solvent-extraction/
[99]"FSG Provides Security Services for SICOMINES Project in DRC", November 13, 2020 http://fsgroup.com/en/news/show-584.html
[100]"FSG signed with CNMC New Bridge For Logistics Cooperation on DRC-Angola Logistics Channel", February 1, 2021 http://fsgroup.com/en/news/show-601.html
[101]MMG Limited is an Australian mid-tier global resources company; its largest shareholder is China Minmetals (68 percent). For more information, see: "Our Story", Accessed on April 27, 2023 https://www.mmg.com/who-we-are/company-overview/
[102]"Kinsevere Copper Mining Expansion Project", Accessed on April 27, 2023 https://www.nsenergybusiness.com/projects/kinsevere-copper-mining-expansion-project/
[103]"Frontier Logistics Successfully Signed with MMG in D. R. Congo", January 19, 2023 http://www.fsgroup.com/en/news/show-762.html
[104]"FSG Conducts Security Training for Chinese Companies in DRC", January 4, 2022 http://fsgroup.com/en/news/show-706.html
[105]Eric Olander, "Embassy Briefs Chinese Business Community in DR Congo on Worsening Security Conditions", April 3, 2023 https://chinaglobalsouth.com/2023/04/03/embassy-briefs-chinese-business-community-in-dr-congo-on-worsening-security-conditions/
[106]Sergey Sukhankin, "Russian Mercenaries Pour Into Africa and Suffer More Losses (Part One)", Eurasia Daily Monitor Volume: 17 Issue: 6, January 21, 2020 https://jamestown.org/program/russian-mercenaries-pour-into-africa-and-suffer-more-losses-part-one/