Collateral Damage: Azerbaijan and Central Asia Are Caught in Russia's Oil War
Publication: Eurasia Daily Monitor Volume: 17 Issue: 38
By: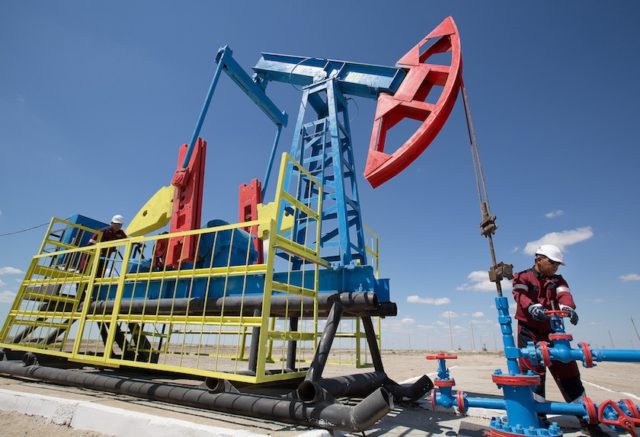 As the novel coronavirus responsible for the COVID-19 pandemic continued to spread across the Eurasian landmass and beyond, the energy-producing states of the South Caucasus and Central Asia were dealt a separate, serious economic blow by Russia. Specifically, Russia's decision to pull out of the OPEC+ curtailed oil production deal with Saudi Arabia (see EDM, March 16, 19, 23) clearly did not take into account the impact on its regional partners Azerbaijan, Kazakhstan, Uzbekistan and Turkmenistan, which are also heavily reliant on hydrocarbon sales. Thus, even before these countries began to register significant numbers of cases of coronavirus, they announced various stimulus plans to rescue their economies from the Russo-Saudi oil price war. The eventual onset of the pandemic throughout the region has since intensified that trend.
The lack of foresight exhibited by Moscow has already generated misgivings among Russian high officials as the oil war—coupled with the economic consequences of the pandemic scare (see EDM, March 17, 23)—has led to the plummeting of global energy prices below $20 per barrel and to a major fall in the price of the ruble. On March 18, Kremlin spokesperson Dmitri Peskov had to admit that Moscow was not satisfied with the falling prices, which were then at $27 a barrel, despite a rash of earlier statements claiming Russia could weather the storm and outlast the Saudis and producers in the United States, the real target of Moscow's machinations. Since then, the situation has clearly worsened (TASS, March 18).
Consequently, governments around the Caspian basin have had to announce stimulus plans even as they now confront a global pandemic with obviously depleted means to deal with this mounting health crisis. Moreover, in some cases, the virus itself has affected energy demand from the region's most important customers. PetroChina, for example, issued a claim of force majeure to severely reduce its purchases, leading to a curtailment of deliveries from Uzbekistan and Kazakhstan. While figures were not readily available from Tashkent, Kazakhstani Energy Minister Nurlan Nogayev admitted that gas exports to China had been suspended since mid-January and were down 20–25 percent (Natural Gas World, March 12).
At the same time, the Saudi-Russian oil war exploded just as Uzbekistan approved major state investments in science, digital education and the overall economy. Indeed, Tashkent cut its original plans from 320 projects to 284, probably due to the sharp oil price reductions and the coronavirus (Trend.az, March 3). President Shavkat Mirziyoyev has also announced planned measures to grant tax holidays to companies working in the tourism, transportation, pharmaceutical and light industry sectors. He additionally called for reviewing debtors' terms for their loan repayment as well as waiving fines for overdue debt (President.uz, March 18).
Azerbaijan, too has pledged to defend its economy through a program of "preventive action." On the basis of a prior scenario planning process, it aims to devise a package of measures to meet the expected challenges coming from collapsing energy prices. This South Caucasus republic, in fact, starts from a more stable baseline compared to many of its neighbors: by the end of 2019, Azerbaijan's strategic foreign currency reserves were 100 percent higher than its GDP, and foreign currency reserves were six times its foreign debt. Therefore, the Central Bank in Baku expressed confidence that it can meet any challenge and that Azerbaijan has the potential to "balance the situation without making any emotional decisions" (Azernews.az, March 16). Meanwhile, the Azerbaijani prime minister has been tasked with developing "a single action plan to reduce the effects of fluctuations in coronavirus and energy markets on the economy" (Apa.az, March 19).
Finally, Kazakhstan has now locked down its two largest cities, Almaty and Nur-Sultan (formerly Astana) as well as suspended flight and train travel outside major urban areas. It has also announced a major economic package providing cheaper credit and tax incentives, while cutting back on audits and promoting employment (Primeminister.kz, March 17). Theaters, cinemas and other public gathering spaces are being closed, but they will also be exempted from one year's worth of property taxes and interest on loans (Primeminister.kz, March 17). The government is setting aside $750 billion for infrastructure spending that is intended to provide 120,000 jobs exclusively for Kazakhstani nationals. Banks will be required to allow businesses and entrepreneurs experiencing liquidity problems to defer repayment on loans until after June (Krisha.kz, March 17). And President Kassym-Jomart Tokayev has instructed his government to firmly deal with avoiding artificial price increases in everyday consumer staples (Akorda.kz, March 18). Beyond that, the government has announced steps to ensure duty-free imports of meats, vegetables, cereals and dairy products (Primeminister.kz, March 18).
Undoubtedly, there will be more such measures by these and other regional governments. But beyond the fact that they will be forced to develop maximum ingenuity and skill in meeting the conjoined challenges of the oil war and the pandemic, other factors additionally merit attention. First, Russia clearly does not feel much responsibility to support fellow members of its Eurasian Economic Union (EEU); and it certainly did not take EEU member Kazakhstan's (nor future EEU observer Uzbekistan's or non-member Azerbaijan's) interests into consideration when delivering unplanned body blows like the oil war. Second, for all of Russia's boasting that it can withstand the energy war more robustly than Saudi Arabia, it seems not to have calculated the impact upon its own currency, evidently caught by surprise by the plummeting value of the ruble, which is now inflicting additional hardships on its population. Nor has it apparently taken into account that, under conditions of a global pandemic and preceding global pressure to abandon hydrocarbons, the sharply depressed oil price could persist for a long time. Russia's Minister of Energy Alexandr Novak recently stated that oil prices will recover in several months (Apa.az, March 10). But based on Moscow's track record to date of correctly predicting macro energy sector trends, it is difficult to have much confidence in this assessment.